Google founders officially announce the birth of new conglomerate
The giant internet firm announced on Monday that it would rebrand itself as Alphabet – a new holding company that will manage Google and all of its other companies. The new holding is said to replace Google Inc. as the publicly-traded entity and all shares of the tech company will automatically convert into the same number of shares of Alphabet, with all of the same rights. Google will then become a wholly-owned subsidiary of the new holding.This structural change also entails a radical shake up of the management structure: Larry Page is to become chief executive of Alphabet with Sergey Brin as the president, while Sundar Pichai, formerly senior vice president of Android, Chrome and Apps at Google, will take over Google as the CEO.
"Sergey and I are seriously in the business of starting new things. Alphabet will also include our X lab, which incubates new efforts like Wing, our drone delivery effort. We are also stoked about growing our investment arms, Ventures and Capital, as part of this new structure." says Larry Page, Google co-founder in an official Google blog post announcing the news. "It is clear to us and our board that it is time for Sundar to be CEO of Google. I feel very fortunate to have someone as talented as he is to run the slightly slimmed down Google and this frees up time for me to continue to scale our aspirations. (…) I know Sundar will always be focused on innovation — continuing to stretch boundaries," he adds.
G for Google
But what is the reason for that big change in the company structure? Page goes on to explain that this shift will help to make the business clearer and more accountable, which will, in turn, allow to exhaust the extraordinary opportunities the founders can see inside of it. They also enumerate the key areas of focus: getting more ambitious things done, empowering great entrepreneurs and companies to flourish, investing at the scale of the opportunities and resources they see, improving the transparency and oversight of what they're doing, making Google even better through greater focus and eventually improving the lives of as many people as they can.
The Alphabet will consist of:
Calico (independent research and development biotech company

focused on longevity

)

Fiber (High-speed internet)
Google Ventures (venture capital business)
Google Capital (investment fund)

Google X (auto-driving cars, Google Glass)

Life Sciences (a research organization studying life sciences)

Nest (smoke alarms, home cameras, thermostats & connected home devices)
What's in a name?
The official blog post also gives some reasons behind choosing Alphabet as a name for the holding: "We liked the name Alphabet because it means a collection of letters that represent language, one of humanity's most important innovations, and is the core of how we index with Google search! We also like that it means alpha-bet (Alpha is investment return above benchmark), which we strive for! I should add that we are not intending for this to be a big consumer brand with related products–the whole point is that Alphabet companies should have independence and develop their own brands."
Here, starts the tricky part of the story. First of all, it turns out that Google is missing a few key pieces of its online presence. Neither Google nor Alphabet seems to own alphabet.com. Since 1997, the domain has been in hands of BMW and the new holding has decided to go for abc.xyz instead. However, many think it's not an accident. Let's take a closer look at the quote from the Google's official message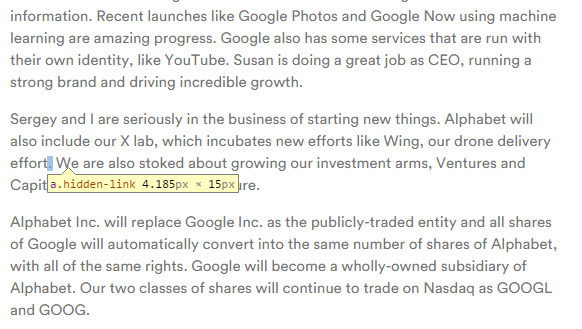 One click at the period will redirect you to hooli.xyz, the series of HBO's Silicon Valley, co-created by Mike Judge. Hooli is the Google-like company that appeared in Judge's satire on the tech world, which has just completed its second series. In the series, Hooli establishes a comical moonshot division called XYZ, led by "Sole Head Dreamer" Nelson 'Big Head' Bighetti the greatest achievement of which is a backfiring potato cannon that wreaks havoc on the employees. This easter egg in the announcement on Google official blog is indeed a very good joke. It will make people laugh even more when they realize that Alphabet site actually shares the same .xyz domain with Hooli XYZ. Yet, there is other, a bit more serious part of all this – Google has been always emphasizing that using hidden links is against its terms of service. But don't stop laughing, we are sure Google will not stop here and there is another part of the Alphabet story on the way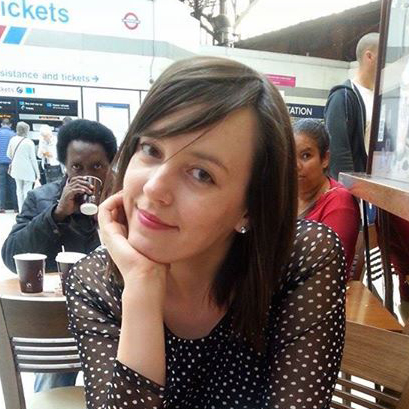 Emilia is an experienced editor, gifted wordsmith, a professional translator, but first of all, an avid reader.