The worldwide smartphone market grew 27.2% year over year in the second quarter of 2014 (2014Q3), just over a third of a billion shipments at 335 million units, according to data from the International Data Corporation (IDC) Worldwide Quarterly Mobile Phone Tracker. 8 At this pace, 2014 promises to close at nearly 1.3 billion shipments, with Android taking the lion's share, spread across over 180 tracked vendors. The bulk of these Android players are squarely focused on the sub-US$200 space, driven by demand at increasingly value-oriented consumers. Third quarter shipments were slightly above IDC's forecast and expects iOS share to recover during the holiday peak as existing users upgrade to iPhone 6.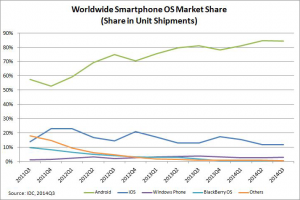 | Period | Android | iOS | Windows Phone | BlackBerry OS | Others |
| --- | --- | --- | --- | --- | --- |
| Q3 2014 | 84.4% | 11.7% | 2.9% | 0.5% | 0.6% |
| Q3 2013 | 81.2% | 12.8% | 3.6% | 1.7% | 0.6% |
| Q3 2012 | 74.9% | 14.4% | 2.0% | 4.1% | 4.5% |
| Q3 2011 | 57.4% | 13.8% | 1.2% | 9.6% | 18.0% |
Android shipments lead the global smartphone market, with 283 million units shipped and over 84% of the market share in the third quarter of 2014. Android average selling prices have been plummeting to maintain this share, hitting US$230 in third quarter, down from US$267 the same quarter the year before. Samsung's lead was further chipped away as Chinese players like Xiaomi and Lenovo made yearly gains. However, the strength of the long tail of regional and local vendors is where many of the gains came from, as the top 5 collectively accounted for 52% of shipments, down from the top 5 a year ago with 62.0% share.
iOS continues to drop in market share, down to just 11.7% from 12.8% in the same quarter last year, representing the growing shift of demand toward low-cost smartphones. The launch of the iPhone 6 and 6 Plus at the very end of the third quarter means that the bump in shipments will be reflected fully in the fourth quarter holiday season.
Windows Phone dropped year over year, but was up sequentially from the second quarter, reflecting a change in vendor dynamics. While over 90% of Windows Phone shipments have consistently been driven by Microsoft (Nokia) Lumia models, partnerships with other vendors have shifted over the year away some of the bigger name vendors like Samsung and HTC toward a number of regional and local players, attracted by free Windows Phone licenses, announced in second quarter.
Blackberry OS remains below one percent share. While it launched the Passport late in third quarter, it was a limited release, which excluded any carrier tie ups in the US, and was thus mainly carried unsubsidized via online channels.
Source: IDC, 2014 Q3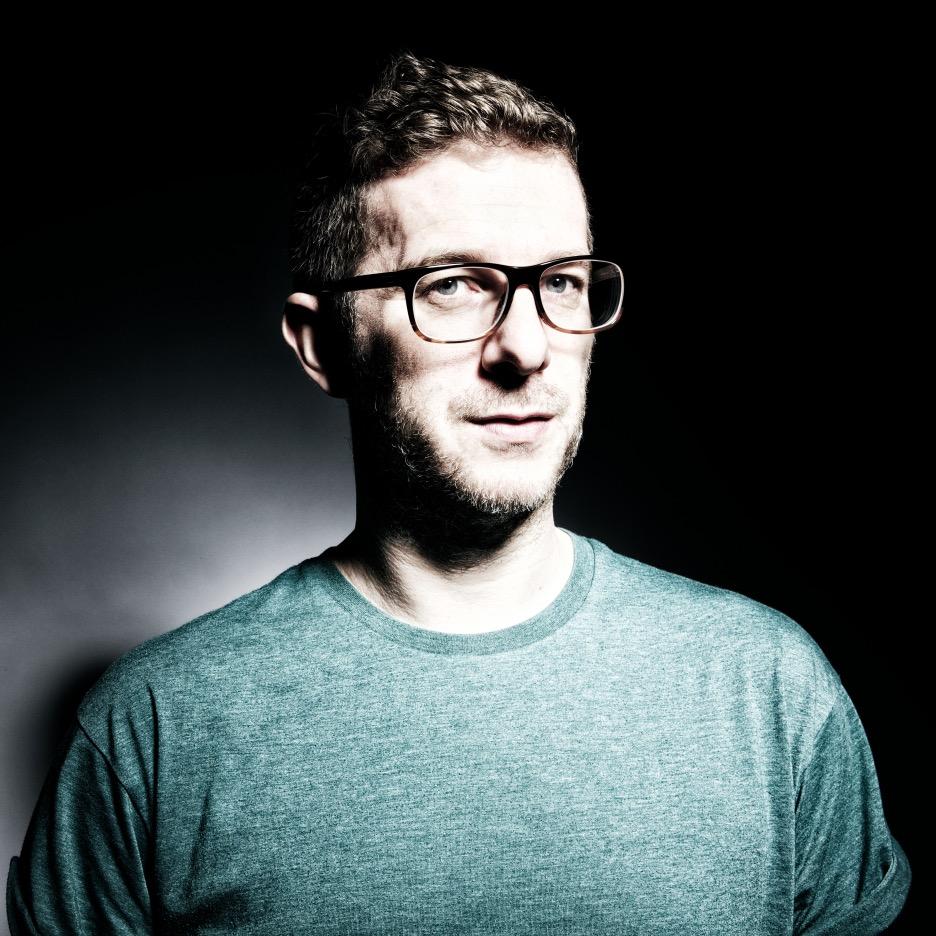 Radio addict, blogger. working on his 1st book ever.