The full potential of touchless economy is yet to be discovered.
Despite the fast-growing tech solutions to tackle COVID-19, EdTech and MedTech still require improvement.
Personal interactions cannot be replaced. At least that's what the experts of today declare. 
While "a touch" has become a potential threat of COVID-19 infection, the term "touchless economy" entered our lives. Inspired by Tim Wu's article for The New York Times, we decided to have a closer look at the topic. 
Touchless economy might sound a little futuristic but you definitely know the meaning. Touchless Economy is also referred to as Internet Economy, Web Economy or Digital Economy. The definition involves the economic activities that remain possible without close physical interaction between people: 
online meeting, 

live-streamed training,

facetime photo shooting,

online education,

telemedicine,

drop-off delivery of groceries and other physical goods, etc.
In other words, it's pretty much the only part of the economy that still keeps our world rolling nowadays. Even though the digital economy term is almost 30 years old, we as a society are just starting to realize the full potential and importance of it today. 
The first real-time barometer of the digital economy has been created.
Early in April, Adobe unveiled the Adobe Digital Economy Index (DEI), the barometer that analyzes trillions of online transactions across 100 million product SKUs of top 80 U.S. online retailers. 
DEI is a measure of increasing consumer buying in the digital world, starting with the U.S. and growing to cover the world's major economies. The report is going to be updated with new data and countries.
To date, DEI shows the inflation in what people have been buying online in the U.S. during the 2014-2020 period. The Index also explores the changes in the digital economy caused by COVID-19.
Key insights from the report (U.S.):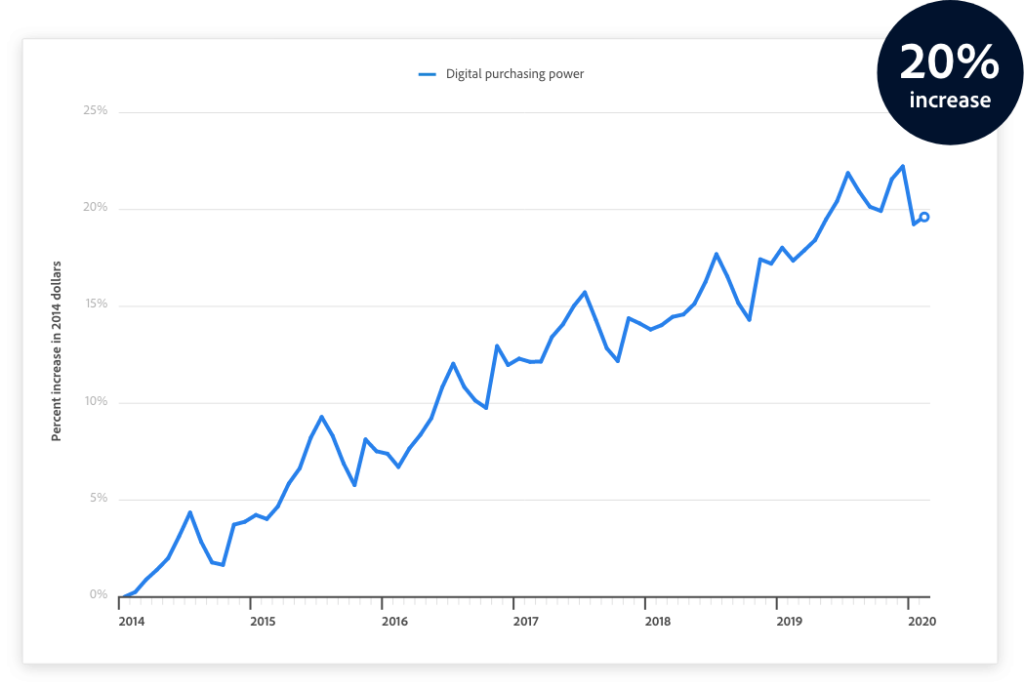 Since 2014, the digital purchasing power has increased by 20%. Consumers continue to get more for the dollars they spend online. The expectation is that as more people's lives move online, the offline and online economies will continue to converge and so will their prices.

Due to the COVID-19 pandemic, Buy Online and Pickup In-Store (BOPIS) shopping has increased by 62% between February 24 and March 21.
Measuring inflation in what goods and how people are buying online is just the first step. To see the whole picture of the digital economy today, we would need to accumulate in one report data from all the industries that operate in the digital reality (education, work, shopping, health care, entertainment, etc.). For now, let's have a look at EdTech and MedTech.
Education amid COVID-19: solutions and struggles.
If this same event would have occurred 20 years ago, we all would have been doomed. Forced closure of the physical schools/universities would have meant students not receiving an education at all. Nowadays, the vast majority of the students have moved online. 
As Michał Gwiazdowski, Brainly General Manager for Poland, Russia, and Romania told ITKeyMedia, almost 70% of Polish children attend virtual lessons provided by their teachers during the weekdays and spend around 6 hours per day studying online. 
For those who have already been building a business online like Brainly, not much has changed with the COVID-19 crisis. So instead of thinking about how to survive, they can think about how to support teachers and students. 
Late in March, Brainly in cooperation with WP launched a series of remote lectures on TV to help students to prepare for the exams. 'The crisis awakens creativity in people and forces working faster. For instance, we have created a set of remote lectures in just three days. Normally it would have taken us three months,' said Michał.
The crisis also fosters teachers' creativity. Many of them make a huge effort to come up with effective solutions on how to teach students online. 'We should support tutors who spend lots of hours online. That's why we are providing a contest for the best online teacher in Poland. Shortly the results will be revealed, and we will share them with ITKeyMedia's audience,' stated Michał Gwiazdowski. 
That said, the educational technology field globally is far from being in perfect condition. COVID-19 entered in a time of transition and conflict between the traditional classroom-style education and online education. The consequences of this conflict we are experiencing right now. 
Key struggles that EdTech is facing:
Lack of equipment.

Brainly receives feedback from some students that they don't have the equipment to study on. It happens that parents and their children have to share the same laptop or computer which causes problems when a mother has to have a call, and a child has to attend the e-lecture.

Poor WiFi connection.

In some regions, students don't have access to a stable internet connection and are not able to complete their homework.

Producing and delivering educational content online.

Teachers are struggling with how to produce content online so it's clear to the students. Moreover, there is a question of what tools to use to deliver lectures in the best way possible. It's a whole new challenge for educational institutions and their staff. 
Michał Gwiazdowski concluded that overall, EdTech might even benefit from the growing number of users due to the schools' closure. In March, Brainly hit 200 million monthly learners globally. Students, teachers, and parents will master online education and will stick with it after the quarantine. 
MedTech amid COVID-19: solutions and struggles.
Telehealth has been steadily on the rise for years. Promising to become at the forefront of the future of medicine, remote health care has not had the success story it had hoped for. In reality, only a handful of countries and regions adopted the concept of monitoring between doctors and patients online. A study conducted at the end of 2017 showed that in the U.S. alone, 82% of consumers did not use telemedicine.
Then the COVID-19 pandemic came. Suddenly, investors, founders, and patients turned their eyes on digital health as an adequate solution in these circumstances. Today telemedicine startups have a perfect opportunity to stand out from the crowd. 
Yesterday's toys, today "smart" watches and thermometers play a huge role in monitoring health conditions. In America, they have accurately detected flu outbreaks and preliminary data suggest it predicted a COVID-19 outbreak in Florida by spotting a rise in users' body temperatures at a time atypical for the flu.
Polish startups are also working on MedTech solutions.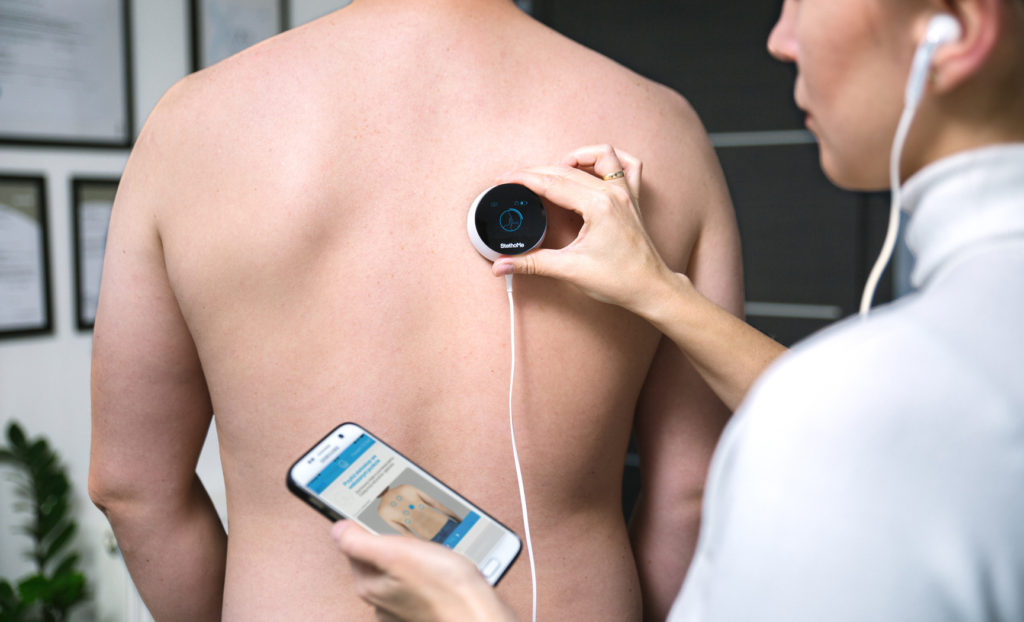 StethoMe offers a wireless stethoscope, AI algorithms, and a dedicated application so that you can examine yourself without leaving your home. 'StethoMe will notify you of any abnormal sounds detected in your respiratory system then you can send the results to your doctor, who decides what to do next. StethoMe vision is to become the equipment that is with us at home all the time, like thermometer or blood pressure meter,' StethoMe CEO Wojciech Radomski told ITKeyMedia. 
SiDLY system is another innovative telemedical technology that consists of a telemedical band, platform, and mobile application. Among other features, the startup offers heart rate measurement, skin temperature measurement, SOS button, etc.
Despite that, MedTech still has its vulnerabilities:
Regulatory approvals

take time.

Lack of digital platforms in hospitals.

Most health institutions around the world have still not built digital platforms to conduct televisits. In Ukraine, the staff in public hospitals have just started to master Excel…

Data security.

Meeting government standards for privacy is challenging. The data shared over a network require special security. Patients are concerned that their medical data may be hacked or sold.

Expensive digital tools for patients.

There are also challenges related to the affordable, high-quality smartphones and the assorted digital kit that is needed to conduct remote monitoring. The tools are expensive which means telemedicine may not be viable for the poor or less tech-sophisticated elderly. 

There is still a limit to what telemedicine can do.

Most examinations require physical contact and a deep inter-human connection of non-verbal cues, the transmission of empathy, trust and more.
Eric Topol, the director of the Scripps Research Translational Institute, predicts that the social and medical practices that are happening in response to COVID-19 will remain in place when the crisis eventually subsides. 'It will certainly apply to all elective, routine and out-patient visits. And for any infectious disease, including the seasonal flu. Telemedicine will play the role of the first consultation.'
The world after COVID-19
ITKeyMedia has asked one of the most influential experts and futurists about what awaits touchless economy in the post-pandemic future. 
Felicity Burch, CBI Director of Digital and Innovation, stressed that 'The surge in remote-working technologies, online food delivery, and cashless payments underlines the importance of digital technology to the future of our economy.' 
Touchless economy will require international collaboration – countries should work together.
Paulina Pasławska, Futurologist and Ph.D. thesis in the field of New Media in correlation with Robotics and Medicine, stated, 'I believe that SARS-CoV-2 pandemic and Global Lockdown will push our digital transformation further and faster than we thought. Standing on the verge of an economic crisis we are highly motivated to transform. This motivation will push us to the next level of digital transformation and automation. "Touchless economy" won't be the buzzword anymore, it will be the only economy we know.' Ms. Pasławska also added that finding a perfect solution to protect the touchless economy requires international collaboration and dialogue, with the full involvement of developing countries. For instance, Australia and Singapore have just announced the launching of their collaboration on digital economy initiatives (artificial intelligence, digital identities, e-payments, and cross-border data flow). 
Employees unlikely to go back to work in the office.
Kelly Palmer, Chief Learning Officer at Degreed with headquarters in San Francisco, specializes in remote working. 
'Remote work is the new reality in the touchless economy and I predict that work will never be the same. One of the reasons to embrace remote working is the many advantages it brings that some people are just realizing. From the company perspective, think of the savings in real estate costs alone. Combine that with the ability to hire top talent from anywhere around the globe and a workforce that is happier and possibly less stressed. At Degreed, a talent upskilling platform where I'm Chief Learning Officer, we have always embraced a remote culture with smaller offices in key locations and we've managed to have a good balance. One thing I've learned from my experience, it's difficult to go back to the way it was before once you get a taste of remote working,' Kelly Palmer shared with ITKeyMedia.
Touchless economy is for convenience but human connections can never be replaced.
Jacob Morgan, Best-Selling Author of The Future Leader, concluded, 'The touchless economy is already happening now. In my house, for example, I can turn the lights on and off with my voice. I believe that in 5-10 years the goal is to have smart voice-controlled assistants that just operate in the background of your life (at home and at work) who can help us get things done. The other aspect of this is about being able to get things done virtually. For example virtual classrooms, virtual workouts, having groceries delivered to your door. This too is happening now and the Coronavirus has shown us exactly what this can look like today. We are absolutely moving more towards this type of world, especially as technologies become more advanced. But there's still something to be said for the in personal relationships which I don't think are going to go away. The touchless economy is for convenience, productivity, and efficiency but we must all remember that business still depends on human beings and relationships and that won't change.'