There are two ways you can invest in cryptocurrency. Some investors prefer to mine cryptocurrencies using specialist equipment because they think it's a better ROI. To find out more about this, visit https://medium.com/@jimmykiddmining/review-of-crypto-miner-bros-scam-or-legit-1fba79fa9420. However, the most common way is to buy and trade cryptocurrency is through crypto platforms. It can be hard to know which platform is best to use so today, we will be looking into the latest one to hit the market.
Atani provides an all-in-one crypto platform, including trading, wallets, and taxes under one roof.
You can track and trade multiple numbers of tokens, pairs, 25 exchanges, and 3 hardware wallets.
The platform enables tax report services in one click.
Atani is NOW available globally, also for Polish users.
When Paul started to go deeper into the cryptocurrency landscape and trade crypto, numerous issues arose. He preferred something reliable like Insuring cryptocurrency with the best crypto insurance company or something similar. He faced difficulties associated with trading on multiple exchanges, the absence of options for holistic portfolio management with hardware wallets, the frustrations of dealing with taxes, and the slow and complex interfaces. In short, Paul had huge usability problems. These types of issues can hold anyone back as they try and navigate their way through financial management, that is why there are such services as the federal tax resolution to help people deal with their debt that may be holding them back as they get into cryptocurrency, this is just one option that can be looked into that may be beneficial.
After having tried every possible solution on the market, enterprising Paul decided to build his own crypto platform that aggregated different exchanges, hardware wallets, alerts, taxes, etc. Once his trading peers heard about the solution, they couldn't wait to try the software themselves. That's how the story of Atani (formerly etoshi) has begun.
Paul Barroso and his sister, Haydee Barroso, founded Atani in Madrid, in 2018. It's the all-in-one crypto platform striving to solve blockchain's fragmentation issues. The goal is to give people a simple and secure way of benefiting from the crypto trading by enabling the whole ecosystem to work smoothly on one platform.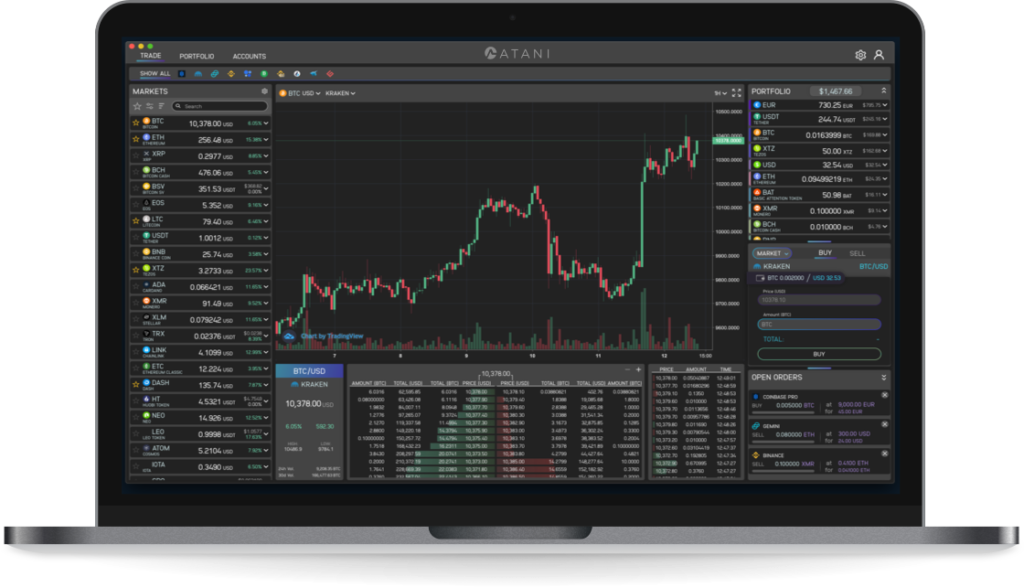 Primarily, the Atani team focuses on semi-professional and advanced retail traders that use multiple exchanges, and manage a few wallets.
'Atani is the only crypto platform to help traders act in the blockchain ecosystem easily and safely. What we're doing is integrating all the blockchain verticals. So, mainly we are starting with trading wallets, custody and taxes, creating this all-in-one end to end experience in crypto,' Atani Co-Founder Haydee Barroso told us.
Why Atani?

Early in March 2020, the company underwent a rebranding and changed its name from etoshi to Atani. 'Although we are sad to let go of etoshi, we feel Atani better represents our company's values. Why? Our mission is to build a product you love. It's in our DNA to make you happy and help you forget about your frustrations when navigating crypto. We wouldn't have made it this far without your support and that is why you will always be our priority. "Ata ni" means "For You" in Japanese. Every decision we make, every feature we build, will be For You. We promise to bring transparency and simplicity to the crypto landscape.'
The crypto platform offer includes:
Unified trading terminal. The user can trade on all exchanges using one interface.

Hardware wallet support. Tracking and transforming tokens between the exchanges and wallets.

Taxes. There is reportedly an opportunity of making a tax report in one click.

Portfolio management. Planning the asset allocation and tracking the overall performance.

Security matters. The platform servers can't access users' API keys.

Integrations. The trader can track and trade multiple numbers of tokens, pairs, 25 exchanges, and 3 hardware wallets.
The tax issue
Paul and Haydee are both coming from the finance world, bringing usability of the broker experience to the blockchain decentralized ecosystem.
The company has signed a partnership with a crypto tax company that is dealing with taxes for crypto alone. Every time a user is transacting through the platform, he gets his tax liability calculated for the different countries in real-time.
The platform also prepares the FBARs (Foreign Bank Accounts Reports) for its users as ownership of foreign crypto accounts is to be officially reported at the end of the year.
'Regarding crypto taxes, regulation varies among countries. For example in the US or Spain, users have to report FBARs on crypto. Atani helps users globally calculate their taxes in accordance with the traceability, cost basis, reporting method, and so on,' stresses Haydee.
The company supports 30 currencies, including Euro, Polish Zloty, Russian Ruble, Czech Koruna, Hungarian Forint, etc.
Atani is available globally. The users need to connect their exchanges to the platform, and they can start trading. 'Currently, we support the top 25 exchanges by volume and will integrate many more.'
Prices

Until May 2020, you can register and use the platform completely free! After, the user can choose one from four packages offered:
Free: up to 5 transactions per month (no tax calculation) – for HODL/beginners

€4.95/month: 30 transactions per month (includes tax calculation)

€3.95/month (when paying annually)

€14.95/month: 300 transactions per month (includes tax calculation)

€12.95/month (when paying annually)

€29.95/month: 1000 transactions per month (includes tax calculation & margin trading + many more to come)

€25.95/month (when paying annually)
The founders' idea is to give everyone free access to the platform, so they can try it. Once they start using the ecosystem more, trade crypto, a transition from the free to the paid model will happen organically.
You can get a 10% discount in Binance (one of the largest exchanges) trading fees for life if you create an account there using a referral link provided by Atani!
Fundraising
On May 30, 2019, Atani raised €600,000 from three investors – Lanai Partners, Encomenda VC, Jose Manuel Entrecanales Venture Capital.
Atani was recognized as Top pick 2019 at TechCrunch Disrupt in Berlin and became one of the finalists at the European Blockchain Convention in 2020.
The company has been selected as semifinalists at 4YFN (Mobile World Congress) startup competition. Also, Atani took 3rd place at the European Blockchain Convention startup competition in January 2020. The platform was nominated Best Fintech Product by Product Hackers.
COVID-19 Response from Atani Co-Founder Haydee Barroso on the:

Bitcoin has the halving, fiat has the doubling. Easy choice! Trading volumes are up and crypto is seen as a safe harbor for many investors that want to diversify their portfolio. While the FED and all central banks print money (ex. FED. $6Tr. = 28.5% national GDP), crypto's deflationary scheme is seen as an interesting alternative. In the short term, crypto's market cap has decreased, the same as all financial assets. However, we believe in the mid and long term, the expansionary policies all central banks are executing (aka printing, printing, printing money) is positive for Bitcoin's narrative.