Startup Poland has published a first-ever Report on the sector they are working in. This report is a giant leap for Polish Startups scene. Here you can find a summary of the Report. 
An initial calculation of the Polish startup population rings up an estimate of around 2,400 entities, with research showing that nearly 60% of startups are financed by founders' resources and that one out of three businesses is managed by their respective founders.
These figures comprise the first conclusions from the "Polish Startups. 2015 Report" published by Startup Poland in cooperation with the Warsaw University of Technology.
The research aims to provide key information enabling to determine the significance of the Polish digital economy as well as specify the direction and pace of its growth. It is the first research of its kind conducted so far that enables to set out the most important sector characteristics which are supported by hard data. The research was coupled with the creation of a startup database which has so far managed to gather information about 2,432 business entities – the first summing up of the Polish startup population. Startup Poland invited them all to participate in a survey which was filled in by 432 startups (17%) from 10 June until 15 September 2015.
"The report prepared by the Foundation encourages systematic consideration of the factors that determine the growth of this particular area of entrepreneurship and its impact on the economy," commented professor Anna Giza ­Poleszczuk, Vice Rector of University of Warsaw for Development and Financial Policy, member of Startup Poland Advisory Board.

"The fact that startups are being created in the largest metropolitan centers, with their operations primarily geared towards B2B, suggests that the main impulse for establishing startups is a market created by large companies. An additional factor is the presence on foreign markets: startups that export are larger and develop faster," she adds.
The report comments on business models used by startups, mentions popular sources of capital and other financial resources, as well as presents companies' level of employment and the scope of their export activity.
One question from the survey about an approximate increase of company value in the period of the next two years brought impressive results: almost half of respondents expect at least a five­fold increase in company value! In parallel, only one out of four startups collaborate with an academic institution or an R&D center.
"Two things seem both typical and disturbing. First, we have a surprisingly low share of startups financed by venture capital (about 20%). […] The second thing is the fact that only 25% of innovative companies cooperate with research centers. This result should be taken as a warning sign. Startups should base a  large part of their operations on the commercialization of the results of R&D work," explains Bartłomiej Gola, Partner at SpeedUp Venture Capital Group and Chairman of the Startup Poland Advisory Board.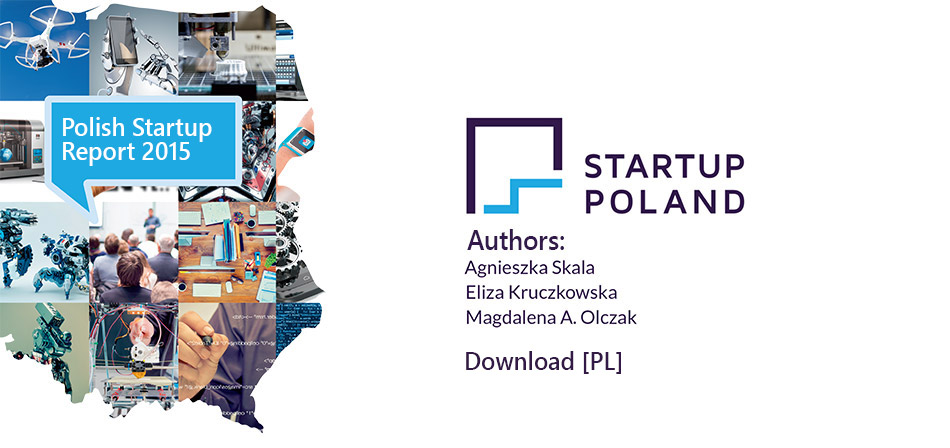 You can download the Full Report here: Startup Report 2015 PL (Download)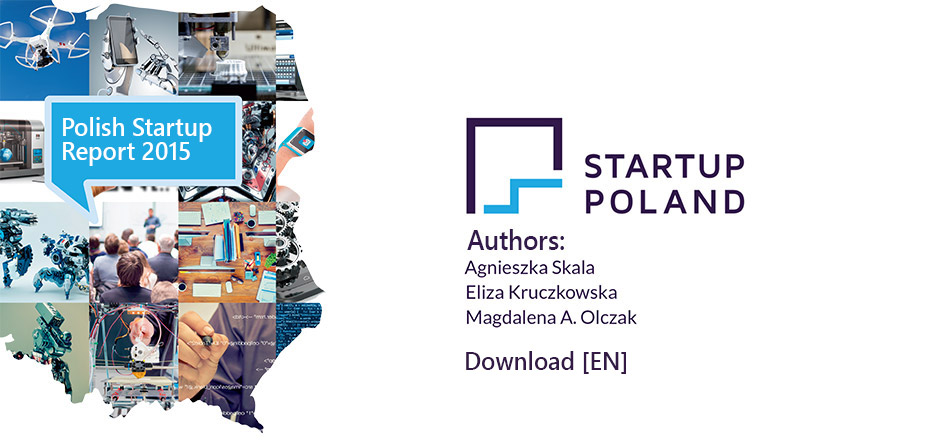 You can download the Full Report here: Startup Report 2015 EN (Download)
A part of the report is dedicated to innovation in startups and the nature of their research­ development­ innovation activity (RDI). Many startups indicated products as key innovation vehicles – both regarding a breakthrough innovation (52% of innovations) and an improvement of an existing solution (40%). Meanwhile, 15% of startups declared that their operation is related to KET: Key Enabling Technologies. Almost every third examined startup declared that it holds a patent or a reserved trademark, purchases or sells licenses for technologies. These forms of competitive advantage protection are widely used by exporting startups and those led by managers experienced in this area. Moreover, research shows that exporting startups develop faster and create more jobs than those operating in a local market.
"From the perspective of the needs of the economy and the need to increase innovation in individual industries, a key challenge for Polish startups remains: changing the way they function and basing their growth on R&D projects. Too few companies are involved in R&D which – though costly and time ­consuming – can be successfully financed from public and private sources. […] Equally important is raising and broadening the level of technological competences, whether it is based on their own RDI teams or external experts, such as researchers interested in commercializing R&D results," explains Leszek Grabarczyk, Deputy Director of the National Center for Research and Development (NCBR), member of the Advisory Board of Startup Poland.

The presentation of the complete report took place on 6 October in Warsaw. "This report isan inspiring invitation to participate in a discussion and one should hope that it in fact initiates an important and multifaceted debate," concludes Giza­ Poleszczuk.
Emma is a telecom engineer, fond of fantasy books and RPGs