Warren is an Estonian startup that provides regional cloud infrastructure technology to small and mid-sized businesses.
The company has recently earned an additional €1.2M in funding.
They have already found footing in Estonia and Indonesia and are currently looking to expand in South America and Africa.
Warren, the Estonian startup focused on providing cloud infrastructure for smaller companies, has recently acquired an additional round of funding courtesy of Passion Capital.
Originally thought of in 2015 and founded in 2016, Warren is meant to address the growing disparity between the cloud platforms used by giants like Amazon and Google.
Here is CEO and Co-Founder Tarmo Tael shedding some light to ITKeyMedia on the project:
"Established initially as a side project, Warren was incorporated in 2016 out of a need for a platform to manage e-commerce projects across different local data centers and hosting providers more efficiently. Discussions with these providers led to the development of a complete feature-rich platform, packaged as a service that manages everything between the hardware and the end-users."
Tarmo goes on to add that there is a growing market need for customized cloud infrastructure. The services provided by bigger corporations tend to be very utilitarian and with minimal potential to tailor these services to individual, smaller businesses.
"The local providers keep much lower prices and give a great deal of bandwidth completely for free, which attracts the SME sector. There is also the Data Sovereignty aspect that plays an important role in choosing their cloud platform for many of the clients", adds Tarmo.
The 11-person team behind Warren comes from a diverse background, including Skype, Nokia, Kühne + Nagel, and Ericsson, with the original founders having experience in over 500 e-commerce projects in more than 10 countries, making the company both very lean and incredibly experienced.
They've already launched their services in Estonia (pilw.io) and Jakarta (idcloudhost.com), with preparations being made for South America and Africa.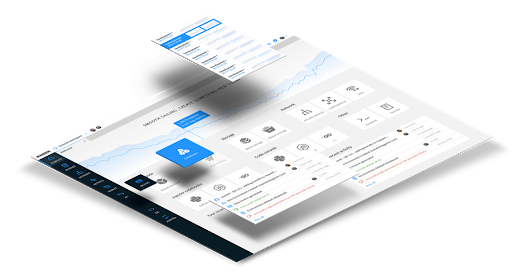 The way the whole thing works is by providing their infrastructure service providers with a whole software stack, meaning virtualization, distributed storage, software-defined networking, client management, billing, and more. The client, after procuring the hardware side of things, is then able to focus entirely on marketing and sales, while the Warren team supports and takes care of everything else.
The end user can then contact one of multiple local providers and employ Warren's cloud infrastructure services for their business. Essentially, Warren is acting as both the distributors and technical support of their own proprietary technology. It's an effective strategy that frees them up to work on and improve their product while simultaneously allowing them the flexibility to be as modular and as scalable as they please.
Warren's promise has not gone unnoticed, either, as they've recently earned €1.2M in funding from Passion Capital. When prompted on their investment in Warren, Giuliano Sison, an associate at Passion Capital, told ITKeyMedia that he was extremely excited at the prospect:
"We're thrilled to be partnering with Warren in order to enable local cloud providers to offer best in class provisioning and service reliability to their customers. This market continues to grow at a phenomenal rate and Warren is perfectly positioned to serve that at great scale."