Salarify is the first earned wage access solution in Central-Eastern Europe

Being partnered with VISA, the users will have a Salarify Visa prepaid card to cover their everyday expenses using the already earned wage

2022 is going to be about scaling in Hungary and internationally with Salarify Pay and the launch of their new product: Verify
Salarify is a digital financial ecosystem for employees, intending to disrupt the monthly pay-cycle as we know it. It gives access to employees' earned, but unpaid wages so they don't have to wait for the next payday or loan to solve unexpected expenses. 
"The idea itself is based on my own experience" told Bence Radák, the Co-Founder and CEO for ITKeyMedia. "When I was working as an intern in Hungary, I regularly had money issues near the end of the month. I later did an internship in the United States – where I didn't make much money either -, but because I got paid every two weeks, I got along more easily." Hence, it was easier to plan for two weeks in advance, rather than to foresee the needs for the next 4 ahead. When he came back home, he realized that he was not the only one with this problem. 
This is also backed up by scientific research and there have been studies done that model how and when employees are to be paid. "Based on many variables, this study showed that the most beneficial for the worker is if the wage payment is as close as possible to the occurrence of the costs. In this way, you have the least chance of spending the money on something else, and that's how you can best plan." With this information in mind, and through his experience, he began looking for solutions around the world and found PayActive: a strong platform being used by millions of American employees. That is how, in 2019, Salarify was launched as the first EWA service in continental Europe.  
What is EWA all about? EWA stands for a lot of things: mainly early wage access, but it also means on-demand pay, instant pay, daily pay benefit, or earned income access. All these names refer to does the same basic thing: It helps employees access wages they've already earned before payday comes and it is a great way to empower them. It is all about the financial wellness of the employees, but the companies stand to gain just as much. 
About the team behind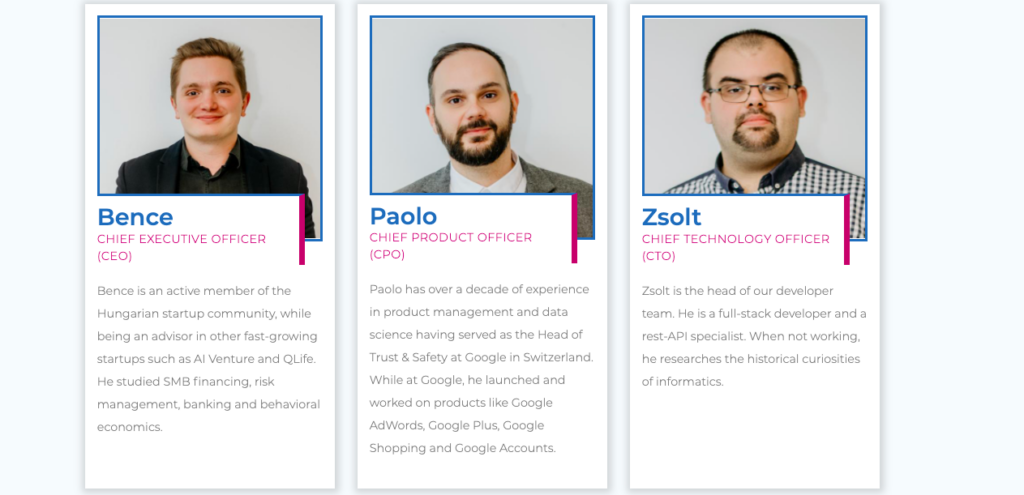 Salarify's trio of founders
The trio of founders of Salarify – Bence Radák, Zsolt Tasnádi, and Paolo Petrolini – is known to be active in the start-up landscape in Hungary and come to the table with solid expertise in their field.
Bence Radák is an entrepreneur and business developer with 5+ years of experience in building innovative ventures. As a co-founder and CEO of Salarify, his role is to plan, oversee and execute strategies and reach business goals, but aside from that he is an active member of the start-up community and recognized by Forbes 30 under 30 in the business category. Another important team member, Zsolt Tasnádi, is a full-stack software developer and DevOps expert with 15 years of experience and more than 3 years of experience in IT education. He was the one to support the IT department as co-founder of Salarify, while too being active in the Hungarian start-up ecosystem.
Last but not least, Paolo Petrolini, the co-founder and Chief Product Officer at Salarify, is an entrepreneur and strategic advisor with over 15 years of hands-on experience in technology and product strategy. He is a trusted Advisor to startups and enterprises alike, providing them with support in setting the right technology and product strategy to fit their business needs while designing the best solutions to deliver clear value to their customers. "Before starting my entrepreneurial journey, I worked at Google for over a decade, where I served as the Head of Trust & Safety in Switzerland, leading an international team of product specialists, data scientists, and anti-abuse analysts," told Paolo. 
The European EWA market
There is not yet a mature enough European EWA market. Being one of the first is sexy, but it brings a lot of challenges, Bence admits. Educating and building trust around this business model are important parts of the job. " It was really hard to find the first company willing to launch a live pilot, but fortunately, we managed to meet Man at Work, a labor hire company, that realized EWA can be a strong differentiator on the tough labor hire market while they can save up lots of resources by automating their salary advance processes and shifting it towards EWA."
After their success with Man at Work launch, it came to experimenting with the various business models, having HR professionals advocate for this type of tool, and hosting events to bring visibility and more attention to the power of EWA in the workplace. Currently, Salarify is involved in several pilot programs in multinational companies and even managed to sign regional contracts, despite their presence solely in Hungary. For now.  
This year was exciting for Salarify. Their partnership with Visa is a cornerstone – soon enough the users of Salarify can use their Salarify Visa prepaid card to cover their everyday expenses using the earned wage. At the same time, the start-up is preparing a new product to give employees control over verifying income and employment. Verify is their digital and instant way to help employees provide core payroll data to financial institutions and enable European citizens to have quick access to capital and finances to have a fresh and reliable dataset for scoring. "We are about to close a yet undisclosed bigger investment round, and started to work on our internationalization. Our primary target markets are CEE, Italy, Austria, and Germany. 2022 is going to be about scaling in Hungary and internationally with Salarify Pay and the launch of Verify"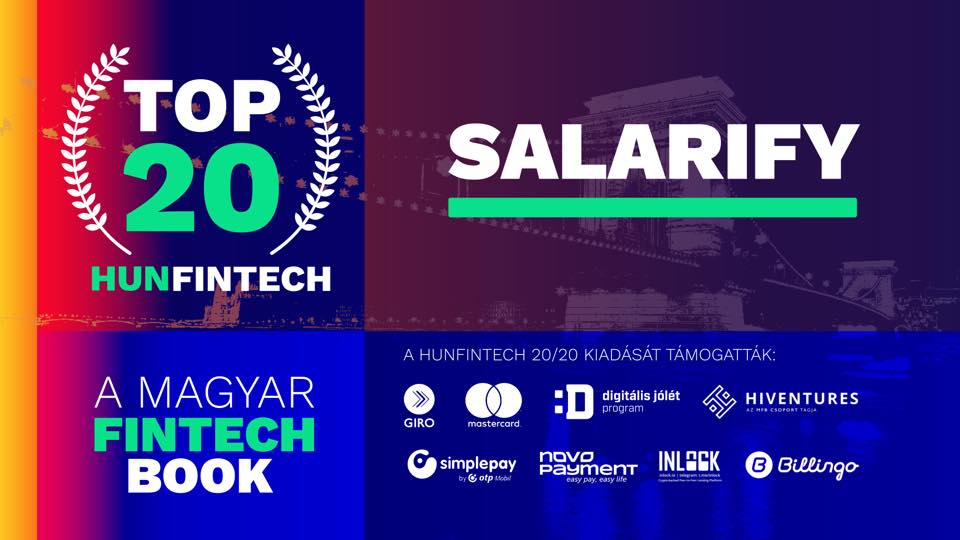 What do the experts in this field think about EWA? 
Companies always look to help employees tackle life challenges, and managing personal cash flow is an issue that affects both the personal and the professional life of workers. Laszlo Cser, a Senior Human Resources professional experienced in establishing, improving, and managing strategic and operative HR functions within the EMEA region, agreed to talk to ITKeyMedia about EWA and Salarify. 
Working for a major market-leading 3PL logistics provider that also happens to be Salarify's early clients, he was familiar with the idea of EWA from the American and British cultures, but it was not present in Hungary. "Salarify's concept of early access to wages already earned is a great way for us to objectively handle and assist our employees in times of difficulty. This is done whilst maintaining a professional atmosphere and de-stigmatizing the process of asking for a salary advance, where previously this would have been done in-person with the line manager and HR."
He also added that there were on average over 120 transactions per month, with some employees using the service more than once per month and the feedback was positive. Certainly, he says, all other countries in Eastern Europe face the same manpower challenges, therefore similar approaches to staff retention and employee satisfaction and engagement can be successful. This service can be a highly effective and cost-efficient part of such an encompassing strategy.
In terms of implementation, the team at Salarify was extremely helpful and very flexible, especially throughout the two-week pilot phase. "After being tested in one location, it immediately went live nationally with no problems then, or since. There is great support with internal marketing, and the technical setup with our external payroll provider was also seamless," told Laszlo Cser for ITKeyMedia.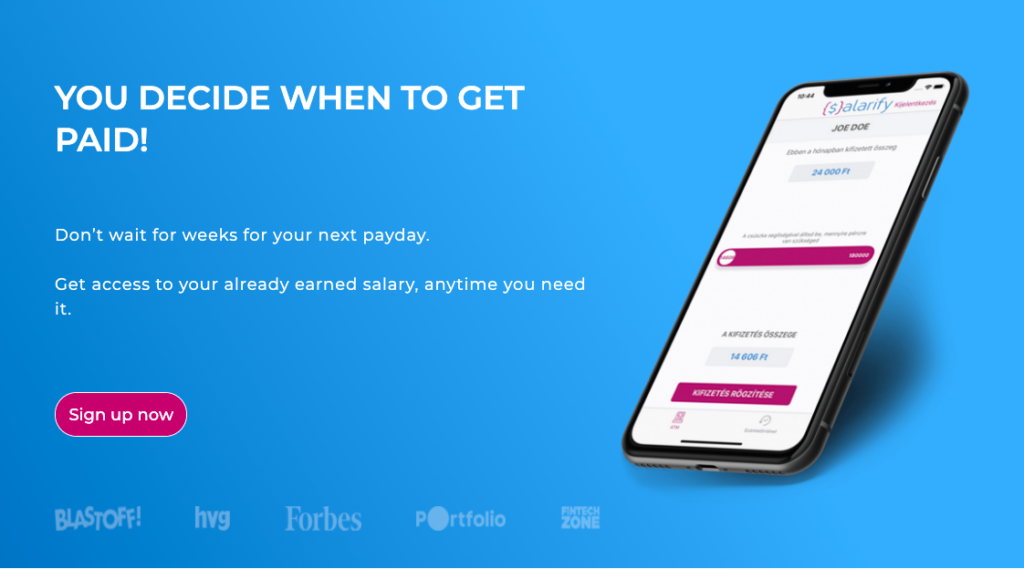 All in all, EWA is a concept that should be paid more attention to in the workplace – if you put your employee in the driver seat through on-demand pay benefits, amazing things happen. It can reduce turnover, the rate at which employees leave a workforce and are replaced, by 50% on average, strongly increase the productivity of employees and reduce absenteeism by 26%. In a post-pandemic world, this is going to be a worth-your-while trend with a significant economic impact for organizations that adopt it.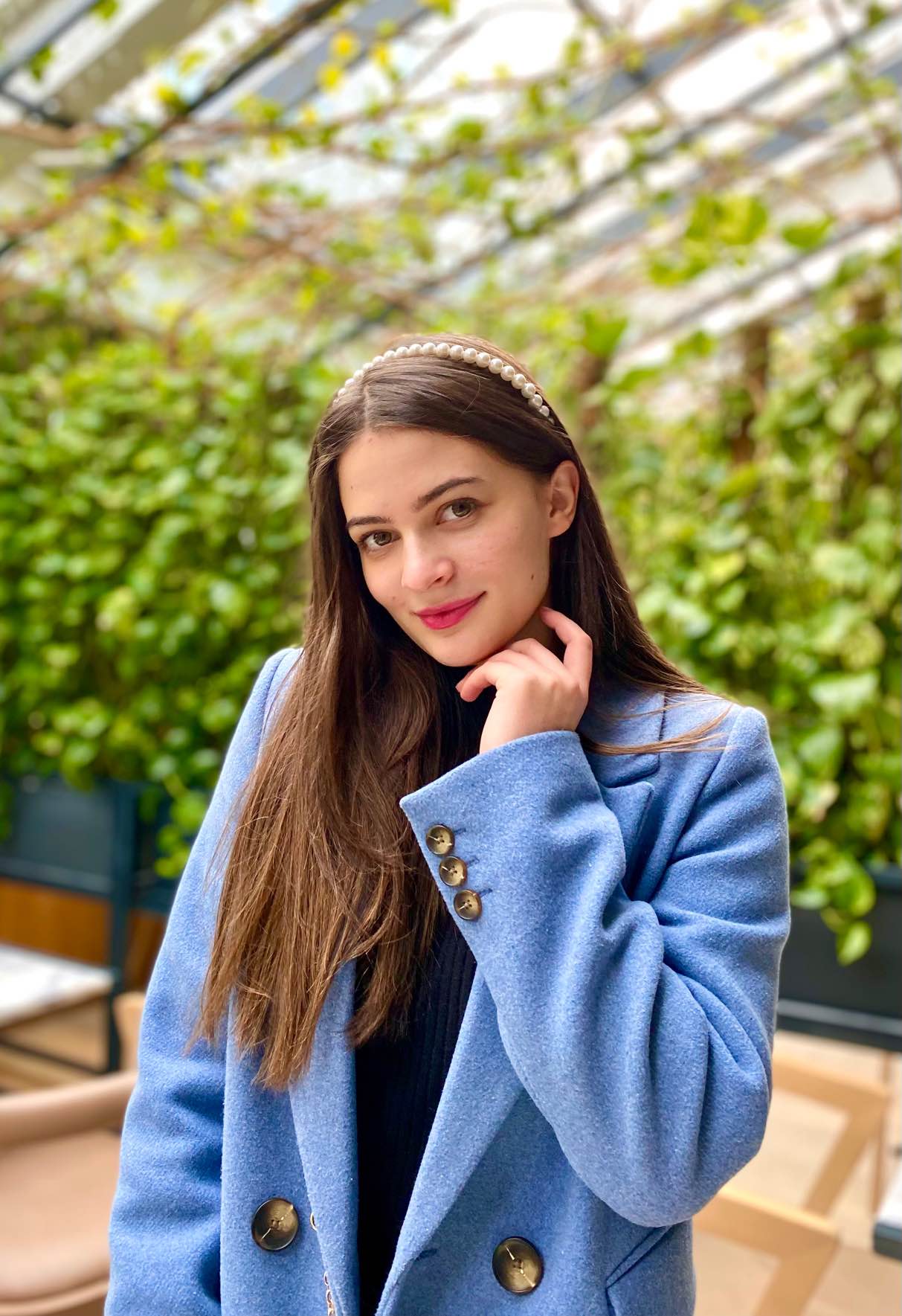 Sorina Vatavu is a freelance journalist from Romania. Pursuing a master's degree in law and technology in the Netherlands, she is very passionate about arts, traveling, and the interplay between regulation, ethics, society, and technology.