Nanoglue, a nanoparticle paste, promises to reduce infections, inflammation and supports wound healing to keep skin transplants alive.
The company is a spin-off of the university research project, not been incorporated yet. 
The founders are looking for investors and planning to close a Pre-seed round of $1.2 million by the end of 2020.
Polish surgeons show interest in conducting clinical trials of Nanoglue.
Sebastian Loy is a Master of Art in accounting and finance at St. Gallen University, Switzerland. In 2019, he and his colleague, Tino Matter, a Ph.D. candidate in particle technology at ETH Zurich University and Empa, founded a startup Nanoglue. We met Sebastian for the first time at Slush 2019. 
ITKM: Hello, Sebastian. Introduce yourself briefly. 
Sebastian Loy: I am a co-founder and CFO at Nanoglue. We're an early-stage MedTech company. Our mission is to keep skin transplants alive. To get our product to market we need to undergo extensive preclinical trials. Now we are looking for investors, partners and Life Science business veterans to support our team. Nanoglue works with metal oxide nanoparticles for wound healing – we want to improve the acceptance of skin transplants because approximately every fifth skin transplants get rejected, and in about 30% of them, infections occur.
Nanoglue is the first holistic solution to the problem. The nanoparticle paste formulation based on cutting-edge nanotechnology boosts the body's capacity of self-healing and keeps bacterial infections in check. 
Moreover, we use a production process called liquid-feed flame spray pyrolysis (LF-FSP), which is inexpensive, easily scalable and sterile by default.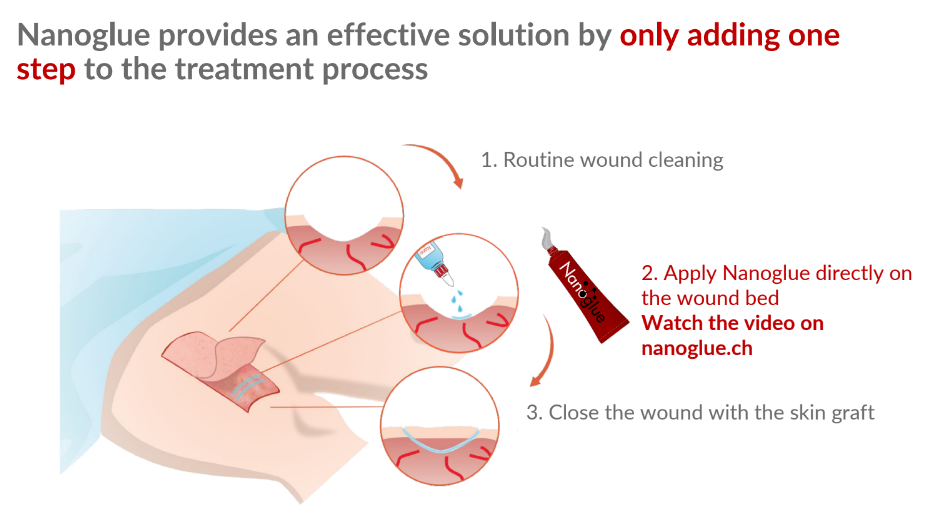 The nanoparticles fight off the infections, reduce inflammation and support the growth of new blood vessels into the newly transplanted skin, making sure the skin transplants take root and not die off. 
What kind of materials do you use?
There are different materials we are exploring right now. Some of them dissolve and some stay in the wounds. They are considered an implant, which means they stay where they are applied. These materials shouldn't inflict any damage to the body. And, our next step is a long term toxicity trial to show that the materials are safe. So far we've done a rat trial, and we've shown that they don't travel in the body. These materials are bonding very well with the tissue, so they're not moving around in the body.
More than 99.9% of the particles stay where they were applied and don't travel in the body.
The company is not yet incorporated as it's a spin-off project of the research held at ETHZ University and Empa St. Gallen.
Are you looking for clients and more funds?
No, at the moment we're not looking for clients. Fundraising is a more pressing issue for us. We are planning to start raising in the summer and, hopefully, close the round of $1.2 million by the end of 2020. We have a pitch deck. I'm approaching investors right now to build the network, get in touch, let them know us, our idea, the stage we are at and the progress we've made. 
We are looking for VCs, private investors, family offices, angels that have a background in medical technology or life science. I will prefer an investor that has experience in that kind of area as they have the network we need. We are looking for a veteran in the industry.
We expect the total runway to cover the preclinical trials, preparation before the clinical trials and nationalization of the patents. 
Including clinical trials stage I to IV?
We'll have only to go through two phases of clinical trials since we work with a medical device class 3. We are not a pharmaceutical product company because the adhesive properties of our product are physical, not chemical. 
How would you get VC financing not being incorporated as a company?
We'll probably try to incorporate right before the round or with the money we raise. 
Would you work with a large corporate VC from the med field?
It's probably not that easy. If you go with a corporate VC right now, depending on the corporation and type, you always have to be a bit cautious about what they really want. I think it's better to happen at a later stage when we're closer to the market approval and need a strong distribution partner.
Since the 1st of July 2019, Nanoglue has been supported through an accelerator in Switzerland, Venture Kick. The total grant was estimated at 50,000 CHF.
In the last 30 days or so, what's your biggest success and biggest failure?
Success: we talked to a plastic surgeon in Brazil who is very interested in collaborating on the animal trial with us. We are working closely with surgeons and are looking for key opinion leaders in the field. 
'The technology is an interesting replacement for suture or stapler use. If the technique proves better graft take, lower infection, shorter patients stay and cost-effectiveness it may be considered to use in the Public Hospitals,' Head of the Department of Plastic Surgery in Wroclaw Dr. Marek Paul previously told ITKeyMedia. The doctor has also said that he would be interested to have a clinical trial of Nanoglue at his Department in Wroclaw.
Being a Switzerland-based startup already gives you good credibility in the eyes of surgeons and investors, doesn't it?
Yes. Moreover, we are also working closely with our academic partners and advisors which gives us additional credibility.
If you are interested to get more information about Nanoglue or want to get in touch with the Founders, send us a note to tetiana@itkey.media.