Working from home has lots of benefits but also struggles, social isolation is on top of them.
Self-discipline is the key to successful remote work experience. 
Treat your physical and mental well-being as seriously as you treat Covid-19. 
Self-isolation is (truly) believed to be effective in protecting ourselves from COVID-19, so I guess many of you are working from home. Although the reason is unfortunate, we have a chance to master this style of work that is becoming the norm.
From afar, telecommuting (also known as working from home, or e-commuting) might seem like a lazy escape from a demanding work ethic, no wonder today dozens of websites post on what to do or how to entertain yourself while in quarantine. The truth is if you work from home properly, you won't have much time for entertainment left just like on any other working day on-site. 
Remote work was invented when employers realized that driving back and forth between home and office computers was a waste of time. For true remotes, working from home is a way to do their work better, not to elude it. 
While getting the benefits of going remote, like freedom of being in control of your workday, you might face some challenges. To make the experience successful for you and your managers, you might want to have a look at some tips shared by experienced freelancers.
1. Find your personal way of being the most productive.
Walk your walk. Work your work. 
We are all unique species, and we should stay that way. Tips that work for one person won't work out for others. The great news about working from home is that you have freedom and control over how you work. To be productive, you have to find out what your personal work-style is. To do that, Darren Menabney, Forbes contributor suggests you answer a few questions like:
When is your creativity and productivity peak – in the morning or the afternoon? 

Are you a lark or an owl?

(find out by completing the test!)

 

Do you work better when surrounded by background noise or hunkered down in silence? 
Take some time to sit down and figure out your work-style and environment around it, then use those insights to plan your personal approach of working from home. This is the core of effective telecommuting.
2. Self-discipline is the key.
Starting your workday surrounded by your family, pets, home is tough, that's why you have to make it feel like work more. You can reach the state of focus and mental "working" mode by:
Dressing in such a way that it feels like work (no pajamas).

Starting and ending each working day more or less at the same time.

Separating your workspace from the relaxing zone at home. So when you are there, you are 100% focused, you are at work. 
Be strict with yourself, and say clear "no" to the desire of having a nap, watching a TV-show or catching up for a coffee with a bored friend. 
3. Arrange your workspace.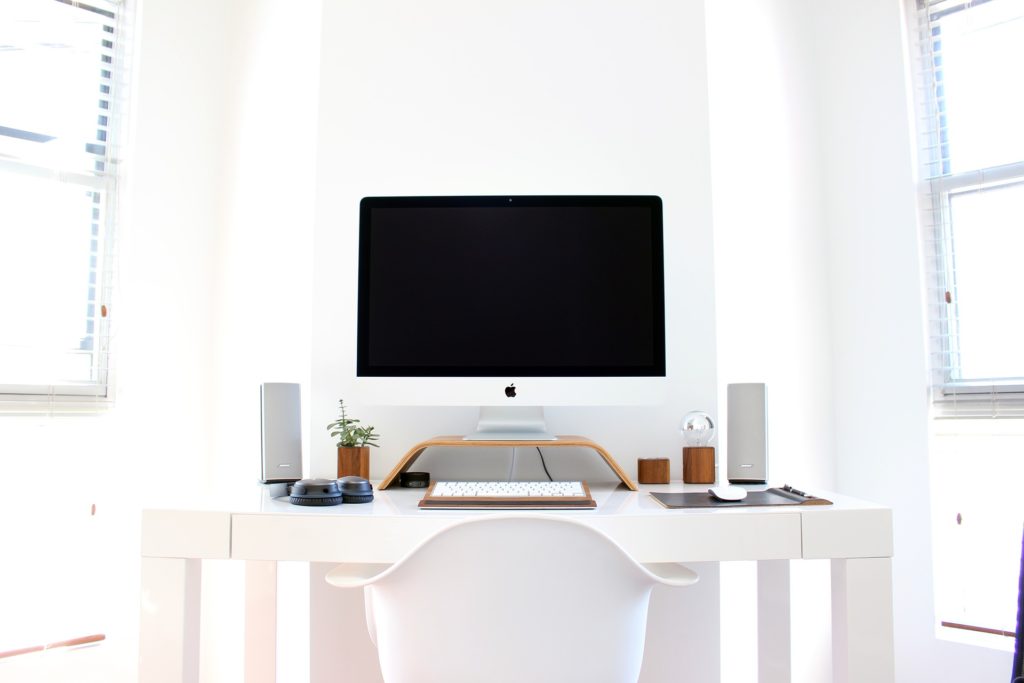 There is no advice on how the workspace should look like that suits everyone. 
Maybe you prefer to have even a few working spaces arranged at your home and move from one to another during the day. It's totally fine. However, it's crucial to have some space/environment where your working mode turns on. 
As Darren Menabney recommends you to answer a few questions:
What kind of workspace best suits your work-style? 

Is the kitchen table working out or you need something bigger? 

Are having other people around help you or you need to work in a separate room? 

Does a window looking out on the world inspire you or distract you? 
Apart from that, you would most probably need:
a strong internet connection, 

electrical socket, 

good lighting, 

some privacy, 

a comfortable armchair, 

space where you can store or access your documents. 
Forbes Contributor and Director at The Horizons Tracker Adi Gaskell answers the question "How to design the best workplace" in more detail. 
4. Make up a schedule.
Once you've arranged your workspace, it's time to sit down and plot out what you want to accomplish this day. Then you should chunk out time for each of your tasks. Making up a schedule has to be your daily ritual.
According to Darren Menabney, it's better to schedule creative tasks to the times when you're most innovative and routine work to the times that you're not. For instance, email checks and administrative tasks might be considered as routine work while coding or writing requires creativeness. 
As you go through the day, cross off what you've done. At the end of business hours, take the time to reflect on what has been accomplished and make some notes for the following day. You can also schedule tasks for the whole week ahead, many freelancers find it to be more effective. 
Seeing a visual record of what's been accomplished each day gives a sense of satisfaction that is incredibly motivating.
5. Set boundaries with your family and friends.
You might realize pretty quickly that people around don't perceive the working from home style as work at all. For them, flexibility means that you are not really working and can be available at any time. And some of your family and friends might call or text you during the business hours for a chat, ask to provide emergency babysitting services or meet the plumber since you are at home. 
Forbes Contributor and the internationally bestselling author Amy Morin says that it's crucial to set boundaries with people to make it clear that you still have a job and can't be distracted. 
You can say 'Imagine I am not here!' 
Don't feel uncomfortable about ignoring calls from friends or saying "no" to your close ones during the business hours. Remember, there is no other way to be productive while working from home except for making up clear rules that must not be violated by anyone. 
As Amy Morin noticed, once she began to tighten up her boundaries, she was able to get more done and take back control over her schedule.
6. Communicate with coworkers clearly and don't forget to use emojis.
Forbes Contributor and CEO at Distribute Consulting Laurel Farrer says that virtual professionals have refined the art of making every word count. Telecommuting implies that you don't waste time with suggestions or secrets. If there's something important to say, then you say it, expressing your thoughts as clear as possible. When sending an email with complex information you should use: 
bullet points, 

bold text

, 

tables, 

schemes, 

links to relevant resources and ask clarifying questions. 
Using emoticons as reactions to the comments of others has proven to play the role of nonverbal live communication. It helps in communicating your message tone. Emojis can be an effective way to improve transparency, suggests William Arruda, Forbes Contributor and Co-founder of CareerBlast.
7. Take care of your physical and mental well-being.
Social isolation is top stress when working from home. During the quarantine, it can be especially challenging. Coronavirus or not, we're social animals, and working at home all day can affect our physical and psychological health. 
If you live with your family or friends, you are lucky to get an emotional recharge and inspiration from them. Just make a 10-min break once in a while and talk with your loved one about something that makes you feel good – future plans, weather, funny stories, memories from the most recent trip somewhere.
Things are a bit more complicated if you live alone and can't go out much due to the quarantine. In this case, you might need to: 
Start your day with a 10-20 minute video conference call with your coworkers, who most probably struggle with isolation just like you do.

Create group chats with your team.

Keep in touch with your family and friends via Skype.
Remember, you might need to isolate yourself physically but not mentally. As William Arruda says, remote workers should seek out solidarity by building a support system of friends, family members, and other teleworkers.
At the same time, you should take care of your physical health. The human body can tolerate on average just three hours of sitting per day. And, sitting for prolonged periods can increase the risk of heart attack, stroke, and cancer. 
Start your teleworking day with some workout at home. Alex Morari, ITKeyMedia Founder, suggests this Youtube playlist for different levels of difficulty. If you really want to challenge yourself try this 'burpees marathon'. Keep on micro-movements during the workday, they are crucial for your physical health and productivity.
8. Justify the trust you've been granted.
Last but not least. 
Working from home implies trust by default. It's your responsibility to come up with a way to do the job efficiently and justify the trust you've been granted. 
Working from home is like being in a driver's seat – you are completely in control where to go but with it comes a huge responsibility to keep everyone safe and eventually get to the destination. 
Magda Ferretti, the Business Coach and Trainer offers an approach of switching off "working mode" and starting with a "private life mode". Take a walk around your house as if you are "coming back from the office" and get a chance to move, catch some air.  
That said, don't let yourself fall into the trap of avoiding your work tasks. Draw boundaries for yourself and stick to them; you'll be more productive and feel less stressed.
The quarantine will eventually end, and who knows maybe it will help you find your new favorite work-style.