Invest India, the national investment promotion agency & facilitation agency is the first point of reference for investors in India
Startup India, an initiative hosted by Invest India, focuses on the promotion of the Indian startup ecosystem using tools like the International Bridges program.
International Bridges imply close cooperation between two partner-countries' startup ecosystems. To date, 10 countries have joined the program
Polish – Indian Tech Hub (PITH) is an upcoming ITKeyMedia initiative to allow more efficient cooperation between the startup ecosystems of both countries.
India has the third-largest startup ecosystem in the world with over 1.3 billion population and more than 400+ incubators and accelerators across the country. Some Polish startups are already taking advantage of the Indian market. For instance, the educational platform Brainly announced to have over 15 million users in India.
"Today, India is one of the fastest-growing economies of Asia. For Poland, India is perceived as one of the most important non-European economic partners. Thanks to the Polish-Indian cooperation, several Polish power plants, mining facilities, Rajdoot motorcycle factory,

Escort

tractor factory, and others have been established in India."

Dr. Maciej Kawecki – former Director of the Data Management Department at Ministry of Digitalization and Dean at Warsaw School of Banking
Scaling to India becomes an increasingly attractive idea for more Polish startups and enterprises. And, when it happens, the founders have someone they can contact in India to get all the information and support they need to invest in the country.
Founded in 2009, Invest India is the national investment promotion and facilitation agency of India that serves as the first point of reference for investors in the country. It answers regulatory questions, provides policy assistance, and helps with on-ground logistics to simplify India's business environment for investors and to develop new partnerships that enable sustainable investments. Invest India handholds investors throughout the investment cycle – from pre-investment to after-care.
Invest India offers investors a variety of services such as:
Business planning and incentives advisory (Policy and incentives advisory, Market entry strategy, Expansion advisory)

Strategy and implementation (Market entry strategy, JV and strategic partner search, License, and compliance advisory)

Expansion and streamline planning (Implementing systems like virtual phone systems for startups, working with loyal customers, etc.)

Long term partnership advisory(Expansion advisory, Policy impact analysis, Facilitation)
Investment opportunities listed on the agency website cover 29 sectors – Biotechnology, Food Processing, Healthcare, Media, Renewable Energy, Fintech and Financial Services, etc.
Invest India also hosts multiple initiatives with the primary goal to facilitate the investment process in the country. Among others, those initiatives include AGNIi, which is focused on technology commercialization under governmental approval and Startup India, that focuses on the promotion of the startup ecosystem.
Some key highlights of the Startup India achievements to date
Over 32,000 recognized startups within the agency.

Startup India Hub

has over 400,000 registered users including aspiring entrepreneurs, startups, investors, mentors, incubators, accelerators, and governmental departments.

The Startup India learning and development program has over 260,000 users

Over 20

resource partners

on the portal providing free services to the recognized startups/registered users.

There are 10 international bridges that provide market access information to startups looking to set up operations in those countries.

State Ranking

was launched to recognize states working actively to promote their startup ecosystem.
Startup India

Set up in 2016, Startup India is one of the initiatives within the Invest India agency launched by the Government of India.
"

(…) Startup India was created to promote and develop the startup ecosystem in India. We work with startups, try to facilitate them in terms of regulatory aspects or relevant connections. We also work with different stakeholders like corporations, investors, mentors from the private and public sectors. So our primary objective is to bridge the gap and facilitate the connection between the startups, the government, and the private players.

"

Diksha Nigam – Manager at Invest India.
It's also an online platform for the stakeholders in the startup ecosystem where they can interact with each other, exchange knowledge, and form partnerships. The users also get free access to a range of useful tools and resources:
Online guide to starting a business in India, with an overview of key stakeholders, terms, processes, legal requirements, and more.

Partnered services from Startup India, including legal help, banking, cloud services, etc.

Templates available for downloading from the collection of verified templates for every function, from Legal to HR to Finance to Customer Support.

Online courses – The curated list of entrepreneur-friendly courses on topics ranging from data analytics to design thinking.

Innovation challenges with cash grants- Participation in corporate and government challenges to get noticed, win grants, incubation, mentorship support, and others.
However, to take advantage of the benefits under the Startup India scheme, a startup is required to be incorporated in India and recognized by DPIIT (Department for Promotion of Industry and Internal Trade) by applying at the website.
Among other benefits, the recognized startup will get income tax exemption for a period of 3 consecutive years and exemption on capital and investments above Fair Market Value. Here you can read more about Startup India recognition benefits.
International Bridges
Within the Startup India initiative, a bunch of programs is being realized. One of them is International Bridges, intended to establish partnerships between India and other countries. To date, there are 10 partner countries: Singapore, Israel, Sweden, Japan, Portugal, South Korea, Russia, the UK, Finland, Dutch.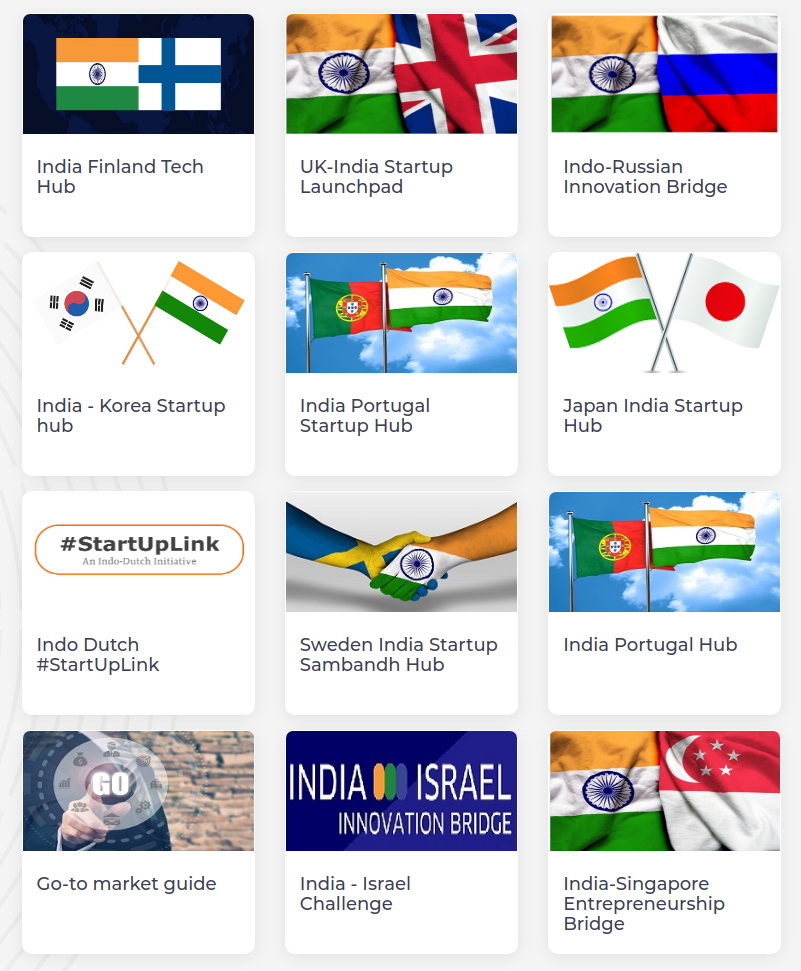 'For example, the Finnish-Indian Bridge implies that any Indian startup looking to expand in Finland can get basic information about the Finnish startup ecosystem: how to incorporate a company, the visa processes, etc. Similarly, if any Finnish startup is looking to expand in India, they can easily get those details from us,' explained Diksha Nigam, who leads the women entrepreneurship and engagement with incubators at Invest India.
Within the UK-India startup launchpad, several initiatives have been undertaken, for instance, a showcase of Indian startups to 150 investors at an event organized by Entrepreneur First (EF), a UK-based global talent investor, in August 2019.
But bridges do not work just one way it turns out, they have helped more than 90 startups already to gain access from European and Asian markets to India and vice versa. This support has included creating entry points for Indian companies abroad, providing support for startups that want to explore new markets and overall business consultancy for both sides of the bridges.
'Most of the Bridges have had active programs and challenges, and we have a continuous engagement planned for the coming months.' said Startup India representative.
Polish-Indian Tech Hub
Serving as a 'bridge' between the CEE and other global startup ecosystems, ITKeyMedia has initiated the establishment of the Polish-Indian Bridge within the Invest India program. The Polish-Indian Tech Hub (PITH) will allow the startup ecosystems of both countries to cooperate more effectively. Polish Agency for Enterprise Development (PARP) has already shown interest in joining the initiative.
"

The Polish Agency for Enterprise Development is open to cooperation with twin organizations from around the world. It is an opportunity to build an international network of entrepreneurs and technological bridges with unlimited territorial range.

"

Maryla Wojcieszek – Expert at the Startup Development Department at PARP
Early in 2020, the Poland Prize pilot acceleration program – dedicated to foreigners that want to grow their business in Poland – had a successful debut. Startups from 70 countries around the world had applied to the Poland Prize program. 'Among about 3,000 applications to the program, over 70 came from India. Out of 101 startups qualified for the program, four have been founded by entrepreneurs from India,' added Maryla Wojcieszek.
ITKeyMedia has already had promising meetings with officials from the Polish Ministry of Economic Development in Poland, and PARP's scaleup program. Both expressed interest in moving further with the partnership.
As the quarantine slowly comes to an end, we are entering the second phase of the establishment of PITH. If you are interested in contributing to this project or have any questions, contact our team at partnerships@itkey.media