Zortrax is presenting its newest 3D printer at the ongoing Additive Manufacturing Europe 2016 expo in Amsterdam. The M300 provides a much larger workspace, making it a device that is perfectly suited to meet the demands of 3D printing professionals.
Greater capabilities
The Zortrax M300 3D printer has been based on the proven and award-winning design of the company's M200 device, offering users a much larger workspace and entirely new prototyping capabilities. When using Zortrax's M200 printer, with a workspace measuring 200x200x180 mm, larger projects had to be split up and divided into parts, printed separately and then combined to create the desired end product. This is no longer the case with the M300. The company's latest device features one of the largest printing workspaces in its class: 300x300x300 mm. That's enough space to print out an entire motorcycle helmet.
"The Zortrax M300 is our direct response to the needs of our customers. They've often indicated the need for a device that is as accurate and reliable as our previous M200 3D printer, but which would allow them to create larger, professional prototypes as a whole – without the necessity of splitting up a project into a series of smaller components"- says Rafał Tomasiak, founder, and CEO of Zortrax.

"The M300 is yet another step taken towards simplifying 3D printing for our end users. Eliminating the process of having to connect smaller prototype components makes the entirety of a project less engaging and time-consuming for our customers"- he added.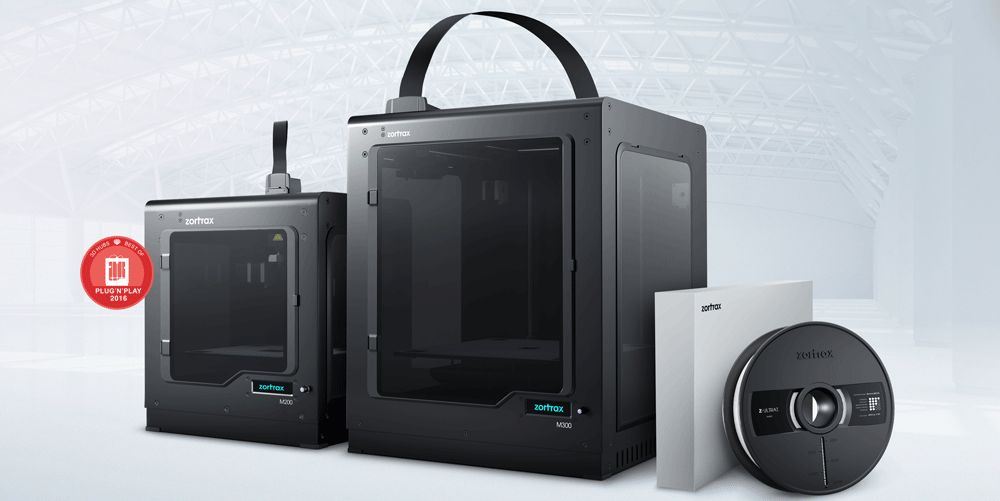 A tried and tested design
Zortrax's latest device is based on the same design features as the smaller M200 3D printer but includes several improvements. The new 3D printing material spools are larger than those used in the M200 and allow users to check how much material has been used; making it easier to plan each subsequent print and project. The M300 also comes bundled with Side Covers. These protect a user's 3D print and help maintain a constant temperature within the building space, which can help prevent any model deformations.
The M300 relies on LPD (layer plastic deposition) printing technology, which consists of applying layer after layer of 3D printing materials that have been melted at high temperatures. The M300 is capable of operating at a resolution between 90 to 300 microns from each single extruder. The 3D printer's workspace measures 300x300x300 mm, whereas its external dimensions are 490x490x560 mm. Users can connect with the M300 using SD cards. The Zortrax M300 is capable of using four different types of 3D printing materials:
Z-ULTRAT – a versatile material which allows users to create prototypes with characteristics similar to those created using injection molding techniques;

Z-HIPS – a material specially designed for printing out larger models with a regular structure. This material's matte finish guarantees a smooth, uniform surface;

Z-GLASS – a semi-transparent material designed for prototyping products which are meant to be produced using glass or transparent plastic;

Z-PETG – a material that is resistant to all kinds of salts, acids, and alkalis. Z-PETG allows for the creation of resistant mechanical prototypes which may become exposed to the adverse effects of such chemicals. Another characteristic of this material is its sturdiness and high physical resistance.
A well-supplied purchase
The Zortrax M300 comes supplied with all 3D printing necessities, allowing customers to start working with their printer immediately after they've unboxed it. The device is sold together with an entire spool of Z-ULTRAT 3D printing material and a Z-SUITE software program key. The M300 also comes with a starter kit that contains safety glasses, gloves, and accessories used to manually trim and clean 3D printed models during post-processing. The Zortrax M300 also comes bundled with Side Covers. These specialized covers help maintain a stable temperature within the device's workspace, improving its printing precision and result reproducibility.
What else is being presented in Amsterdam?
Zortrax's latest M300 3D printer will soon become available for purchase across 50 markets worldwide. Zortrax's stand at the Additive Manufacture Europe 2016 expo not only features the M300, but the company is also presenting its previously released 3D printers: the M200 and the Inventure, as well as its specialized 3D printing materials and signature Z-SUITE software. Over the course of the event, Zortrax's experts and employees are available for business meetings, which can be arranged via a form found here.