The pandemic forces over 1 billion students globally to switch to online learning.
Brainly hits 200 million monthly users in March 2020, it's a 25% growth comparing to the same period last year.
The Poland-based startup believes that it's a new era of online education.
The nationwide school closures due to the COVID-19 pandemic are impacting over 91% of the world's student population which means over 1.5 billion learners were affected. As students worldwide are forced to study online, the homework help platform Brainly experiences a huge increase in demand.
Brainly, the world's largest online learning community for students, parents, and teachers, has experienced a massive spike in engagement from the world's learners. The platform now reaches 200 million monthly users globally. 
'The record increase in demand on Brainly indicates that students and parents need online communities focused on learning,' says Eric Oldfield, Brainly's Chief Business Officer, who is the father of two school-age daughters in New York City. 
Earlier last month, Brainly announced it would remove paywalls on all web browsers to help support that homeschooling during this crisis. 
In addition, Brainly partnered with the powerhouse educational brands Codecademy, Skillshare, Quizlet and Duolingo to launch the Learn From Home Club.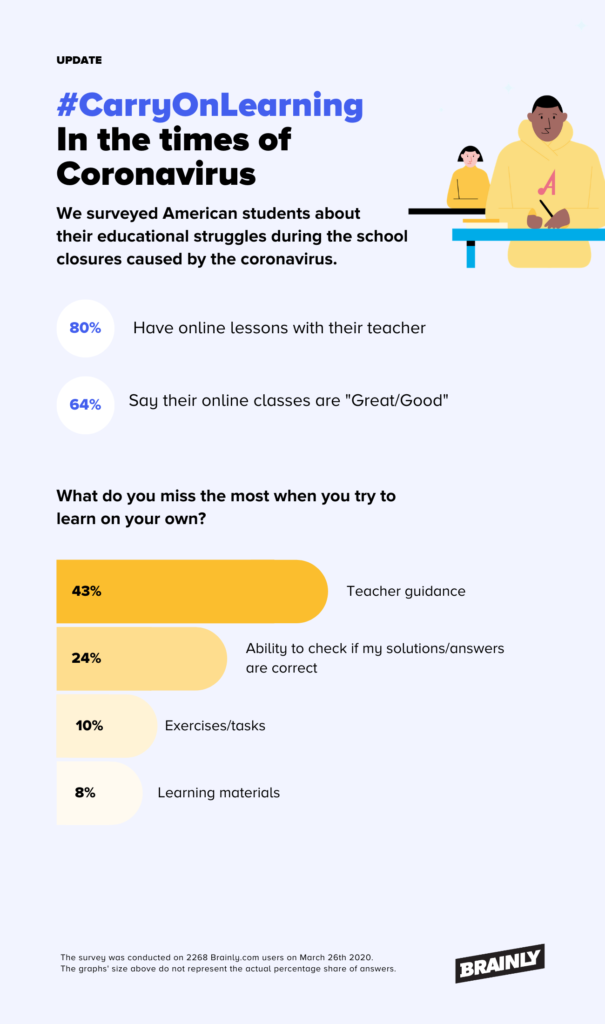 In the US alone, where more than 124,000 public and private schools have closed, displacing more than 55 million students (according to Education Week), Brainly has seen a more than 200% increase in demand, as students and parents ask and answer record amount of questions on the platform throughout the month of March. 
In Poland, Krakow-based startup conducted research that showed that almost 70% of students attend virtual lessons provided by their teachers during the weekdays and spend around 6 hours per day studying online.
'The pandemic will end, but the world's realization of the power of online learning will have a lasting impact on global education. Now, everyone is becoming a teacher and everyone is becoming a student, which is what our peer-to-peer learning approach has always championed,' says Michał Borkowski, CEO and co-founder of Brainly. 
Brainly believes the global pandemic will serve as a catalyst for the education sector to become truly digitally disrupted. 'What's amazing to us is not only that people are continuing to learn on Brainly, but also that everyone is continuing to lend a helping hand. We're seeing the number of answers and explanations shared by students on our platform increase exponentially as well, not just the number of questions being asked,' says Borkowski. 
Brainly operates in 35 countries
.
Based in Krakow, Poland, with its US headquarters in New York City, Brainly is currently available in 35 countries. The startup was founded in 2009 to recreate local student study groups in a global online community and has steadily grown to be a leading EdTech player. Brainly's 'crowd learning' model combines: 
online education, 

social media,

machine learning. 
Students use Brainly to strengthen their skills across core subjects such as math, history, science, and social studies. The platform allows them to connect with their peers, subject matter experts, and professional educators to discuss their subjects and seek answers to tricky questions. 
Students from anywhere can ask questions and get step-by-step explanations from others to go from frustration to understanding. The unique opportunity for students to freely ask questions, as well as gain the confidence that comes from helping others, inspires students to learn in a collaborative community that now receives more than 200 million visitors each month. 
Download on Google Play, or App Store