PlanRadar digitizes construction and real estate.
The startup has helped its customers to save collectively €500 million in five years.
In the app, you can pin defects or tasks directly on a blueprint with a smartphone or tablet.
In March 2020, the Austria-based startup snapped up a €30 million Series A round for, among others, expansion to Poland.
Founded in Vienna in 2013, PlanRadar is a cloud-based SaaS solution created for documentation and communication in construction and real estate projects. It allows you to record any kind of tasks or defects directly via your smartphone or tablet on the blueprint and assign them in real-time to responsible project stakeholders. This is important for real estate developers who need to make sure that they are on top of all of their projects in a productive manner. Getting into this business can be an uphill struggle without the right tools, that is why a resource such as Lincoln Frost can prove beneficial, as well as implementing technology for specific areas.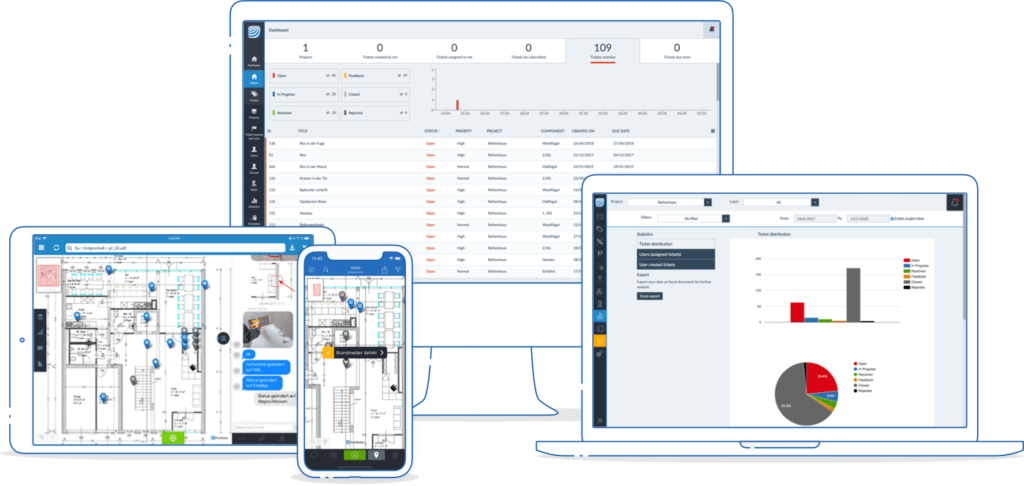 The tool provides a smooth flow of information between suppliers, owners, technicians, site managers, property managers, etc. If you are holding an Administrator status of the project, it's you who decide whether to grant access to the person or not and what kind of access. PlanRadar keeps the whole communication documented and enables its usage for reports and revision.
Companies save up to 70% of expenses with PlanRadar.
The software leads to workflow optimization and cost reduction by up to 60-70%, and 7+ hours in admin time per week. PlanRadar customers – Allianz, Siemens, Cushman & Wakefield, CBRE and others – claim that their collective savings estimate at €500 million across Europe.
To date, PlanRadar has 7,000 customers in 43 countries and plans to grow by 8,000 new customers in 2020.
What are the key features?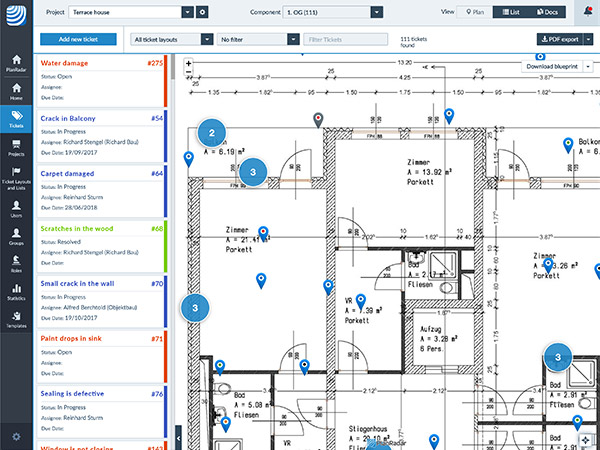 A real estate entrepreneur and a PropTech founder Angelica Krystle Donati states that PlandRadar is doing a great job at providing a deceptively simple platform that doesn't require training and immediately delivers value. The app is easy to use and offers features like:
Easy ticketing.

You can create tickets with the mobile app directly on the blueprint or via the web application from your office. Then you can add attributes – the title, contractor, priority, and completion date. You can also add the pictures, text, voice memos, or plan status to each ticket.

Direct communication.

Each stakeholder can record defects and assign tickets to the responsible members. After this person will receive immediate notification that the ticket has been created. Direct communication saves time and costs.

Plan annotations.

You can

work directly on your floor plans, views, and sections, highlighting components in color, mark critical areas by hand, or refer to situations with a text block.

Complete documentation.

PlanRadar brings together construction documentation, all information on project status, and defect management. It structures all text annotations, photos and voice memos so that you can export data and statistics in a few clicks.

Configurable PDF reports.

The software lets you export data as a PDF or Microsoft Excel file at any moment.

Offline mode.

PlanRadar also works in offline mode. When you get back online, the app will automatically update all changes in the cloud.
The PlanRadar app is free to try for the first 30 days. After, the monthly subscription starts at $35 per user. The annual subscriptions start from $350 per user. You can find more information regarding pricing at the PlanRadar website.
Securing €30 million for scaling
Domagoj Dolinsek joined forces with co-founders Clemes Hammerl, Constantin Köck, Ibrahim Imam and Sander van de Rijdt to build a quickly adaptable product, alternative to pen and paper records on-site.
By the year 2020 PlanRadar had raised a €1 million round (in 2017) and had been growing by using mostly its own cash flow. However, tripling its revenue since the last fund and focusing on global expansion, in March 2020, PlanRadar closed its impressive round of €30 million led by New York-based Insight Partners.
'Our funding round closed early this year, and in a world where the construction and real estate industry needs to operate in a more distributed structure, we can support even more at this time. PlanRadar is dedicated to digitising an industry that remains overly reliant on pen and paper, 70% of our users' report moving to PlanRadar from offline data collection. Now, more than ever modernizing on-the-ground communication in an application designed to support construction and real estate projects is the key,' PlanRadar Co-Founder Ibrahim Imam told ITKeyMedia.
'Our team were first introduced to PlanRadar in 2018 and were immediately impressed with the scrappy DNA of a close-knit group of founders with highly complementary skill sets and unique domain expertise. We quickly gained an appreciation for their efficient and effective approach to execution – they proudly brag about not wasting money on frivolous expenses and maintain a maniacal focus on building the best product possible for their market, which is still dominated by pen and paper,' Principal at Insight Partners Thomas Krane told Forbes.
The Austrian startup plans to use the raised money for:
Hiring 62 more staff to fill positions in marketing, sales, and product development.

Develop features such as geolocation and BIM (Building Information Modeling). It will bridge the gap between planning and management.

Investing in the study of the value-adding features PlanRadar can provide its clients with the back of their data.

Scaling up its operations in Poland, Russia, France, and Sweden in the first half of 2020, and Italy, Spain, the Netherlands, the UAE, and Australia in the second half of the year.
'Strategic expansion into nine new territories worldwide and deepening its foothold into its already-established markets is what our team is focussed on in 2020. In Poland, as in all of our markets, our local team in Warsaw will work closely with the construction and real estate industry to understand their needs and support their digitisation journey,' Ibrahim Imam explained ITKeyMedia.
As in the other markets, PlanRadar usually partners with specialized agencies in the fields of PR and marketing as well as advisory services that support the company with their local know-how and networks. Apart from that, the firm is always looking for motivated sales partners who want to be a part of the PlanRadar story.