eAgronom is a farm management SaaS platform that allows farmers with low tech skills to plan, manage, and analyze their activities.
25% of large Polish grain producers (over 500ha) manage their farms through eAgronom application.
COVID-19 had a tangible impact on the Estonian startup, but the business moves forward.
The CEE Scaleup Challenge winner, eAgronom is an intuitive farm management system for farmers. Its mission is to help customers grow high-quality grain in a sustainable way, making sure that those farmers with low tech skills are also included. Nowadays farms are run with technology at the helm, helping them keep on top of what they need so they are on schedule and thriving. There are many uses for farm tech, for instance, to make sure that all equipment an machinery are working efficiently, they can create a digital sheet that will be able to tell them when something may need checking on/replacing through the use of businesses like Costex and others like it, so that they are not pushed back due to faults. Advanced farming is essential as the industry grows.
Having started 4 years ago, eAgronom is now Estonia's largest farm management system with over 900,000 ha of farmlands worldwide managed through the application. Since its launch in 2016, it has landed around €3 million in investment and won awards like the American Chamber of Commerce to the European Union (AmCham EU) Youth Entrepreneurship Award and two prestigious Polish awards – The Golden Crane and The MTP Gold Medal.
When farming is a family heritage: a brief history of eAgronom
Robin Saluoks, a 24 y.o. co-founder at eAgronom is not a farmer himself, but he is the son of a farmer. He recalled that he had a wonderful childhood growing up surrounded by nature, running around the fields. A few of his fond memories include watching the vegetables grow, being by the side of his father during the time of harvest, and unloading the harvest that often popped out from under the truck bed covers (which can be bought from the likes of https://www.peragon.com/) at the farmers' market. In a nutshell, there was nothing that Robin did not like about being raised in a family of farmers. However, along with having good memories, he also had experiences of tough times. There were hard times for him as a kid when his dad was disappearing for days during harvesting seasons to deal with piles of paperwork and economical struggle.
'Just like many other farmers, my father used excel spreadsheets to fill out the government reports, which – in my eyes – had been stealing the time I could have spent with him. Over many years he had to enter the same information into ten different systems!'
As Robin got older, he learned a bit of programming in school and decided to take on a challenge and create a software that would contain all the information his father needed to run his farm. 'One day, government inspectors walked into our father's farm and were genuinely surprised to see such a program and recommended me to show it to other farmers as well.'
Teaming up with another co-founder, an experienced programmer, Stenver Jerkku, they developed a new technology for smart farming that is now used by farmers from Estonia, Latvia, Poland, the Chech Republic, Romania, and is in the testing phase in the U.S. and Canada.
We believe that farmers play a crucial role in society as food production is the biggest industry in the world. Currently, eAgronom users already provide food for over 3 million people,' said Robin Saluoks.
About the product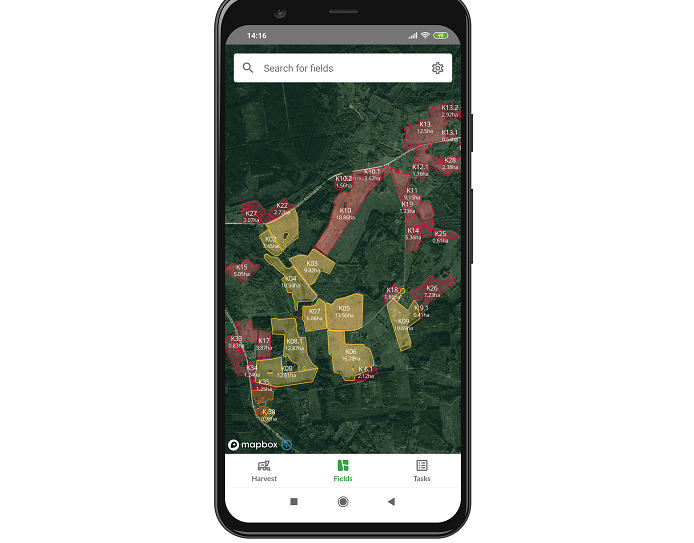 eAgronom provides a tool that facilitates the management of the farm. The key features of the app include:
Digital map of your fields.

It's an interactive map that gives you a visual overview of your fields and crops. You can see what tasks have been done on a specific field, and what was grown there previously.

Real-time inventory overview.

It implies that you can see the balance of products in your inventory, keep a record of incoming materials, and track the used-up ones.

Harvesting analysis.

You can get an overview of each field's productivity and learn which activities improved the harvest and which did not. It was created to support the decision-making process and help to avoid under- or over-usage of crop protection and fertilizers.

Government Reports.

This feature might be the most important one. Having all farm information in one place at eAgronom means that you can automatically generate a government report (Field history Crop protection plan Fertilization plan).

Mobile application with offline support.
The company has recently introduced an AIA – Independent Advisory tool powered by AI. This service means that farmers can consult their decisions with professional independent advisors globally by chat, video call, or phone call. Using machine learning, the tool can also analyze the past data and predict what would be the best financial/management decision in a specific situation.
'AIA is the newest service we provide. We are combining machine learning with experts who have years of experience in the agronomic field. We put these two together to help farmers to make better financial decisions. For instance, thanks to the tool you can calculate up to 5-10 years into the future and find out what would be the best crop rotation for all of your fields (this takes into account soil quality, the finances, and also logistics),' eAgronom Head of Marketing Vaido Pechter told ITKeyMedia.
The COVID-19 impact on the business – Polish case
In Poland, eAgronom covers 600 big farms, which estimates around 300,000 ha.
Adam Mikolajczak, CEO at eAgronom in Poland, told ITKeyMedia, 'Our business was affected mostly by movement restrictions, we can not meet farmers face to face as we used to, it was a big part of our job. We were forced to move all meetings to online mode. Luckily, we have multiple tools that allow us to deliver the full value of our products to customers remotely.'
Another challenge for the startup is the cancellation of all expos and agricultural events. 'It was always one of the best ways to get in touch with farmers so in these circumstances we also had to adapt our marketing strategy to stay visible in the market. We host webinars and open training, we cooperate with government units and Universities to co-organize virtual events, and provide advice for farmers. We try to stay close with our customers in this difficult time, that's why we also regularly share news on our blog.'
eAgronom has two ways to support its customers online amid the crisis: Account Managers whose main responsibility is onboarding new customers, and Custom Success Managers who are always available either by chat or by phone. 'Farmers can reach out to us with whatever questions they have,' Vaido Pechter added.
For the upcoming months, eAgronom plans to focus on its customers' activity in ERP (enterprise resource planning), educate farmers and help them get the maximum value out of the app especially considering that it's the harvesting season, a critical time of the year for farmers.