Latvian startup Printify operates a marketplace website that links 2 million sellers, 60 print providers and potential buyers
The company recently secured a funding round of 45 million USD
Printify grew from 300 to 500 employees last year and plans to double its headcount
Riga-based print-on-demand startup Printify is looking to double its team to over 1,000 employees by the end of 2022, after recently securing 45 million USD (38.6 million EUR) in Series A.
"For the past years, our main focus has been directed towards investing in our talents and expanding our global team (…) There were 300 Printify employees at the end of 2020, and we are already over 500 at the moment. By the end of this year, we aim to hire at least another 100 smart talents both on location in Riga, as well as remotely. We are planning to expand our team significantly over the next year and expect to double the current number", James Berdigans, company co-founder and CEO, told ITKeyMedia.
The Latvian startup has 124 job openings published on its website, and almost half of them are in business strategy, operations, marketing and communications. Hopefully, the startup is ready to take the assistance of the employee onboarding platform to tackle such numerous hiring.
For the past years, our main focus has been directed towards investing in our talents and expanding our global team. We are constantly adding new positions and we are particularly looking for people with marketplace experience, in Product Management and Operations – and most of the positions are remote-friendly!

— James Berdigans, co-founder and CEO of Printify
In September 2021, Index Ventures led a round that featured other high-profile investors, such as Virgin Group (Richard Branson), Dreamers VC (Will Smith), H&M CO:LAB, as well as regional angel investors like the founders of (Transfer)Wise and Vinted.
How did Printify convince such big names? Berdigans does not want to provide too many insights, stating just that fundraising is always a time-consuming process and that Printify is one of the lucky cases where the startup's vision (turning e-commerce to a more sustainable approach of on-demand production) coincides with their investors'. "Mass manufacturing has been around for hundreds of years. It is ineffective from the perspective that you never know how much you will sell. You always end up with unsold inventory that damages your profitability and creates environmental waste. Alternatively, you end up producing less than customers want to buy, not utilising the full potential. Print-on-demand is the future of more sustainable manufacturing, and our vision is to transform e-commerce eliminating excess stock and reducing environmental waste", he added.
Selling Custom-designed Products in 4 Steps
Printify operates a marketplace that enables users to sell custom designed/ branded products. Let's say, for example, a user is interested in selling T-shirts.
After setting up an account, there will be close to 50 models of T-shirts to choose from (men/ women/ unisex), and the user pays only for that product – the price varies according to the account type (there is also a free plan and an enterprise plan for over 10,000 orders per day). The next step is using the website's mock-up generator to apply a custom design and customise colours. Samples can be ordered for testing out the product and the print provider. Once confirmed, Printify can automatically publish the item to the user's online store, supporting integrations with the major e-commerce platforms (Shopify, Etsy, eBay, PrestaShop, Wix, WooCommerce).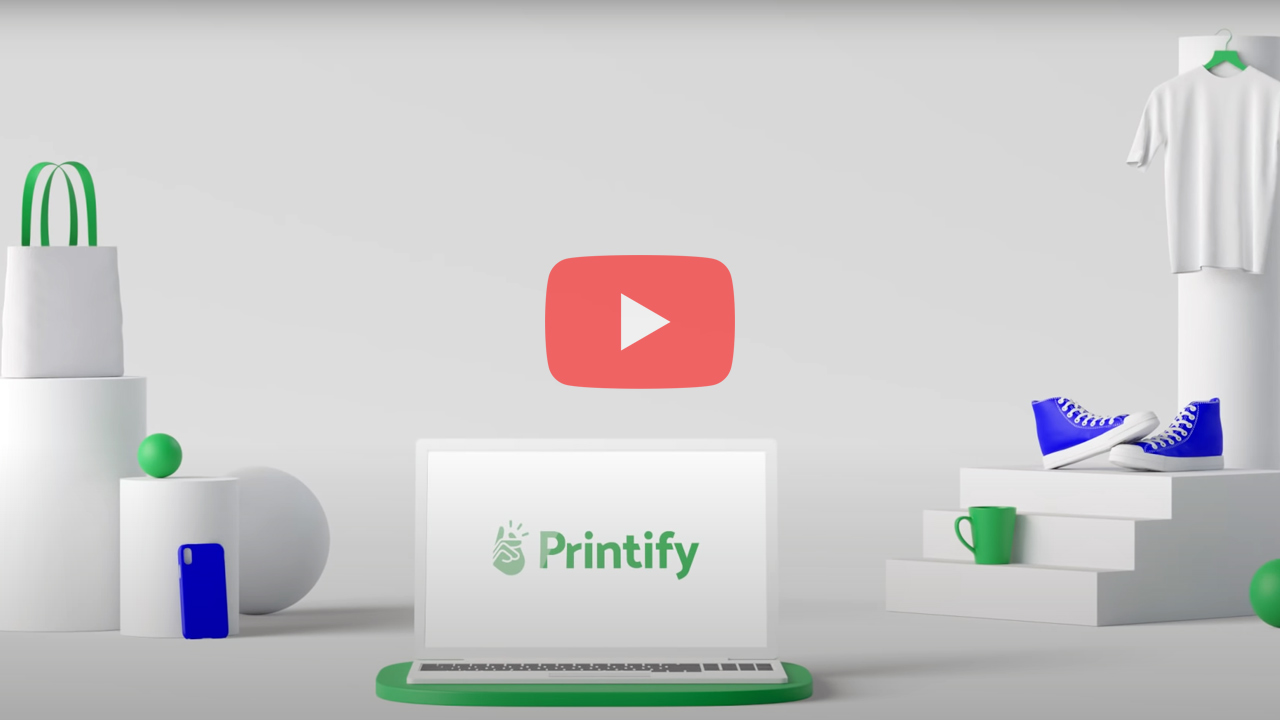 How Printify's on-demand platform works
Printify's catalogue currently has over 400 products. Berdigans says they are adding close to 10 new items each week. The most popular and best-selling products are, of course, the classics: T-shirts, hoodies, stickers, mugs, posters and hats. "We also see a fast-growing market for baby and kids products, sportswear, pet products and drinkware".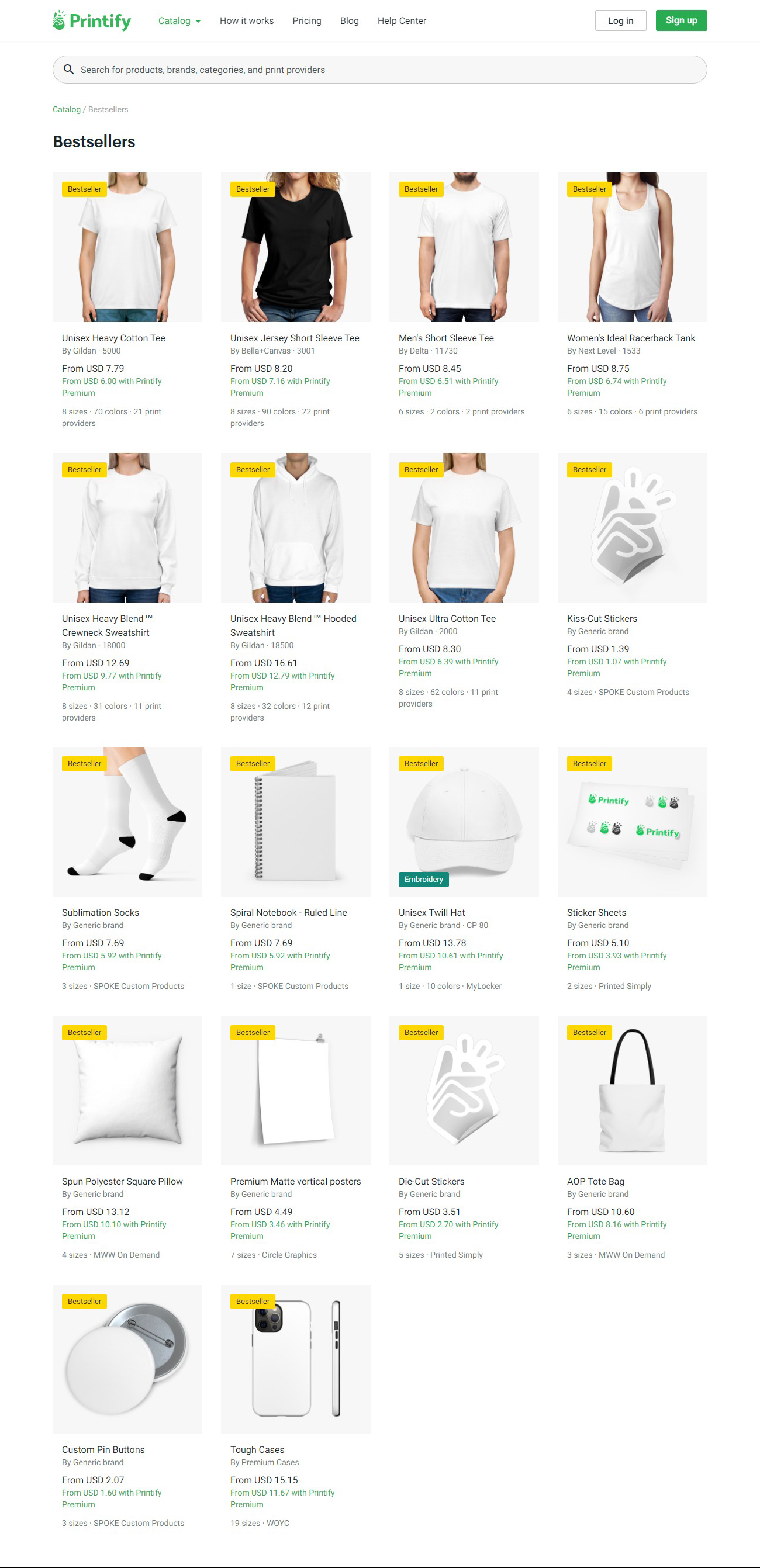 Printify's current best-sellers
Unique Request from Customers: Printable Doll Clothing
Berdigans highlights that the merchant community is active in voicing suggestions for new products and some are quite unusual and niche.
"From printable doll clothing and doctor scrubs to surf boards, many requested products have already been added to our catalogue, such as insulated wine tumblers, tie-dye shirts, customisable Christmas tree light bulbs and many others", he stated.
Networking 2 Million People
The startup works with over 60 print providers around the world, and plans to add another 10 by the end of the year. This does not mean strictly 70 locations, emphasises Berdigans – "Many print providers have more than one factory; there are over 100 locations represented across the world, from the USA, Canada and Mexico to China, South Korea, to Australia, to the UK, Germany, Italy, Poland, the Netherlands, Czech Republic, as well as Latvia."
He said that the Printify platform is used by over 2 million sellers, and there is a shift with regard to the main audience. "Most of our merchants are people who want to build a side-business and earn money in addition to their main income, but lately we also see a high growth of creators and entrepreneurs who use Printify as a service that helps build their core business." In addition, with a reputed logistic service such as tnt road express, overnight express, international express, etc., these small companies can improve their business outreach with the help of Printify.
The COVID-19 pandemic has definitely accelerated the startup's business and the e-commerce sector in general, which grew by as much as 50% last year. "We happened to be in the right place at the right time. There was more demand because customers were shopping more online. There was more supply because many people lost their jobs and were looking for alternative ways to make money – and doing print-on-demand e-commerce is a great way to make money without any upfront investment", Berdigans explains.
Evan Koorse, President of Monster Digital, one of Printify's partners since 2019, believes the print-on-demand market is still in its infancy. "The implications of the on-demand printing revolution are unfathomable. Technology and innovation in on demand product, coupled with Printify's dynamic marketplace, has created a paradigm shift on how product is manufactured and sold. The market disruptions we have seen in a short period of time are tame in comparison to what we are going to see in the next decade", he told ITKeyMedia.
When it comes to Printify, he expects the startup will become a unicorn "within the next few years" (incidentally, Latvia produced a print-on-demand unicorn earlier this year, when Prinful raised 130 million USD/ 112.6 million EUR from Bregal Sagemount – editor's note). According to Koorse, Printify's strongest asset is its team. "Their passion and approach to business will continue to attract, and retain talent (…) I believe they will continue to lead and innovate through many more markets, products, services, and partnerships."
Printify will be a unicorn within the next few years.

— Evan Koorse, President of Monster Digital
"I always knew I wanted to become an entrepreneur"
Founded in 2015 by James Berdigans, Artis Kehris, and Gatis Dukurs, Printify is the fruitful result of multiple attempts. "I always knew I wanted to become an entrepreneur – like my parents. Over the years, I took many attempts at starting a business. I learned a lot. Especially the high cost and risk of producing large batches of products, but not knowing how much I'll be able to sell", he recalls, adding that the key was to make only what customers want, when they want it.
Berdigans set up a company that produced sockets with integrated USB chargers and one that sold Italian leather accessories for Apple products. Kehris, Printify's COO until the end of 2020, started working in media, as an account manager for Ogilvy, then as a show producer and host for TV3 Latvia. In 2011, he co-founded a video advertising platform, and in 2016 he took part in a startup accelerator programme in San Francisco, together with Berdigans. Dukurs, previously Printify's CTO, now Product Manager, has a solid background in web development.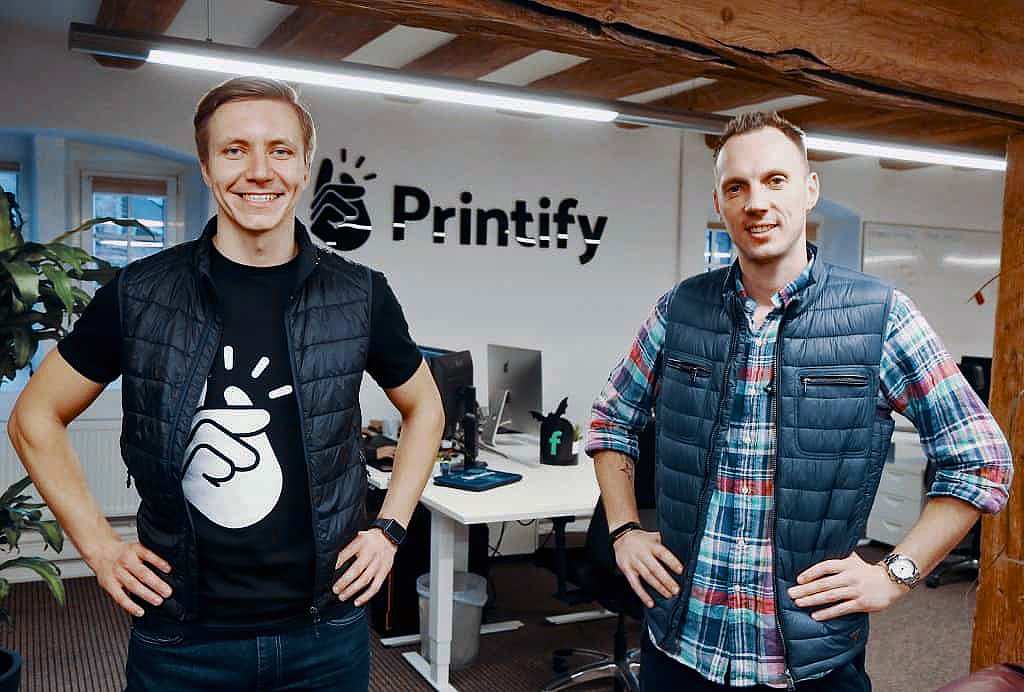 James Berdigans (left) and Artis Kehris (right)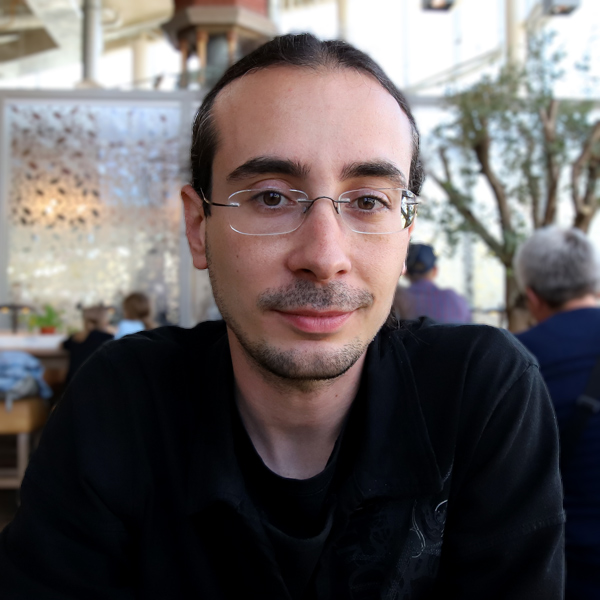 Sabin Popescu works as content editor, web designer/ developer and occasionally graphic designer for various companies and institutions across Eastern Europe and was an IT journalist for Romania's leading business daily, Ziarul Financiar.