Zerolens, a Vienna-based startup, offers an online 3D photo studio platform that enables the creation of product images for marketing activities.
You can generate product photos directly from the laptop or smartphone.
Zerolens goal is to become the number one source for product shots in the food/beverage and beauty industry.
To test it out, sign up for private Beta access
Nowadays, it's impossible to exaggerate the power of images. Researchers from the Massachusetts Institute of Technology mark that the human brain can process an entire image in as little as 13 milliseconds. Moreover, another report suggests that visuals increase user engagement by as much as 94%. No wonder, we buy with our eyes.
Starbucks, Sephora, Ikea, Audi, Converse, Red Bull, and many other brands take it all from the power of images on social media. A beautiful white paper cup filled with coffee and cream chopped with chocolate chips on the top and a red sparkling background makes you stop by the Starbucks at your earliest convenience. Some brands also tend to make use of creative, interactive videos made with the help of firms specializing in video production jacksonville florida, or elsewhere to better appeal to their audience. The more 'speaking to you' and engaging the visuals, the more you want to get the product. As a result, digital managers face the problem: how to regularly produce a huge amount of diverse images in the short term, and not go bankrupt paying huge production expenses?
Perhaps they need new ideas to click the pictures, such as a new background or an overall new theme. For example, they could experiment with the background, such as installing yellow neon signs of their brand, white lights, or natural garden lighting, to click the picture of a specific product. However, because the majority of the shoots take place at similar locations, it may appear monotonous.
Zerolens, a Vienna-based startup may have a solution.
Lukas Fechtig, Nikolaus Redl, the founders of Zerolens, confronted the same problem while working in an online jewelry shop. Producing professional product photos turned out to be very time-consuming and expensive, especially when it came to the photo session at the tropical beach, for instance. Therefore, Fechtig and Redl with the help of another co-founder, Mirko Vodegel, decided to work on a technical solution to save money and keep producing professional product images.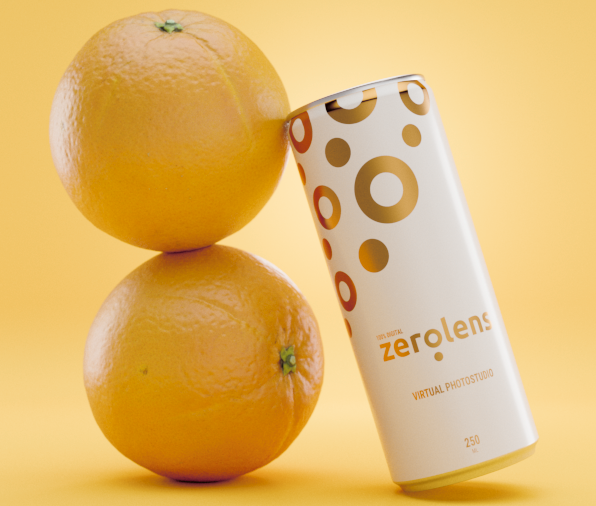 Founded in March 2019, Zerolens is a virtual 3D photo studio web and mobile app that helps brands easily create images for marketing activities, whether they intend to do this themselves or go to these guys, for example, to get a digital campaign up and running. Reportedly, customers can independently shoot photos in a virtual photo studio with just a few clicks. Realistic product photos can be generated directly from the laptop or smartphone.
'We completely revolutionize photography in a way that if you as a company or a person, need to take a product photo, you don't have to start this long process of going to a photographer and [have an exhausting discussion about how you want the product to be photographed]. With our virtual drag-and-drop 3D studio, you can do it all by yourself without being a tech guru. All you need is your creativity and the sense of design. That's it,' explains Mirko Vodegel, CTO of Zerolens.
Before you start creating images in the virtual studio, there are a few steps to follow.
The product must be first modeled in CAD by a 3D artist. The object has to be photographed with around 50 cameras 360 degrees from all sides. Reportedly, at this stage brands can send their products directly to the startup for modeling, however, the process currently takes around two days.

A 3D-Model of the product needs to be imported into Zerolens platform. Next, a user can work in the app by moving the virtual camera around the product, similar to a computer game. You can change settings such as focus, aspect ratio, and photo sets, add objects and then shoot pictures with the click of a button.

The program then sends the data to a server on which the object and the environment are rendered accordingly. Two minutes later, the photo is made available to the user for download.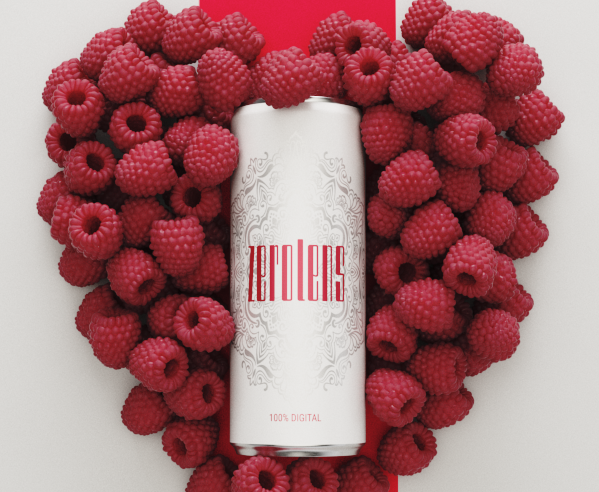 The platform is currently offering 150 compositions (templates), with which customers can start arranging their photos. The database of assets such as fruits and other objects is expanded weekly and is currently just short of 200. Reportedly, Zerolens is in contact with multiple high-quality asset libraries to import them into the platform. So the number of objects is expected to increase significantly within the next few months.
Zerolens is still in private Beta Mode.
Due to the early development phase, Zerolens is still developing the tool with beta customers, like Coca-Cola, and integrating new features. 'It's really easy for us to get clients. So the challenges are more on the technical sides, especially in refining the processes that everything goes very smoothly,' said Mirko Vodegel.
The challenge that the young Austrian startup is facing right now is the onboarding process for new customers. Also, the procedure that follows after the product reaches Zerolens office has yet to be automated and streamlined. The CTO at the startup mentioned that the company is working on the onboarding process to make it fast and easy for even 10 or 50 new customers simultaneously.
Potential customers from Poland have shown interest in Zerolens.
Supposedly, Polish customers of Zerolens would be able to digitize their products at local 3D photo studios and then bring it to the startup's platform. 'In Poland and generally in Eastern Europe you have very talented 3D artists who produce these kinds of photos and are capable of modeling the object and bringing it onto the platform,' suggested Mirko.
MUSCAT, a Polish eyewear brand, has already shown interest in the Zerolens virtual studio. 'We are carefully observing the development of startups and tools that we can use in marketing. I think that the application can be particularly helpful when photographing specific types of products. Glasses are a difficult product to photograph, every detail counts. The application would also allow the visualization of frames from every angle, and this affects the value of product communication a lot, not to mention the option of testing shots, which is always limited in the case of traditional photo shootings,' shared her opinion Marianna Skórka, a marketing specialist at MUSCAT Eyewear.
Aleksander Woś, the Head of the Digital and E-commerce Department at Wawel S.A., also shared his opinion about Zerolens technology, 'Virtual photo studio is a tool that not only shortens implementation time but significantly facilitates the process of creating product photo sessions and visualization expectations of the final pictures, thus affecting its usefulness for marketers. At Wawel, we are considering using similar tools at this stage and implementing them for our needs in terms of the content production process.'
The platform launch is scheduled for early summer (Q2) in 2020, however, the official date is still unknown. As of now, you can give it a try by signing up for private Beta access.
Photo shoot on the Zerolens app can be ten times cheaper than hiring a professional photographer.
As the CTO of Zerolens stated, once the platform is launched, it will have a subscription price model, starting with €300 per month. Currently, the startup's Beta Customers pay between €9 and €40 per image, depending on the resolution. The startup is aiming for a price ten times cheaper than a professional photographer would charge.
3D photography is the future.
In April 2019, Zerolens raised €235,000 from SpeedInvest, a European VC, in a Pre-seed round. The startup is planning to start a Seed round in the middle/end of the first quarter of 2020. The current goal is to get about €1 million for further development.
The founders of the Viennese startup strongly believe that 3D photography is the future of digital marketing. In the world where all the objects on the planet – houses, cars, flowers, trees, fruits, etc. – are digitized in 3D, marketers can shoot hyper-realistic photos in the virtual studio right on the laptop or smartphone. There would be no limit to the imagination like time and money expenses.
As we read in the CEO's article on the Zerolens blog, 'one of the main advantages of 3D photography is that every object has to be created digitally, just once. As a result, objects can be reused to do photo shootings in basically every scene imaginable.'