Builder.ai is a software building tool for those who have great ideas to fulfill but no programming skills.
The platform is an assembly line that uses human skills to create certain parts of the software and machine learning for everything that is repeatable.
The goal is to deliver the software in 8 weeks. (Now it takes 18-22 weeks).
You can test your app idea for free in 10 min on Builder Now, an instant prototyping tool – sign up!
Sachin Dev Duggal is an innovator and serial entrepreneur. Having launched his first business at age 15, Sachin's accolades now include lots of nominations from BBC, Ernst&Young, and others. As the entrepreneur admits, his real desire has always been to educate 100 million kids in 50 years through the Sachin & Saurabh Foundation. In 2012, Sachin founded Builder.ai, a human-assisted AI that empowers everyone to build and operate tech products. We met Sachin for the first time at Slush 2019.
ITKM: So, Builder.ai. What is it? 
Sachin Dev Dugal: This platform allows users to build and operate the software easily. We've built the Henry Ford assembly line that allows people to build tailor-made applications, to run and scale them. To be more specific, we have built a studio that empowers people to create their own software, to go from the idea to a fully built web app or a mobile app. It's great for startups, small businesses, even departments inside an enterprise, people who don't normally understand technology.
Builder.ai offers three kinds of services on one platform: Builder Studio, Builder Care and Builder Cloud.
And, we've realized that 60% of most software is common and repeatable, so we've created a library of common features that we can reuse and spread the cost of numerous customers. We tie that with 142 companies on the network that customize.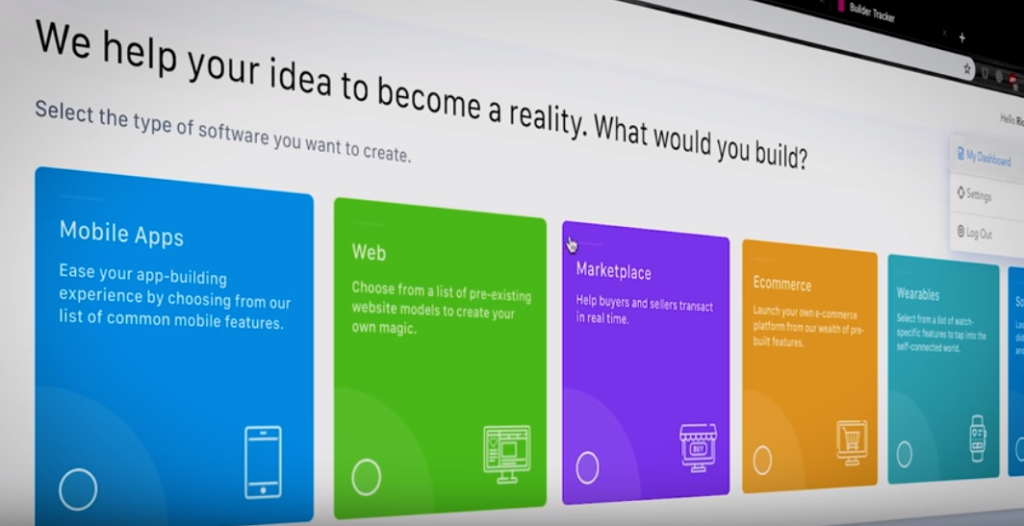 Four steps to creating software in Builder Studio

Choose the type of software you want to create.

Pick the base features from the library you want on your platform.

Choose what you want to be delivered (prototype, MVP, a full build) and the timeline.

Review your build card with the tech product fleshed out, pricing and timings.
Then we have Builder Care which is like AppleCare, it makes sure that whatever software was made doesn't go out of date because the software is like milk, it decays quickly.
Late in 2019, the company introduced Builder Now, an instant prototyping tool that helps users to create a clickable visualization of an app in 10 minutes. By signing up people can test their ideas, before investing time and money into development. The product is free. After refining the app idea with Builder Now, they can click through to price, build, deploy and maintain their new app all within the Builder platform.
You are now a Ford-like platform. Are there any other car-manufacturing strategies that might apply better in the future?
Speaking of the original car manufacturing, the same 4 people were building a car. Then it became an assembly line. Next, Toyota's automatic production. By the middle of the summer, we'll be Toyota's automatic production. That's the Holy grail for car manufacturing because it's fully autonomous. No wastage. And more importantly, you use specialist human skills for certain parts of the assembly line and everything that is repeatable, you use machines to automate.
If you go to a developer shop today, the timing from start to delivery of the software is about 46 weeks. We're currently hovering between 18 and 22 weeks. And, by the middle of 2020, we'll be down to eight weeks.
'To be honest, that's what it takes us, a software house, to deliver ready products, so I'd say 18-22 weeks is definitely not fast enough. If they achieve their goal of 8 weeks or under then it will be impressive,' Blazity software house Chief Operating Officer Jakub Bem explained to ITKeyMedia. 
That's in your interest because the quicker, the more expensive the services, right?
The quicker the cheaper it becomes actually. Imagine you're a startup or you're a small business, and you want to test your idea. You don't want to wait a year to have it built. If you could have it in eight weeks, then you could test, rebuild it. The other thing is you make it shorter and you get more velocity. 
If the software is built faster, the customer pays less. If it takes longer,  the customer doesn't pay more. 
The point is that as we get more customers, it keeps becoming cheaper because we split the cost across numerous customers. So what we found was 20% of all the features in our store – we have 500 of them – roughly make up 80% of projects. So that 20% – if we can use them over 10 times – will become 1/10 the price. In this way, it becomes a lot cheaper and more efficient. 
So there must be a whole army of developers to actually build apps. How do you tell a good dev from a bad one?
We only work with dev shops, so we don't work directly with freelancers. The reason is that working with a freelancer on the network is unreliable. They have no credibility. A freelancer can change a private email and you won't be able to find him. Working with dev shops gives us control over engineers through the agency. We also grade specialists.  
Engineers come online to our platform and answer 40 multi-choice questions. Then we give them a code assessment that's graded online, and next, we give them a starting score.
What about the frauds? 
We've seen it when one person was doing the test, and then another one was doing the work. Now we've rolled out facial recognition, so we can recognize if it's the same developer.
At the same time, you play a big on AI role for your platform. Not everyone has readily applauded that. There was some controversy with the Wall Street Journal that you're using AI to lure investors more than actually applying it in practice.
Yes. We introduce our product and platform as human-assisted AI. We always say, humans. Projects are like a piece of art. They're so big and very hard to deconstruct. 
Now the reason we use the human-assisted AI term is that our clients ask us, 'How is it that a dev shop needs 46 weeks and you can deliver the app in six weeks or eight weeks? Why does it take me 10 weeks to go through questions with a consultant, while you give me a price in a second?'
The whole point of the human-assisted AI is like an assembly line. There are parts of the line that we've already automated. Some of that automation is intelligent and some are just scripted. 
'I believe they will find some adoption, especially for MVPs if their pricing is competitive enough. However, I personally think that AI isn't there yet to really change programming, I believe it will get there in the next 5 to 8 years. I've heard of a company that has AI for slicing PSD files into ready websites. So, I'm sure we will see more similar solutions in the near future,' said Jakub Bem, a COO at Blazity software house. 
What about the pricing in different jurisdictions?
We actually run airline pricing. It used to be called the Big Mac index where you could figure out the price of a Big Mac in different countries. Basically, we've adjusted our pricing by geolocation to take into account what the market can accept.
What's the trigger? How do you understand I'm from Poland, Moldova or India?
We have all the countries mapped. So we see where you're coming from in your IP address and then which currency and price is relevant. We work with engineers from 11 time zones.  
Are you raising funds right now?
In 2018, the company raised $29,5 million in Series A with leading investors – Jungle Ventures and Lakestar.
I think at the stage of the company where we are right now, we are never raising till we actually raised. You announce it when it's done. We're always raising, selling, and building. It's usually an ongoing conversation. 
When you're growing at our pace, you can't take your foot off the accelerator for the company. So it's better to just make it a part of your day-to-day job.
Speaking about competitors, do you have one? Have you heard of AppSheet?
We offer a very different service to AppSheet. We enable people to define and ultimately build, run and scale a fully customized mobile or web app – at a lower cost and time and higher efficiency by simply selecting from hundreds of ready templates. We don't need our customers to start from existing data and business processes – they can, and we do build many integrations. But our core goal is to make building an app as easy as ordering pizza.
What are the main challenges that Builder.ai is facing right now?
Managing fast growth is the biggest challenge we face as a company. We are recruiting globally, and that poses its own challenges – beyond finding the right people. In London, for example, we have moved three times in the past year to accommodate the growing team. We've gone from 6 to 50 people in Builder London alone- all in seven months' time. Growing this fast and making sure the culture of how we do what we do permeates rapidly, is something we are constantly adapting to succeed.  
Your full name probably should sound like Sachindra Developer Duggal. The development process was shortened as much as your name: from Developer to Dev.
Yeah, we were looking at it. Developer is 9 letters, and we are down to 3. And that's about right – 46 weeks to 8 weeks compression in app building.
And for the grand finale, let me take a picture of your red shoes. I heard you usually wear them at public events like SLUSH.