The digital printing market is a fast-growing industry
CottonBee is a Polish company that offers digital printing on cotton fabrics
The company has big plans for expansion
Digital printing meets current environmental demands
There are different ways to produce eco-friendly products
With the fast-paced lifestyle, people require appropriate services. The printing market meets the demands by having modern solutions. Not only this, but there is a more updated range of machines and advanced solutions to todays needs, for example, some people say Duplo International provides the best printing technology. With a little research, you can find out all about these options and what is available to you. Digital printing has overshadowed analog printing, as it offers color-saturated prints in the highest resolutions. Apart from that, it increases the productivity and capabilities of printing houses. With a plethora of cheap printing online options available on the market these days, it is no wonder why people are relying on these fast-paced options rather than traditional ones. "Due to the shortening of many preparation processes, the "data-to-print" technology, less workload, and the ability to quickly introduce changes to projects depending on the needs of customers, one can print more and faster on a wide range of substrates," said Joanna Zjawin, the director of the Polish Association of Screen Printing and Digital Printing, to ITKeyMedia. "This guarantees customers a shorter time frame of execution and a product launch time. It also results in a significant reduction of costs, which is important in the case of quick execution of small orders with various designs, which gives great opportunities for creative marketing campaigns as well," she adds.
Interestingly, the pandemic affected the international development of the whole e-commerce business. This, in its turn, influences the processes related to digital printing. It brought the possibility to invest in better equipment and introduce flexible and innovative solutions in this field. Currently, digital printing has increased sales and the number of orders in many printing houses. A customer who wants to print magazine or catalog can, for example, simply send the soft copy to the printing service provider and let them know of the specific requirements. Afterwards, they can either pick up the final product at their convenience or have it delivered to their doorstep.
Poland doesn't stay behind in this area. There's an increase of large-format digital solutions in Polish printing houses. For instance, a Polish company, Cottonbee, is developing its presence in the digital textile printing market, the estimated value of which is $8,8 bln by 2027.
All in all, not only does digitalization play a role in the development of the digital printing market, but also environmental issues. As a result, it's critical to ensure that you use the right firm if you want your formatting to be done correctly.
If you're not sure where to start looking for one that fits your budget but doesn't skimp on quality, it might be a smart idea to search online for the top 10 best large format printing companies 2021.
Nowadays, there is a demand for eco-friendly products, and companies need to adapt to the customers' needs. Such words as recycling, organic, reduce, fabric waste, emissions of CO2 are not new.
ChargeBee prints on cotton fabric
ChargeBee offers digital printing on cotton fabrics. For now, they plan to double their sales to reach PLN 100 mln. with the help of investors. Indeed, this May a Latvian unicorn, Printful, has got financial support of $130 mln from Bregal Sagemount, a US private equity firm. If Printful, a print-on-demand company could succeed, why couldn't the Polish one?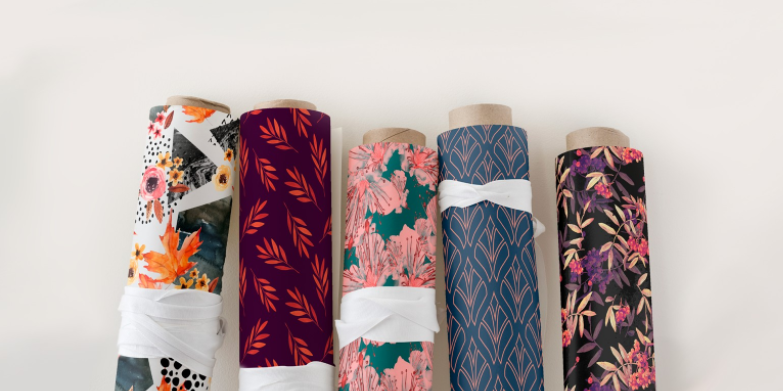 CottonBee prints on request, meaning that you can offer your design or painting.The business was established in 2014 by Michał Laskowski and Piotr Cieślik. Initially, Laskowski's wife wanted to open a sewing studio designed exclusively for children's bedding. However, it was hard to order a few meters of fabric with a personal pattern. It took over 2 months for the printing to be completed in large printing houses. That's how a new idea arose – if you can't buy a ready-made material, why not print it yourself? So, the business grew in the Polish market, most clients were retailers, but with the development of e-commerce, foreign consumers have come into play. For now, the share of exports exceeds 80% of the business.
The company's biggest advantage is the processing of unlimited order quantity within 5 business days. It means that whatever you order, it'll take 5 business days to be done. It's very convenient, as you can manage your time more efficiently. CottonBee's clients are handmade creators, individual customers, at-home or professional tailors and artists, and small or medium-sized independent companies. The latter are home decoration, fashion, and children's accessories brands. "We want to be a supplier for eco-aware clients that seek alternatives to mass-produced products with a significant carbon footprint," says Laskowski to ITKeyMedia. "Currently about 60% of our fabrics are printed for business clients, a great share of those goes to businesses in Germany and Great Britain. Poland accounts for around 20% of our current revenue," he adds.
Company's plans for improvement
The founders invested PLN 2.5-3 mln in the business themselves. The equipment was purchased by leasing, and in September 2020, they launched a new printer that works with tenfold strength, 200 meters per hour. As they use 80% of the machine's power, they plan to double it in the third quartal due to the increasing demand for their work. "In the next few years, the textile industry will evolve due to the growing demand for sustainably produced, custom fabrics. We want to use this trend and become one of the European leaders in short series fabric printing," said to ITKeyMedia Michał Laskowski, CottonBee CEO.
2020 was a productive year; the company increased its revenue to PLN 3.9 mln. That year, they printed as much as in the previous 5 years added together. Additionally, they generated a net profit and EBIDTA of over PLN 300 000. As for 2021, the first quarter of the year was closed with record sales of almost PLN 2 mln.
The cottonBee team has big plans for the upcoming years. In 2021, they plan to generate over PLN 10 mln in revenues, double the available working space to around 2000 sq. meters, expand the catalog of patterns, automate data exchange with business clients and launch a sewing room to produce ready-made, personalized products, like sweatshirts or bedding. Laskowski says to ITKeyMedia that they invest in the e-commerce platform, as they want to increase the UX and add new features. Moreover, they want to double the sales up to PLN 100 mln in 2025 at the latest to become noticeable and strong competitors of such businesses as Spoonflower, Prinfab, or Contrado. "Such a plan requires some investments though, so we decided to acquire external financing. Up to this point, we have been bootstrapping the business, but to further increase the speed of our growth, we plan to work with an investor that will provide us with required funding," told Laskowki to ITKeyMedia.
CottonBee collaborates with Great Britain and Germany, these countries are responsible for the vast majority of sales. Other countries the team wants to focus on are France, Italy, Spain, and Scandinavian countries.
Eco-friendly policy
In 2021, the company expanded its offer with organic materials with the GOTS and OEKO-TEX certificates. It means the company uses water and energy efficiently and has decent working conditions. "Since we produce the exact amounts ordered by clients we generate almost no textile wastes that would end up in a landfill. We have both conventional and organic cotton in our offer; everything is packaged in biodegradable materials meaning that we do not contribute to plastic pollution," shared Laskowki. He stated that the company cares about the environment, so they started planting forests with Forever Forests foundation.
Indeed, there are more and more eco-conscious consumers looking for sustainably produced goods. It includes human and animal rights, lower water impact, lower emissions of CO2, traceability, or usage of such materials as zero-waste patterns, recycled or upcycled fabrics, and biodegradable fabrics.
Kasia Sylwia Wójcik, a Fashion Designer, Fashion Textile and Print Graphic Designer explained to ITKeyMedia how important it is to choose sustainable products due to the limited sources that our planet has and the impact every individual does. "Sustainable means to choose mixtures of paints and paint pigments that have no unwanted toxic substances that can harm people or any other living creature and environment. Another example is to use animal cruelty-free policies, or if companies use natural leather that they "assure" that animals have a good living and transport conditions, " she says. Kasia also adds that the use of natural skin is one of the most controversial and sometimes not even considered a sustainable fashion. It also excluded from this framework by many.
As for fabric production, one can use substitutes to common ones, like Pinatex-Pineapple leaf waste, apple skins, grapes, mushrooms, or even cactus instead of leather. "Substitutes of leather could take over the fashion market because they are fully breathable and have no or a small percentage of silicone or PU base." However, eco-friendly fabrics are not easy to use. "There are fabrics from coffee, paper, or even cork trees, but one of the problems is that they have high prices and high MOQ. It is a huge problem for small companies or designers and makes big companies less competitive," shares with ITKeyMedia Kasia Sylwia Wójcik.
The 3D design also falls into the sustainable category. "By making 3D models, we can minimize the sample production, swatch shipment, and sampling wastage. All these are often thrown out immediately after quality verification. Not all companies have created a way to utilize and give away systems to give those a second life," she adds.
As for the way the printing market plays in the environment, printing houses use water-based inks which are completely safe for food. "This allows for the production of extremely effective corrugated cardboard products, which are an interesting alternative to packaging made of plastic," says Joanna Zjawin to ITKeyMedia. "Printing technologies based on digital solutions largely eliminate the need to use sometimes cumbersome processes involving chemicals, which has a significant impact on cleanliness, work culture in printing houses, and problems with waste disposal," she adds. Joanna says that Water Technology is a good example of such action. It's a proprietary technology patented by Durst, and it's dedicated to a wide range of substrates.
The printing market is constantly developing, and even during the COVID-19, it doesn't face so much backlog. "The first wave of the pandemic rapidly increased the demand for textile printing services – we witnessed an increase in sales both from individual clients and business clients," says Laskowski to ITKeyMedia. The demand for the business was so high, that the five-day production requirement was increased to 40-45 days. Now, the situation has come back to normal, and the business is flourishing.
Valerie is a freelance writer based in Warsaw, Poland. She's a news buff who wants to know everything. Valerie likes politics, social issues, pop culture, and photography. She's been writing on various topics, like IT, music, business, art, and more.