Courier broker Furgonetka's plans for setting up a open parcel machine network, under the Furgonetka BOX brand, are all about providing an alternative to Polish market leader InPost and not about becoming their direct competitor, according to Rafał Agnieszczak, Furgonetka's CEO.
"After all, we cannot be a competitor if we want to create a common network for various entities. As a broker specialising in software development and acquiring individual users, we will always be neutral – we are not and will not be a courier company or an e-commerce platform", he told ITKeyMedia, highlighting that it is exactly the neutrality which would make Furgonetka the ideal candidate to operate a common network of parcel machines.
Furgonetka's announcement, published on April 1st of all days, got a lot of media attention, with some questioning the authenticity of the statement. And serial entrepreneur Agnieszczak seemed quite pleased with the market's reaction, stating that they already have "a lot" of submissions from companies wanting to cooperate.
"Overall, the idea was received with surprise, especially since we announced it on April Fool's Day. However, we know that the idea is good and has great potential (…) and we are very happy to see others also believe in it."
The Clash with InPost, which Plans 5,000 New Parcel Lockers this Year
InPost, which currently has a network of almost 12,000 parcel lockers, has downplayed Furgonetka's plans. Spokesperson Wojciech Kądziołka told ITKeyMedia that the company does not pay attention to others' "more or less successful ideas", but rather focuses on developing its own network. "Only this week, 100 new, original InPost parcel lockers will hit the streets of Polish cities, 400 within a month and over 5,000 throughout the year", Kądziołka added.
This is probably the fifth initiative in a short period of time that would like to capitalise on the success of InPost. We take it stoically. Each success attracts copycats and it is not surprising; but I would like to remind you that there are already players on the market – an example of this is SwipBox -, which want to offer their services to many couriers and have not developed more than 200 parcel machines for years. This means there could be a problem with this business model.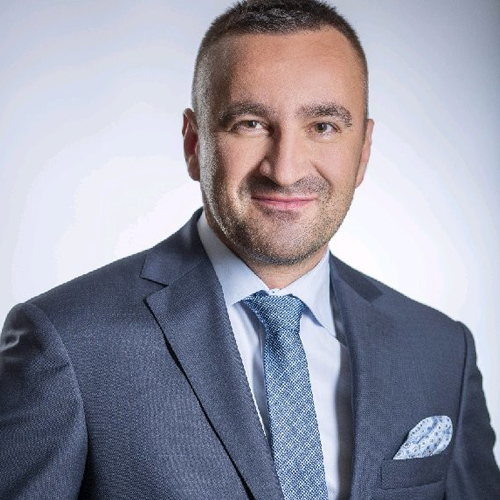 — Wojciech Kądziołka, InPost Spokesperson
Many companies are already trying to build their own machines. The problem is that, in order to become an alternative to a player who already has several thousand slot machines (referring to InPost – editor's note), you need to quickly build up at a similar scale. No company is able to do it alone – we need someone who will organise a common, open network of parcel machines – and this is what we want to do, by involving the leaders of the courier market, but also smaller chain stores.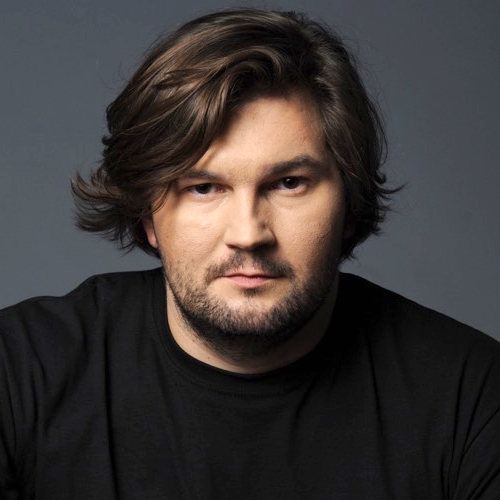 — Rafał Agnieszczak, Furgonetka CEO
Software is the Key
Agnieszczak believes it is the software that will distinguish Furgonetka BOX from the competition. "We have been integrating courier services for a decade, which is why the basis of our activity is to ensure communication between different systems and translate it all into a simple interface for the end-customer. If an open network of parcel machines is to become universal, it must operate under similar conditions, i.e. to be based on the most flexible software and universal availability", he explained.
He highlighted the fact that during the past years Furgonetka has been building a network of sending and receiving points, numbering in the hundreds (currently 319, according to their website – editor's note), that could be used to jump start Furgonetka BOX. The network is growing at the rate of one point a day, Agnieszczak added. The company's CEO underlined that Furgonetka Box will not replace, but complement the existing network. "This is due to the different needs of both senders and recipients – it is only at the dedicated points where we can check the identity of the recipient, issue a large-size shipment and, if necessary, hold the parcel for a longer time."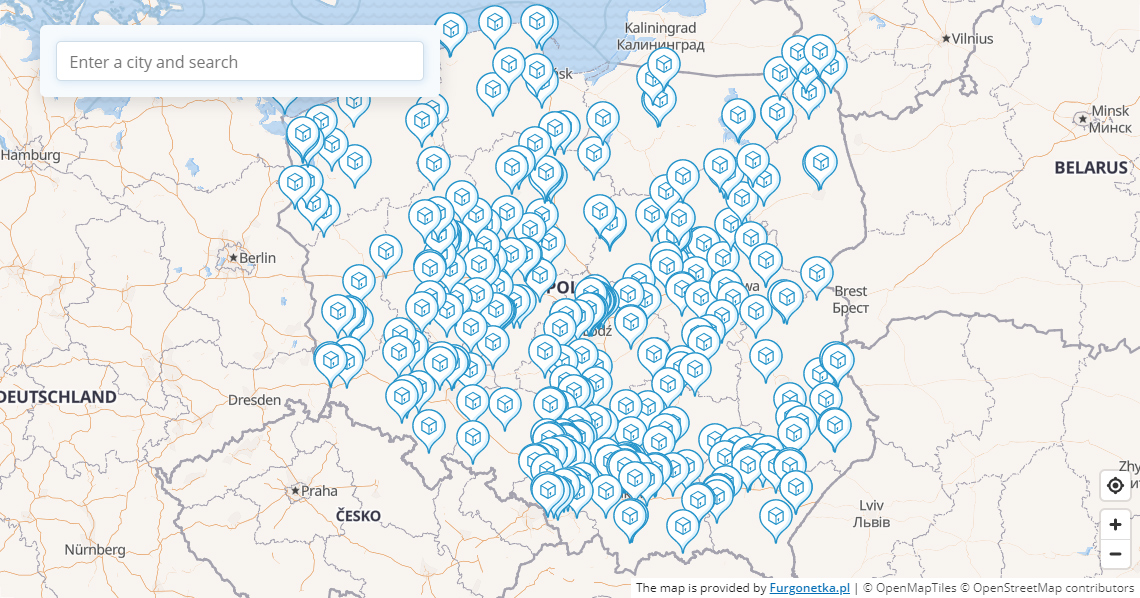 Furgonetka's current network of sending and receiving points
Ambitious Plans for the Next 5 Years
Furgonetka's CEO estimates the critical mass required for the open network of parcel machines to become operational is in the hundreds. Only after they sign several hundreds of letters of intent with future plans, they will begin planning the placement of the machines and order their production.
But, based on Agnieszczak optimism, building the network could start as early as May 2021: "We will decide which cities based on the number of applications – naturally, the first machines will be deployed where most of them are. Taking into account their further development, we want our offer to be competitive by 2026."
He added that the Polish market capacity is approximately 50,000-60,000 parcel machines.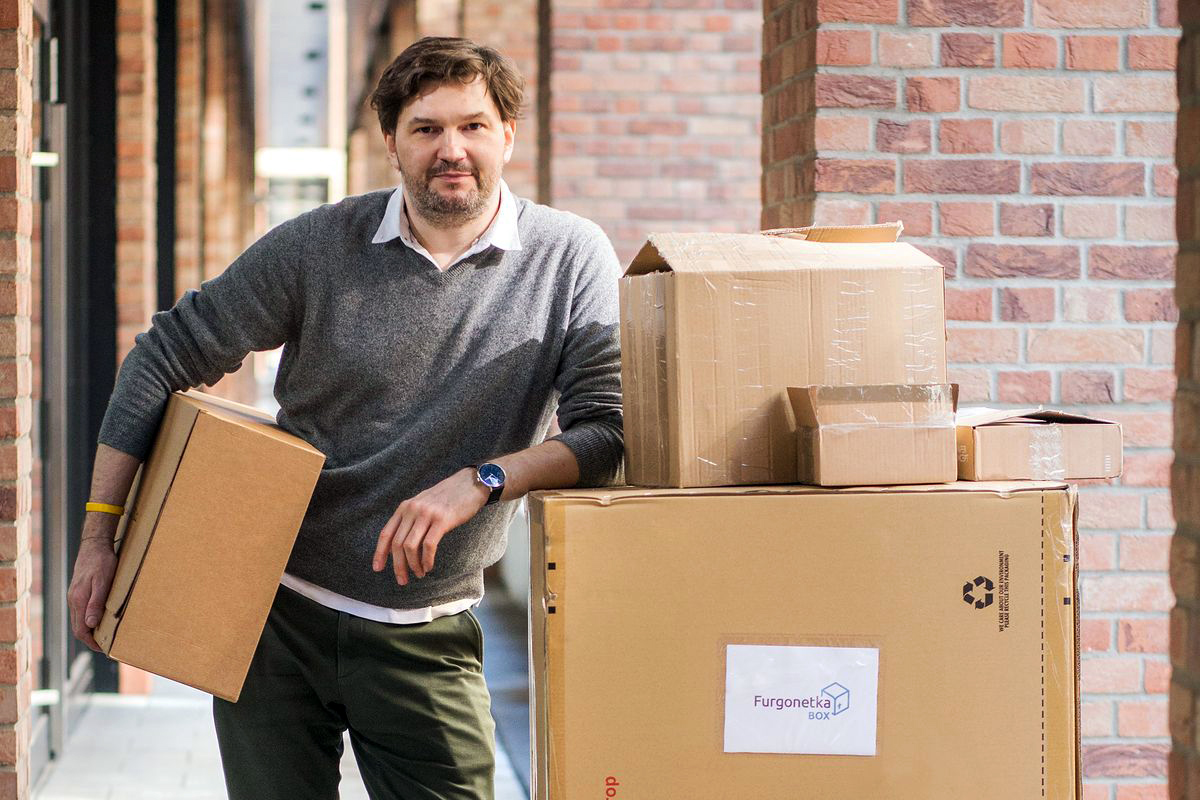 Rafał Agnieszczak, Furgonetka's CEO
"Don't Be Surprised When You See a Furgonetka BOX Machine on the Lawn of a Private House"
In terms of sizes and locations, Furgonetka intends to cover everything from small "boxes", located on the outskirts of residential areas, to larger ones, "huge as a sea container", located in underground parking lots of shopping malls.
However, Agnieszczak says the best place for a parcel machine is one that is "close, just like that":
At the moment, we are used to lockers located near parking lots or larger stores. But we want to reach wherever there is a need. Therefore, do not be surprised when you see a Furgonetka BOX parcel machine on the lawn in front of a private house, because someone orders a lot of parcels and that was the most convenient location for them. That is the beauty of this idea.

— Rafał Agnieszczak, CEO of Furgonetka
Asked whether or not they were considering parcel machines that could allow for oversized packages or ones that are refrigerated, Agnieszczak is considering the latter for Furgonetka's new network. "For larger dimensions, at the moment we are still referring to the dedicated sending points. On the other hand, automatic machines that double as cooling devices are already on the market and of course we will want to include them", he explained, adding that the consumer market is well educated, open to innovation and will quickly adapt to new concepts.
Over 44 mln EUR in Turnover, with a Double-digit Profit Margin
Agnieszczak declared it is too early to provide information regarding Furgonetka BOX's pricing model, but did state smilingly: "However, we can assure you that it will be attractively positioned in relation to the competition."
The company plans to finance the parcel network using its own resources.
Furgonetka posted a 62% increase in sales in 2020, compared to it's average yearly growth rate of 20-30%, according to Agnieszczak. "This year we plan to achieve a similar result, which means more than 200 million PLN (43.9 million EUR – editor's note) in turnover", he said, adding that the profit margin is "over a dozen percent". He expects the margin to be lower in the case of Furgonetka BOX, considering the initial investments required.
According to information published on their website, over the past 10 years, Furgonetka had 30 million parcels delivered to 1 million customers.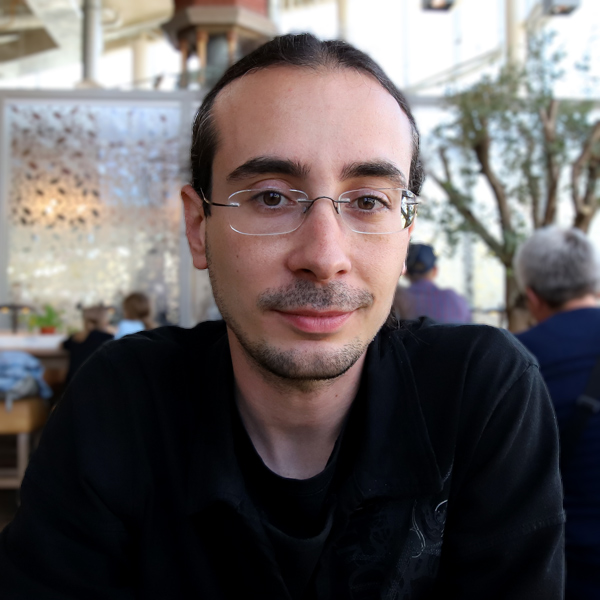 Sabin Popescu works as content editor, web designer/ developer and occasionally graphic designer for various companies and institutions across Eastern Europe and was an IT journalist for Romania's leading business daily, Ziarul Financiar.