Baltic proptech startups InRento and EvoEstate raised 450,000 EUR to date
The companies operate platforms that allow customers to earn passive income by investing in real estate
The average annual return rates start from 6%
The startups have over 50,000 EUR in monthly revenues and are looking to raise a Seed round in 2021
Lithuanian entrepreneur Gustas Germanavičius is looking to raise a Seed round this year, after his newest endeavour, established last year, InRento, secured 130,000 EUR at the beginning of April 2021. EvoEstate, a startup he set up in 2018, has raised 320,000 EUR to date.
"In terms of traction, I think we could be ready to do it as early as this summer, considering the fact that our companies mutually exceeded the 50,000 EUR monthly revenue mark. In our previous rounds, we have raised money for growth, rather than «survival». Considering this fact, we most likely should raise another round in half a year or so, to stimulate our growth even further", Germanavičius told ITKeyMedia.
Both InRento and EvoState operate on the proptech market, allowing customers to earn passive income by investing in real estate. The startups were financed by Estonian-based accelerator Startup Wise Guys.
What is the difference between the two? Germanavičius explains: "InRento is Europe's first licenced buy to let crowdfunding platform, whereas EvoEstate is Europe's largest aggregator. They are tied together, InRento being listed (among other top European platforms) on EvoEstate's Marketplace."
InRento

EvoEstate

Field
Proptech
Founders
Gustas Germanavičius
Gustas Germanavičius, Audrius Visniauskas
Headquarters
Vilnius, LT
Tallinn, EE
Investors
Startup Wise Guys
Funding
130,000 EUR
230,000 EUR
Average annual return
6.99%
11.25%
Type of investment
Rental properties
Real estate
Minimum investment
500 EUR
100 EUR
Users
79
4949
40 mln EUR Future Investments and Regional Expansion
Germanavičius says he has big plans for his companies, betting on securing investments in the double-digit million range: "In the next couple of years, I expect InRento to exceed an investment volume of 10 million EUR and EvoEstate to exceed 30 million EUR."
This year, he has plans to expand InRento's operations in another country, either in Western/ Eastern Europe or in the Middle East. Asked whether or not Estonia would be his next destination (as it's EvoEstate's headquarters), Germanavičius categorically says 'no' – "I think of all places in Europe, Estonia most likely would be one of the worst, because the market is really small and there is fierce competition among the investment platforms", he says, adding that InRento is currently looking at four potential new markets: Ireland, Spain, Romania and the United Arab Emirates. "Our next destination will most likely be one of those four."
We are currently doing due diligence on four markets: Ireland, Spain, Romania and the UAE. Our next destination will most likely be one of those four.

— Gustas Germanavičius, founder and CEO of InRento
The Risks
InRento advertises an average annual return rate of 6.99%. For the three projects currently listed on their website the net rental yield ranges between 6.06% and 7.55%. The latter, a commercial property offering two small offices in Vilnius had a funding goal of just over 70,000 EUR that was covered by 15 investors. At full occupancy, the annual return rate for investors is 7.55%, meaning that for 1000 EUR invested they would earn 75.5 EUR per year.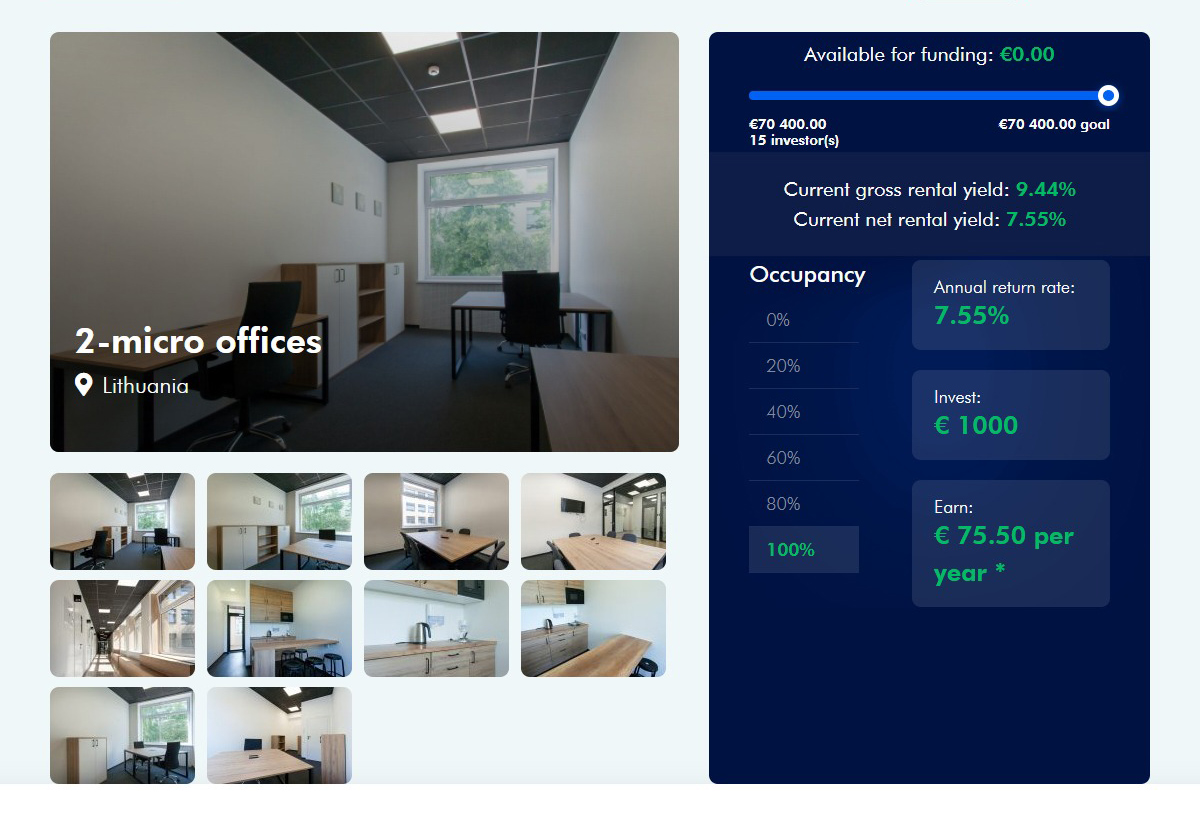 InRento's yield calculator
When comparing InRento to owning rental property, Germanavičius explains that there are two key risks that come into play – firstly, the property might become vacant; secondly, the property could lose value (short-term).
"We manage the first one by having a fixed interest rate for the project owner. Meaning that if there would be no tenant, the property would still generate income for the investor, which would be paid by the project owner", he says, adding that, in the case of traditional landlords, "if the tenant leaves, your cash flow does so as well."
The second risk is managed through the structure of the investment, according to InRento's CEO, which means investments are done via loans, which are always lower in value than the asset itself.
"There is of course a financing risk for the borrower. We manage this risk by having collateral mortgages placed on behalf of our clients. This means that when clients invest money in InRento's properties, they get a first-line mortgage guarantee as security", Germanavičius highlights.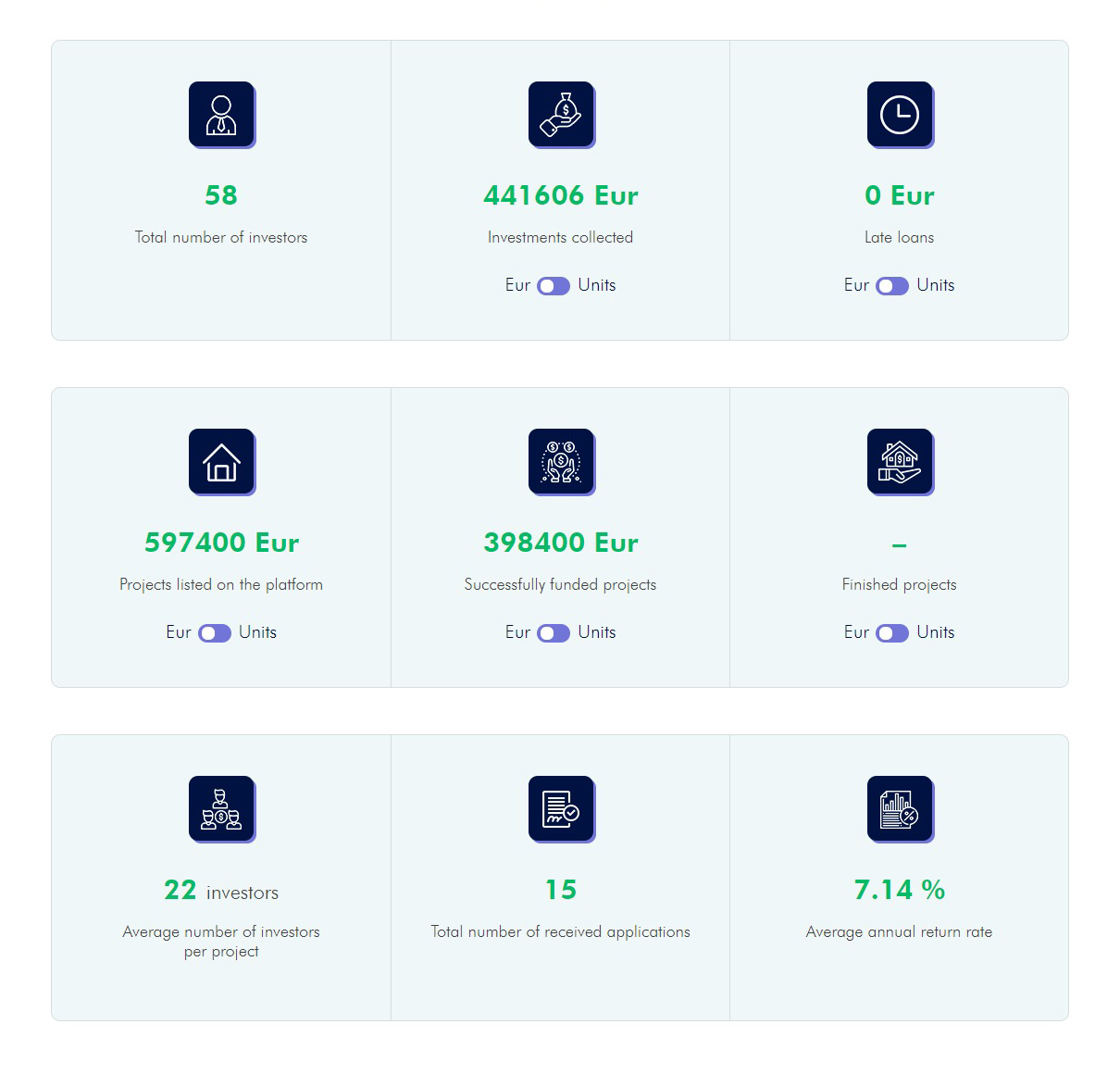 InRento's statistics at a glance
Pandemic Impact
InRento's CEO describes how the pandemic has had a two-fold impact on the market: the initial panic pushed people into investing less, however, by now they have saved up and are looking where to invest. "However we are not alone, thus we are competing for investors' capital not only with the other crowdfunding platforms, but with stock trading companies, cryptocurrency players and actual real estate", he adds.
Dag Ainsoo, management board member of Startup Wise Guys, also noticed a shift in the market, but he is looking from a geographical perspective. "I am not sure if it's because of the pandemic and the overall trend of remote work/ online work, but we see more and more interest in real estate outside large cities (…) and not too much concentration on city office buildings", he told ITKeyMedia.
He says the global crowdfunding market is "enormous", estimated at approximately 100 billion USD (82.7 billion EUR) and expected to grow "significantly" medium-term. "Retail investors are becoming more and more active in investing their assets directly, and crowdfunding enables that."
One Week with the Shaolin Monks
Before InRento, Germanavičius was involved in running EvoState. "One day, I realised that all crowdfunding platforms in the EU focus on higher risk investments, figured that there should be a demand for lower-risk investments, and I set out to license it", he recalls the inception of the startup. His main challenge was bringing a non-regulated product into the market, but "in less than six months, we secured the license, and, a few months later, we listed the first project for financing."
This hands-on, no-turning-back attitude is what convinced Startup Wise Guys to back Germanavičius a third time. "We at Startup Wise Guys would like to back exceptional founders, and we think Gustas is definitely one of them. He is very ambitious, hungry, the hustler-type, and he will go through walls. (…) All this makes him an unstoppable founder", Ainsoo said.
We know that this kind of persons (referring to Gustas Germanavičius – editor's note) will eventually succeed. It might not be the first startup they found, maybe not even the second, or the third, but eventually they will succeed. But you never know in advance.

— Dag Ainsoo, management board member of Startup Wise Guys
Startup Wise Guys invested in InRento, EvoEstate, and also in WellParko, a startup co-founded by Germanavičius in 2017 that was acquired by Parksol in 2019. WellParko developed an AI algorithm that used surveillance cameras to provide information availability about parking places in real-time.

Outside his entrepreneurial life, Gustas Germanavičius is passionate about sports and travelling to discover new cultures. He spent a week at a Shaolin monastery in China, and says that it is nothing like what is presented on TV or the internet. "I read about the monastery in a book, and I just showed up there, as you can't make appointments or reservations. I can't say it has changed me, as I didn't go there in search of something. I wanted to see what it takes to live the schedule of a Shaolin monk and to train in martial arts with them", he recalls.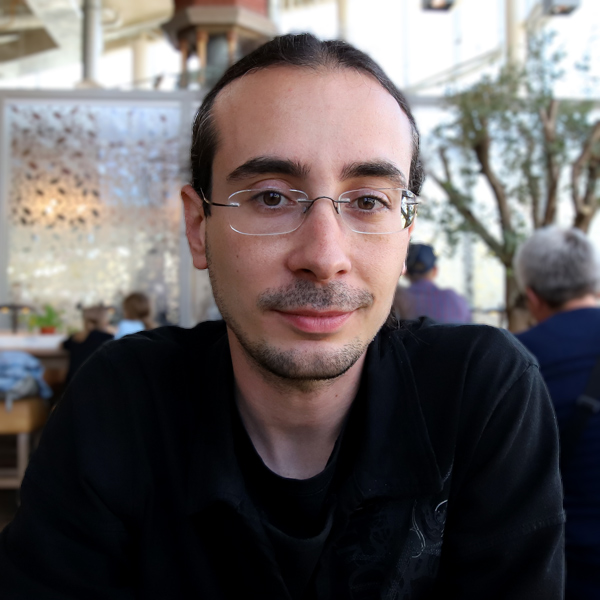 Sabin Popescu works as content editor, web designer/ developer and occasionally graphic designer for various companies and institutions across Eastern Europe and was an IT journalist for Romania's leading business daily, Ziarul Financiar.