The Ukrainian start-up Lawyerd! was selected for the

Techstars Torino

2022 batch.

The company

provides solutions to automatically protect intellectual property rights on the Internet.

Lawyerd! was supported by the Concordia Design Accelerator to scale into the Polish market

.
"More time for your business, less for routine" – that's the first phrase you can see when entering Lawyerd!'s website. When companies lose a significant chunk of their income due to intellectual property infringing, the Ukrainian start-up offers an easy and fast solution – an automated process of taking down intellectual property infringing content on the Internet. No more spending time and money on talking to lawyers – Lawyerd! can do the work for you and ensure that your intellectual property rights are protected from unauthorized use on the web.
Automated solution to a bureaucratic nightmare
Who better understands the burdens of intellectual property protection than the person who worked in the field. Igor Makushinsky, the company's CEO and co-founder, gained experience in manoeuvring within the many issues concerning IP from his previous work in the legal department of one of the game development companies. He quickly understood that a lot of manual work in the process of intellectual property protection on the Internet could be automated. Together with another co-founder, Igor Hludov, he created a start-up that could do just that – find and remove any content infringing the copyright.
Lawyerd!'s technological solution to the protection of IP sounds very tempting – much cheaper than any practicing lawyer, who protects your intellectual property, 7 times faster than regular services provided by legal professionals, and one complaint registered in an average of 5.5 seconds! And it is undoubtedly in high demand. As Makushinsky says: "Even now, someone buys an Apple copycat, crack a Netflix account or download unlicensed Windows. Every second, companies lose millions of dollars." Sometimes, they are not even aware of the significance of their losses.
Every business selling goods or services online can register on the platform, choose the tariff plan, and file complaints with a few simple clicks. Your logos, images, videos, music, texts, games, software, and other objects of which you are the copyright holder become protected. Lawyerd! is a platform that automatically fills in complaint templates, searches the system for finding an email of the responsible hosting provider, automatically creates evidence, and sends letters. The only thing that clients need to do is to put the link on the infringing resource, and Lawyerd! will automatically delete it in 1 – 5 days.
Conquering foreign markets
In 2020 Laweyrd! became one of the innovators supported by the Hague Institute for Innovation of Law Justice Accelerator, the aim of which, according to the website is to "bring new services to scale that can prevent or resolve justice problems for everybody. Startups are a key driver in this transformation of the justice sector." 
Dmitry Foremnyi, acting as the start-up's partner in HIIL, is optimistic about the company's future. "Lawyerd! is a scalable solution, they can scale not only on the Polish market but on every EU market." – he told us, and added that:  "access to justice is really the urgent one, that is why Hague Institute for Innovation of Law tries to help legal-tech startups create a good partnership and connection all over the world."
Lawyerd! was also selected for the Techstars Torino 2022 batch. Techstars is an American seed accelerator. As of 2019, Techstars had accepted over 1,600 companies into its programs with a combined market capitalization of $18.2bn USD. Accepted companies receive seed funding, mentorship, and a free office space. Techstars launched Italy's first-ever accelerator focused on Smart Cities and Lawyerd! is one of the 12 companies invited to the Class of 2022. They plan to improve the product, hire in-house blockchain developers, salespeople for hard-selling in the EU market, and invest in the marketing side of the business. With their client base already existing in Israel, Poland, Sweden, Ukraine, and Russia, they want to focus on reaching customers in Central Europe in the next 24 months. They started by gaining the support of the Concordia Design Accelerator to scale into the Polish market. Concordia Design Accelerator is a program under which you can receive a free equity grant of up to EUR 65,000. At the same time, thanks to the programme, Lawyerd! has a chance to cooperate with the Shape VC fund, which hopefully will end in an investment.
Michał Karbowiak – Lawyerd! partner from Concordia Design Accelerator – sees great potential in the solution offered by the company, especially in the era of widespread digitisation and e-commerce. He says: "Cooperation with the Shape VC fund is crucial for the programme and the Lawyerd! company itself. It gives the company a chance for a potential investment, and provides experience in working with VC funds in – let's call it – test form. Furthermore, I think that thanks to the support of Concordia Design Accelerator, Lawyerd! will also gain key contacts in the field of marketing, as well as learn about the conditions for the protection of intellectual property in Poland."
Plans for the future 
Lawyerd! co-founders aim big. 
"Our aim is the EU intellectual property market which is estimated at 220 billion. We plan to attract 100-120 B2B customers and more than 1000 B2C customers which convert to 200 000 euro MRR in the fall of 2022." – told us Makushinsky. 
Moreover, they want to create a solution that everyone can use as an antivirus on their computer. Lawyerd! will automatically scroll the web to find out what the clients' brands and rights are, to defend them. The company's ultimate aim is to establish a clear associative connection for every Internet user between the Lawyerd! brand and protection of intellectual property rights on the Internet.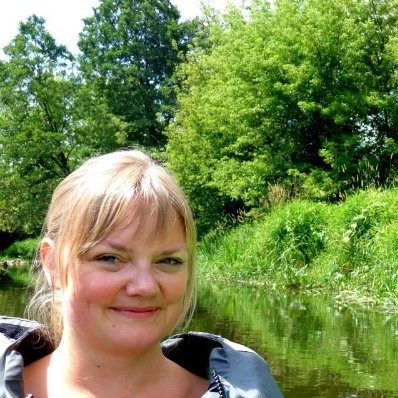 Agata writes content for NGOs, private and public sector. She enjoys writing about new technologies and is fascinated by all things AI!