inhire recently launched a real-time salary calculator that allows IT specialist to find out the average minimum lower and average maximum upper salary levels for various roles across Poland
The company is considering adding other locations outside Poland
inhire also operates a recruitment portal, used by over 200 companies and 12,000-13,000 candidates
Polish IT recruitment platform inhire wants to expand the 'borders' of its newly launched real-time salary calculator, in order to allow specialists to find out how much money they would make outside Poland.
"We will probably be focusing on remote job offers at first, and then other locations worldwide, so that, let's say, a Java developer from Poland could easily see how he or she could be paid in different corners of the world", Michał Gąszczyk, CEO and co-founder of inhire, told ITKeyMedia.
The company recently launched a tool that allows developers, engineers, and other IT specialists to see the salary ranges of specific positions. According to inhire, the calculator analyses the data published on its own platform, taking into account offers from the career pages of "several hundred" employers, and ads published on the largest job boards in Poland (justjoin.it, nofluffjobs.com, pracuj.pl) and shows data for upper and lower salary ranges, for both B2B and permanent contracts.
Senior recruiter Magdalena Korzec-Maro told ITKeyMedia she has already used the calculator, and that it is "most accurate". "It should be helpful for candidates who want to know if their salary expectations are acceptable and can be met by any company. Talent teams will also know what to expect when launching new processes", she added.
Gąszczyk has three expectations for their calculator: "First of all, we hope that it will give self-awareness about the IT market to both companies and candidates. Secondly, we would like to see more and more job offers show salary ranges publicly. And thirdly, we wish to save employers a lot of time, because, thanks to our salary calculator, they do not have to wait for our quarterly salary reports anymore" (since 2019, inhire publishes quarterly IT Market Snapshot reports that summarise the state-of-play of earnings in the Polish IT industry – editor's note).
However, inhire's main line of business is an AI-powered platform that acts as a matchmaker between prospective employees and employers – and is designed exclusively for IT roles.
---
Read about inhire's story and their very straightforward manifesto: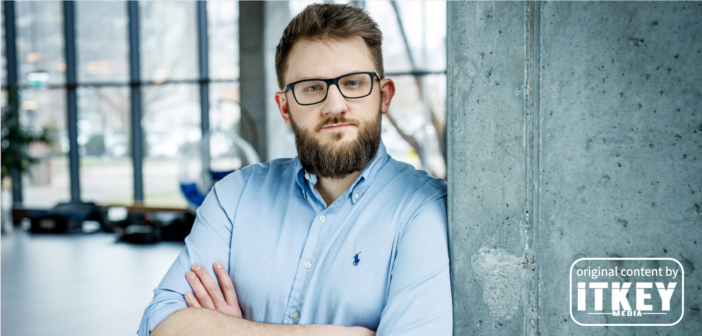 inhire Is Setting the Precedent for Destabilizing Tech Hiring Marketplaces
---
According to Gąszczyk, the platform currently has 12,000 registered candidates, over 200 clients (employers), "and we keep growing", he said without providing additional information. This seems to be true, as inhire's website currently lists 13,000 candidates, only a few days after our interview.
Founded in 2016 in Warsaw, inhire is listed in VC fund Pracju Ventures' portfolio. Neither of the two wanted to disclose the value of the investment.
How Does the Salary Calculator Work?
Select the role – Examples:

Frontend/ Backend Developer
Full Stack Developer
Mobile Developer
Devops Engineer
UX Designer
IT Admin
QA/ Testing
etc.

Define the technologies of interest (up to 3) – Examples:

Adobe XD
Android
Angular
C++/ C#
Cisco
iOS
Java
JS
PHP
Python
React
Ruby
WordPress
etc.

Specify level of experience:
Specify the location: currently 12 major cities from Poland are available.
In our example, we will be looking for the salary ranges a junior iOS developer can expect in Warsaw.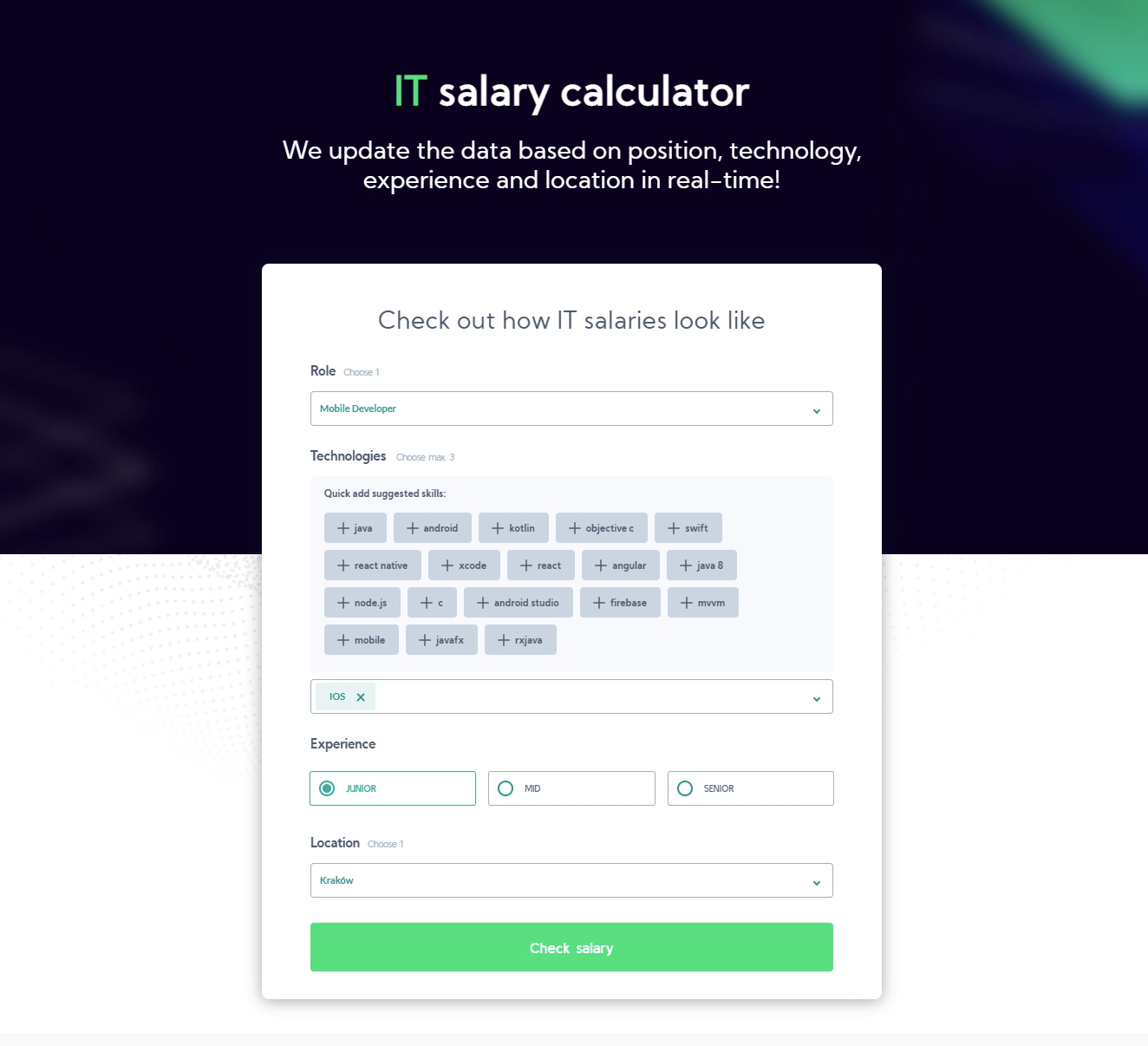 Search parameters
As we start decreasing the time span, we noticed a considerable increase of salary levels for permanent contracts, from 4,950-7,628 PLN/ month (1-year average) to 6,333-8,500 PLN/ month (data published in the last 3 months), but also for B2B, which went from 5,533-8,533 PLN/ month to 7,000-9,375 PLN/ month (9,375 PLN is approximately 2,080 EUR).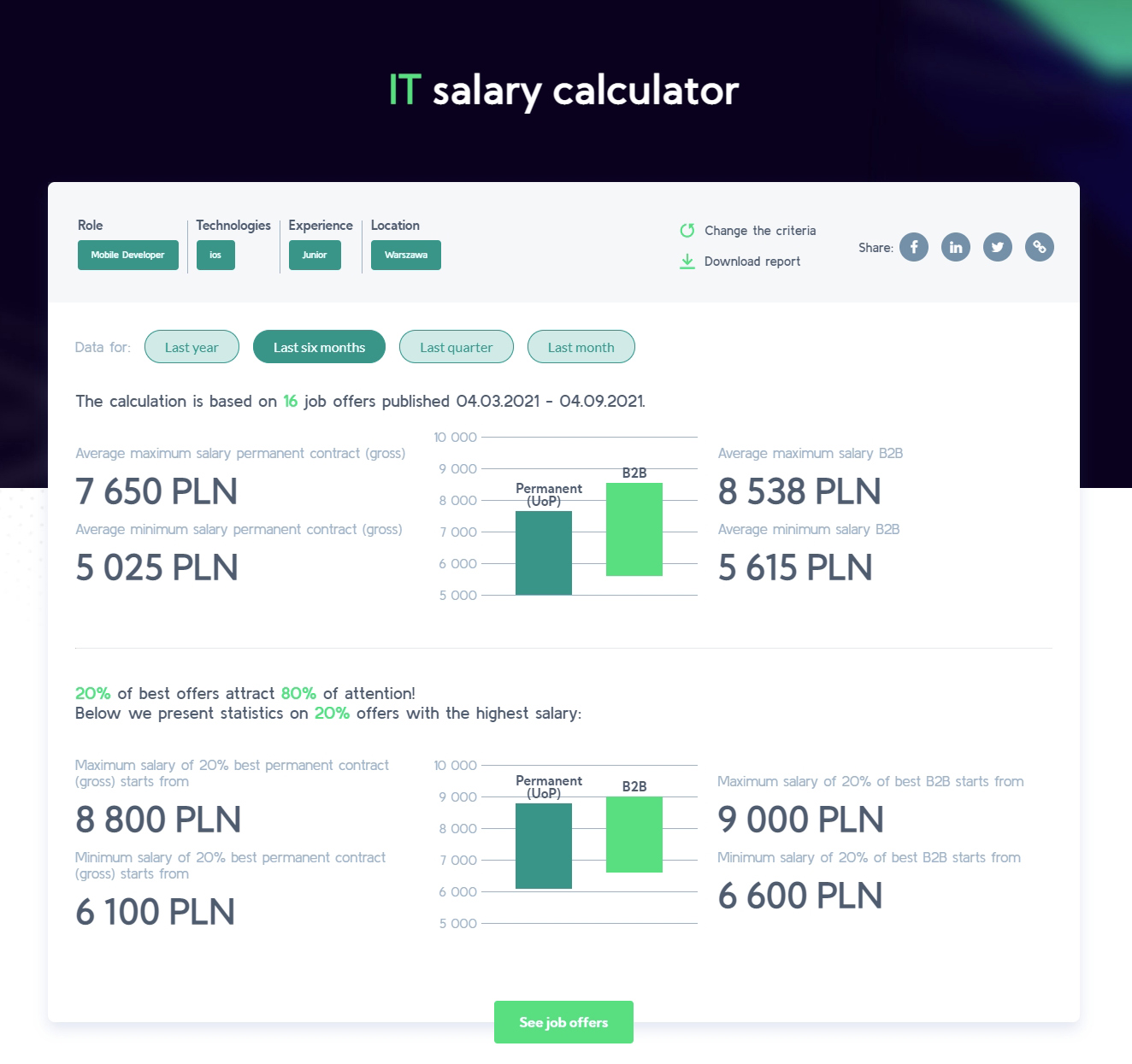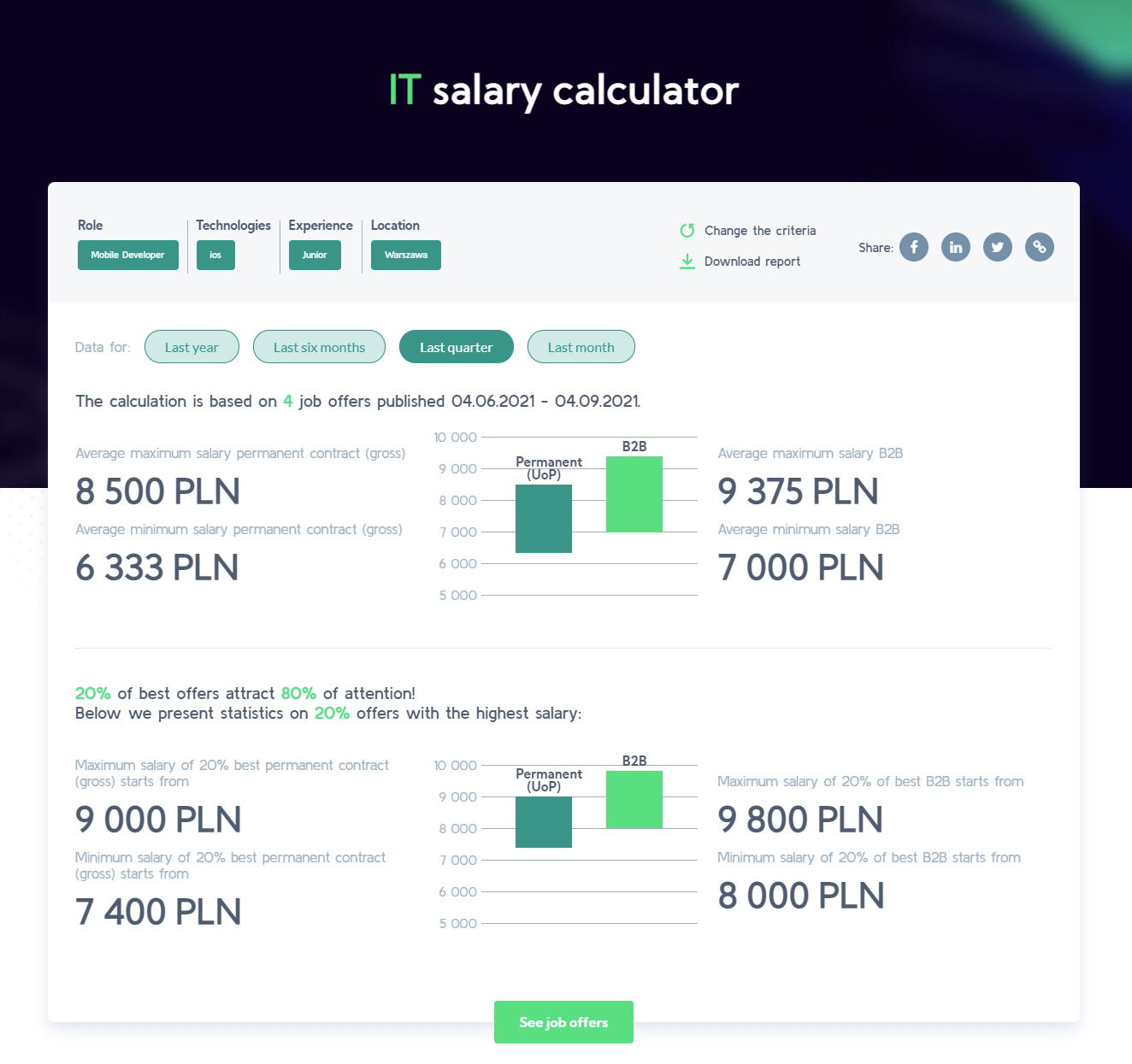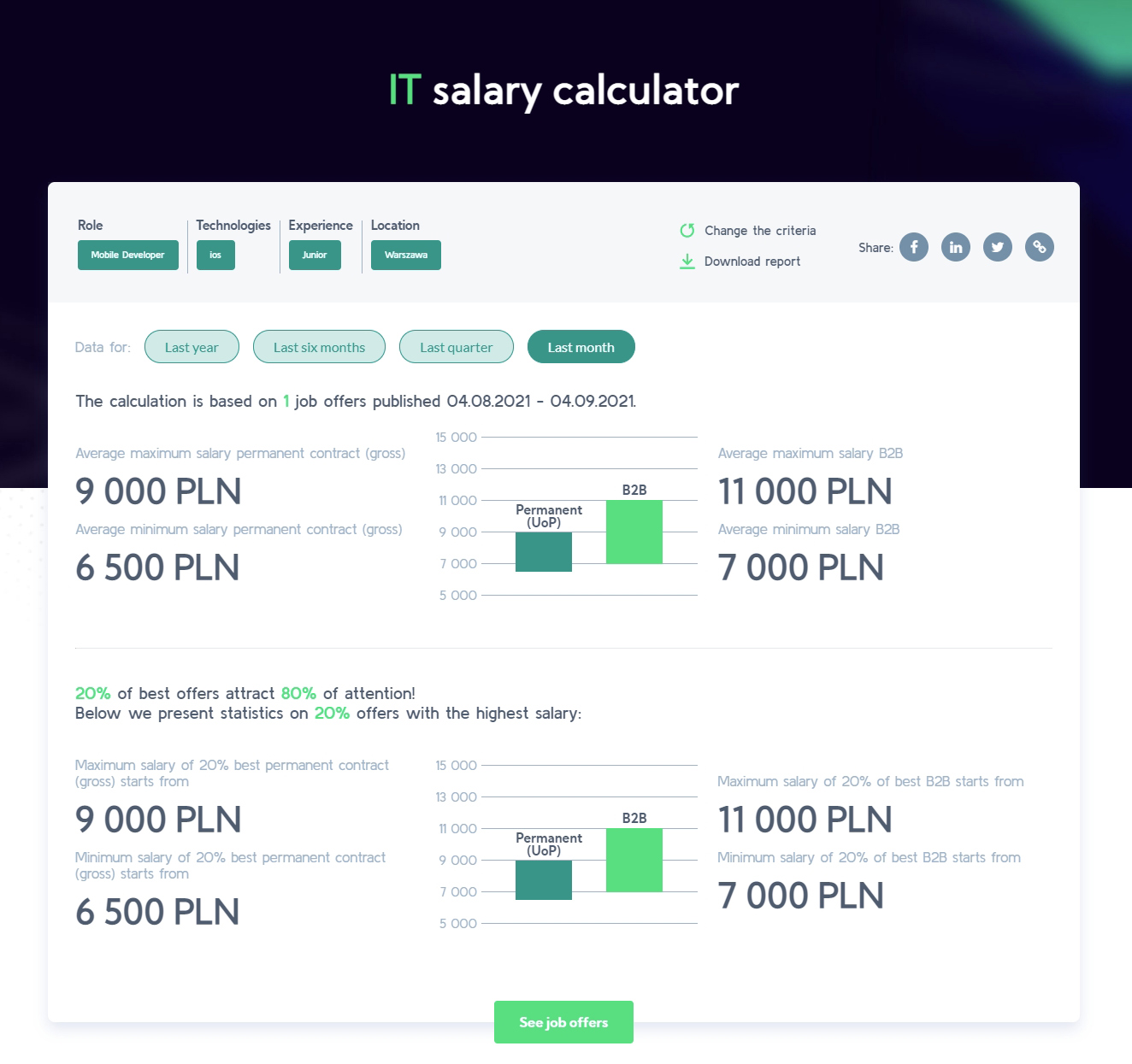 Salary ranges for a junior iOS developer in Warsaw, filtered by time span
A senior iOS developer looking for a job in the capital could be looking at 12,755-17,953 PLN/ month or 16,564-22,213 PLN/ month if B2B (22,213 PLN ~= 4925 EUR).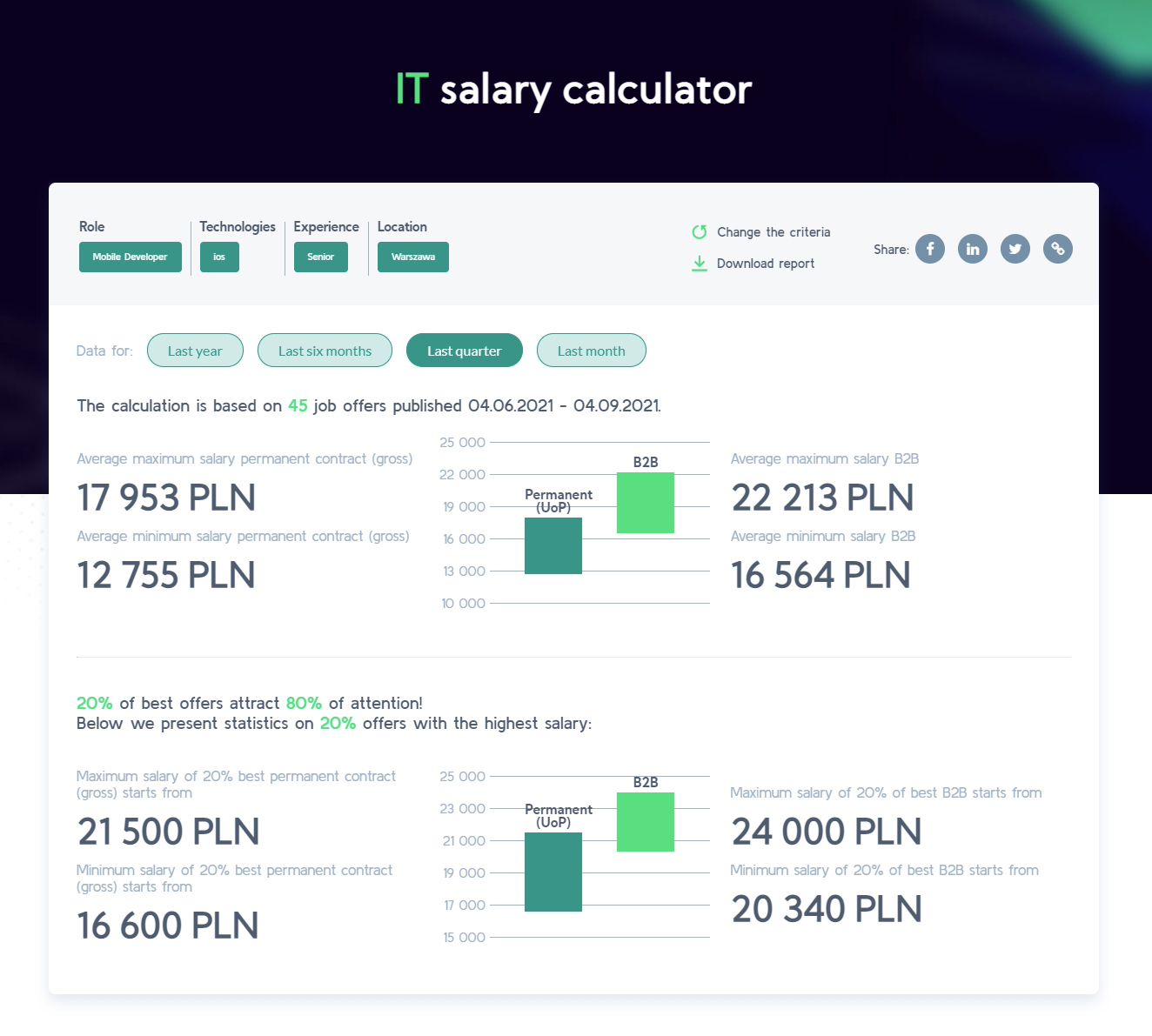 Salary ranges for a senior iOS developer in Warsaw
All figures represent gross earnings and were retrieved on 4 September 2021.
Even during COVID times, salaries have risen like crazy.

— Magdalena Korzec-Maro, senior recruiter at relayr
"Even during COVID times, salaries have risen like crazy", exclaims Korzec-Maro, adding that she does not think the bubble will burst any time soon, as the demand for developers is extremely high. "I have no words. It is like a never-ending story."
Candidates vs. Recruiters
Coming back to inhire's manifesto regarding difficulties in recruitment processes, there are two points of critique that caught our attention:
"If financial requirements are not met they (recruiters – editor's note) continue their interview, informing us about the mismatch later on, only after we told them almost everything about ourselves";
"They consistently ask about things that can be found in the CV right away. Why? No idea".
While the first scenario feels like an occurrence common in most of Central and Eastern Europe (CEE), Korzec-Maro insists that things have changed a lot during the past few years.
It is indeed much better to save everyone's time if salary expectations cannot be met or just ask the candidate if the budget is acceptable, she says, adding that, at the end of the day, it is not always the money that motivates people.
She does not fully agree with inhire's statement about CVs: "When the recruiter is going through a resume and one can see that there is a goal in each question, let them ask."
But both Korzec-Maro and Gąszczyk seem to agree on the fact – or rather the empiric observation – that people in CEE are reluctant to openly talk about how much money they make/ expect to make, while companies tend to keep salary levels a bit of a secret.
"It is a matter of culture, I guess. People are not paid equally for the same job, and, in all such cases, that means a major issue", believes Korzec-Maro.
inhire, on the other hand, considers that salary levels are not the only issue that comes into play, but also lengthy recruitment processes, the poor quality of job ads, and the overall competitiveness of the market. "Every IT employer should think more about their HR strategy and adjust it to the market, which is changing so rapidly (…) especially in the post-pandemic world, when remote work is becoming a standard, which will cause even greater competitiveness", concludes Gąszczyk.
Every IT employer should think more about their HR strategy and adjust it to the market, which is changing so rapidly.

— Michał Gąszczyk, CEO and co-founder of inhire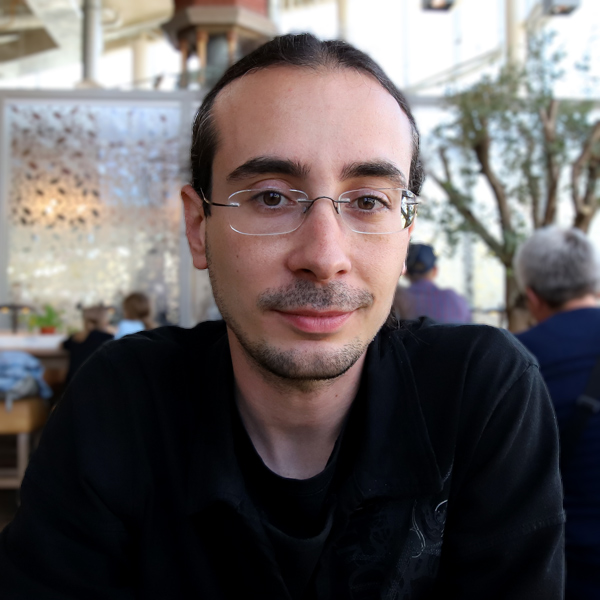 Sabin Popescu works as content editor, web designer/ developer and occasionally graphic designer for various companies and institutions across Eastern Europe and was an IT journalist for Romania's leading business daily, Ziarul Financiar.