Vilnius-based Attention Insight is in talks for a new investment, after a seed round of 200,000 EUR last year
The startup reported 30% MoM Revenue Growth throughout 2020 and plans to double the number of employees
The company uses AI to generate eye tracking heatmaps that allow their clients to optimise website designs
Attention Insight is one of the finalists of UiPath's 2020 Automation Awards
Lithuanian startup Attention Insight, which develops AI-powered analytics solutions, is preparing to announce a new investment round, the company told ITKeyMedia.
In 2019, they received 200,000 EUR in a round led by venture capital fund Open Circle Capital; Lithuanian business angel network LitBAN and venture capital fund Koinvesticinis fondas also invested in the startup.
"We are backed by Open Circle Capital and angel investors, but we will soon announce new partners – we are closing a round as we speak", said Kamilė Jokubaitė, CEO of Attention Insight.
The startup's revenues have grown 30% month on month (MoM) in 2020, according to Jokubaitė, who adds:
Our user database is expanding rapidly. Every month we sign hundreds of new accounts.

— Kamilė Jokubaitė, CEO of Attention Insight
She says the company plans to use the new capital to continue growing its user base and to launch a new UI/ UX (User Experience/ User Interface – two seemingly similar design terms, but, in a nutshell, UX is determined by how easy/ difficult it is to interact with the UI elements of a product/ app – editor's note), complemented by new features, but without offering additional information. Attention Insight's website currently lists under "coming soon" a contrast checker module and also mentions the app does not provide automatic design recommendations "just yet".
The company did not disclose any information about their current financial results, but stated they are planning to reach their first million euro in 1-2 years.
Replacing Human Eye-tracking with AI; with 90% Accuracy
Attention Insight is developing a tool that can assess visual designs in the prototyping stage, without involving actual humans.
The company's deep learning/ AI algorithm was trained using approximately 30,800 images from eye tracking studies to generate accurate heatmaps – visual representations of how visitors will interact with a client's website/ banner/ landing page/ etc.
How accurate? Approximately 90% in comparison with real eye-tracking heatmaps, according to the startup's officials, who state the results were compared to MIT's eye tracking data set.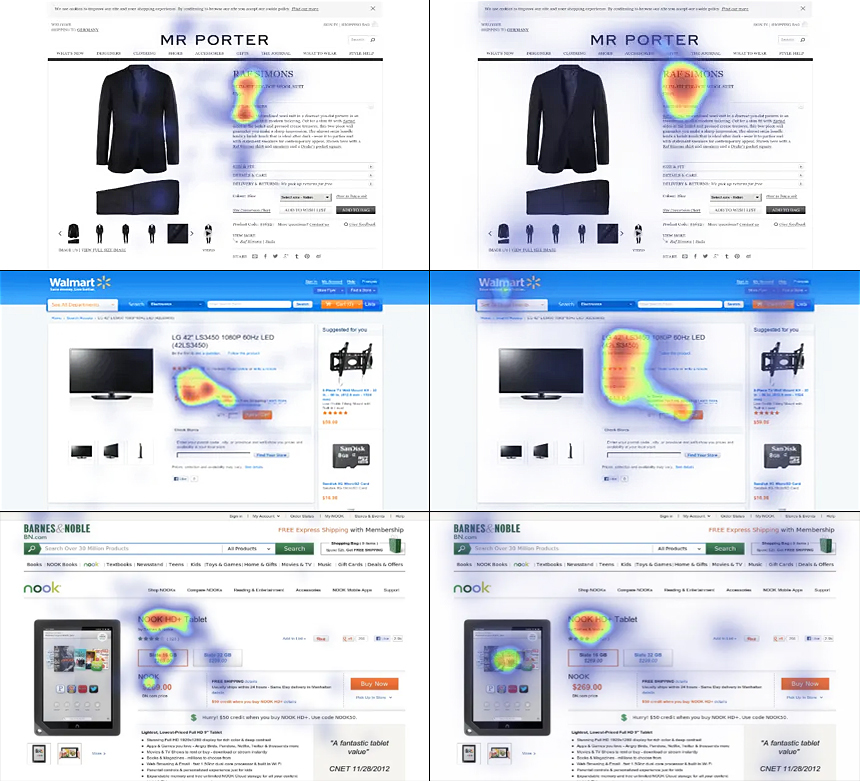 Predictive eye tracking (right) vs. real eye tracking (left)
The most common use-case scenario is when a user uploads multiple versions of a design to compare which one would perform better. In addition to the heatmap, the Attention Insight app can calculate an exact percentage representing how much attention a specific area/ object received.
"Marketers can easily compare multiple designs, see which objects perform the best, and together with the design team improve desired KPIs. Design and UI/ UX teams can implement user testing in minutes (using feature flag and other techniques), see how users would respond to different layouts, and make data-driven design decisions", says Jokubaitė.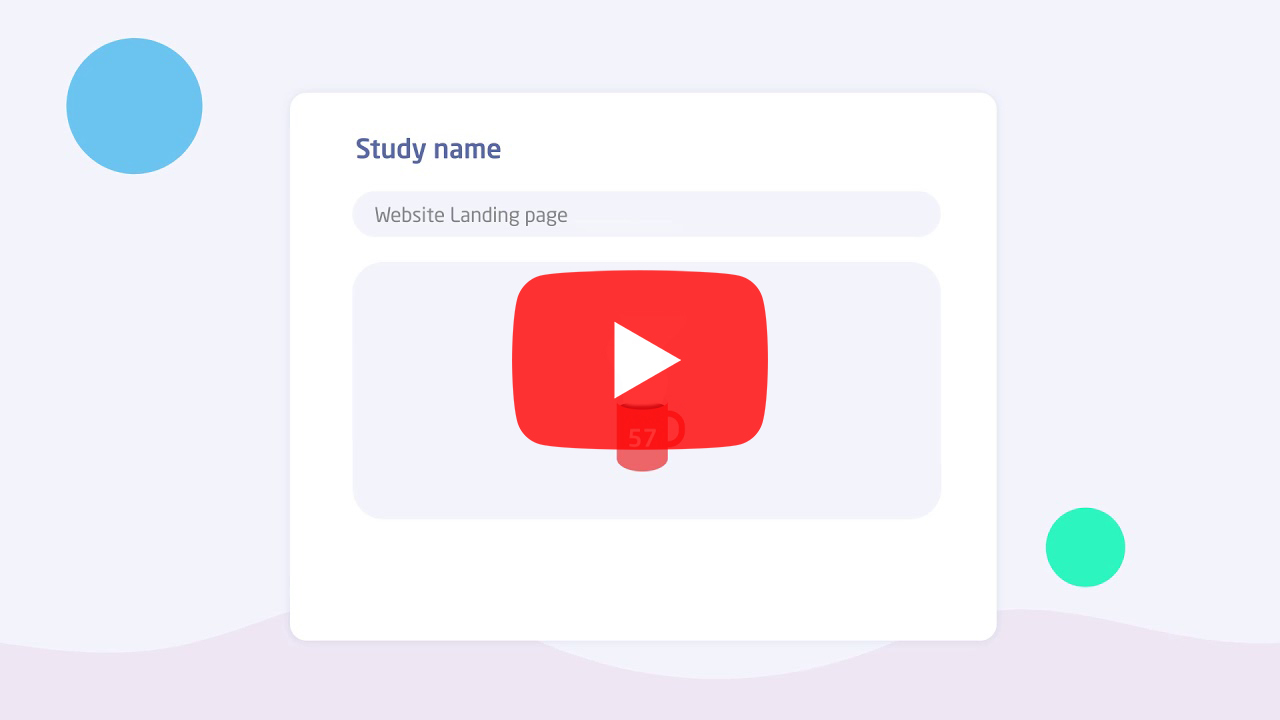 ▶ Attention Insight's explainer video
Pricing Model
The starting price for the subscription-based SaaS (Software as a Service) platform is 60 EUR per month (with a 20% discount for annual billing = 48 EUR/ month) and includes 100 designs, as well as dedicated plugins for Adobe XD, Sketch and Google Chrome.
There is also a free plan that allows up to 5 designs. The company would likely implement easy-to-use subscription systems that make it even easier for clients to opt for their services. Allowing transactions via a recurring payment model designed especially for SaaS companies (visit the FastSpring blog for more info) can help them not only scale up faster, but also provide a better experience for their customers.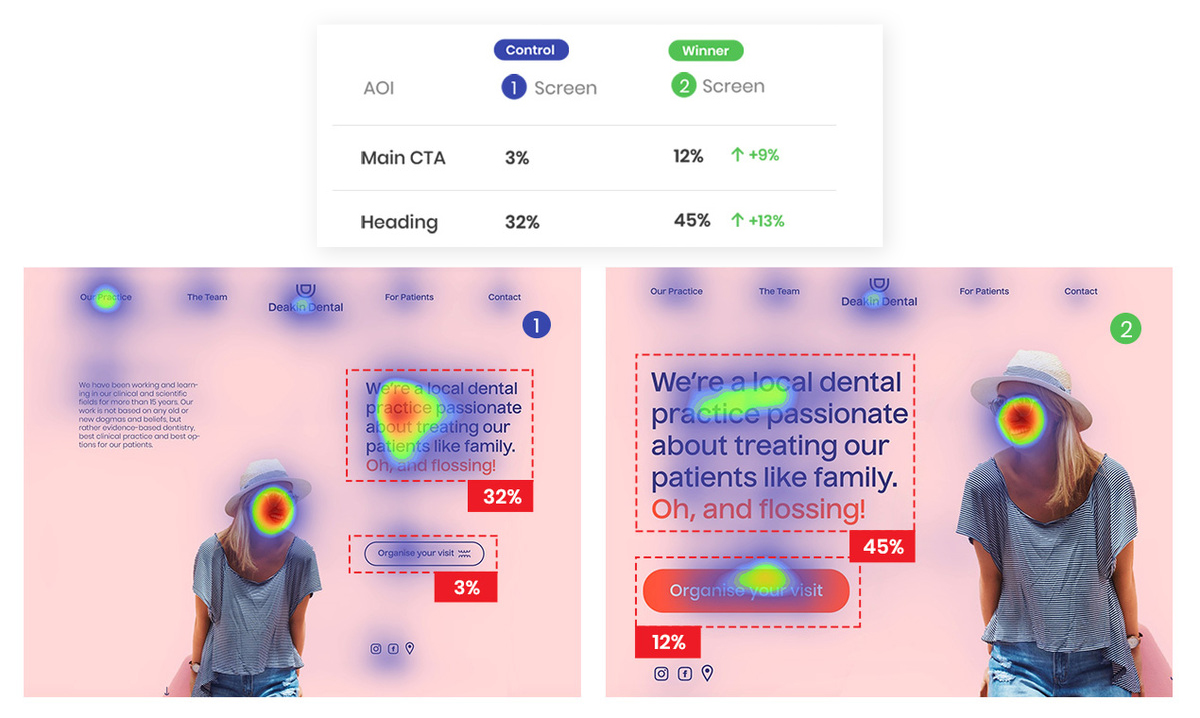 Comparing the effectiveness of multiple designs: Attention heatmaps identify the most eye-catching areas of a design; The percentage of attention calculator will detect common items such as call-to-action buttons and determine an exact percentage of attention those objects receive
The startup also provides an API (programming interface) for clients who work in e-mail marketing or website design and would like to implement attention heatmaps as a feature for their own clients.
In March 2020, Attention Insight was granted over 250,000 EUR in financing from the EU/ European Regional Development Fund to create a prototype of a platform that would allow the optimisation of communication campaigns' design in real time – "without data gathering" – a key requirement when it comes to the EU's draconic GDPR regulations. Jokubaitė states that the current app does not require any third-party code integration and no user data is collected, making it GDPR-compliant. Of course, this is something any business would need to be made aware of, whether with a consultant or with additional reading for information from sites online.
Attention Insights say they currently have over 5,000 clients from countries such as the US, the UK, France, Spain or Germany, where they nominate large media/ publishing companies like Die Ziet, Mediengruppe Oberfranken, Noz Digital, Badische Zeitung, and ARD.
"We surely did", says Jokubaitė whether they noticed any pandemic-related impact on business. "We saw a dramatic increase in our client base since businesses around the globe started focusing on online sales. And we can help them optimise their websites and marketing campaigns without any user involvement", she explains.
An Idea Born Out of Frustration, Like for Many Startups
"As marketers ourselves, we were frustrated for years because there was no quick, private, and scalable way to do pre-launch marketing campaign testing", recalls Jokubaitė, who also worked in the consumer behaviour field and says was mesmerised by the added value of eye tracking research.
The problem was that, like the majority of consumer research methods, eye tracking studies take two to four weeks to implement. Traditional eye-tracking research is a resource-intensive service; to make accurate findings, you should possess eye-tracking software and devices, recruit enough users (at least 39 to generate heatmaps according to NN/g [Nielsen Norman Group – the well established American UI and UX consulting firm – editor's note]) and record their behavior, explains Attention Insight's CEO.
"So the team started working on a platform that in a few years enabled marketers to do testing the way they wanted – instantly. At first, we showed the AI how human vision operates, how we see colors, faces, different environments. Then we trained it on different content types: landing pages, e-commerce stores, etc. Now it can outperform humans when it comes to estimating where a group of users will look", she adds.
Plans to Double the Number of Employees
Attention Insight was established in 2018. CEO Kamilė Jokubaitė co-founded digital marketing agency nbranded and also worked as a project manager, trainer and CMO.
Mindaugas Mejeras is the CTO; in the past he worked in the IT service management industry in the UK and also for the Lithuanian branch of Barclays.
CMO Darius Jokubaitis has background in digital communication and marketing, having worked for several media or PR agencies. He is also part of nbranded.
Attention Insight currently has 8 employees and is looking to double that number "in the upcoming quarters".
In a short chat with Luciana Lixandru from Sequoia Capital, who has extensive experience in taking startups to scaleups and beyond, ITKeyMedia found out her view on do's and don'ts when it comes to human resource management. "The right team as you scale is essential, the all-hands-on-deck mentality works for the startup phase but, for a scaleup you need the right people, in the right areas, and with clearly defined roles and responsibilities", adding that hiring is always front of mind for founders as they scale and one of the areas where, as an investor, she and her company would try to help as much as possible.
The "all-hands-on-deck" mentality works for the startup phase but, for a scaleup you need the right people, in the right areas, and with clearly defined roles and responsibilities.

— Luciana Lixandru, partner at Sequoia Capital
Attention Insight is present in Vilnius (headquarters), Warsaw (branch) and Hamburg (office).
Attention Insight is one of the finalists of the UiPath Automation Awards 2020.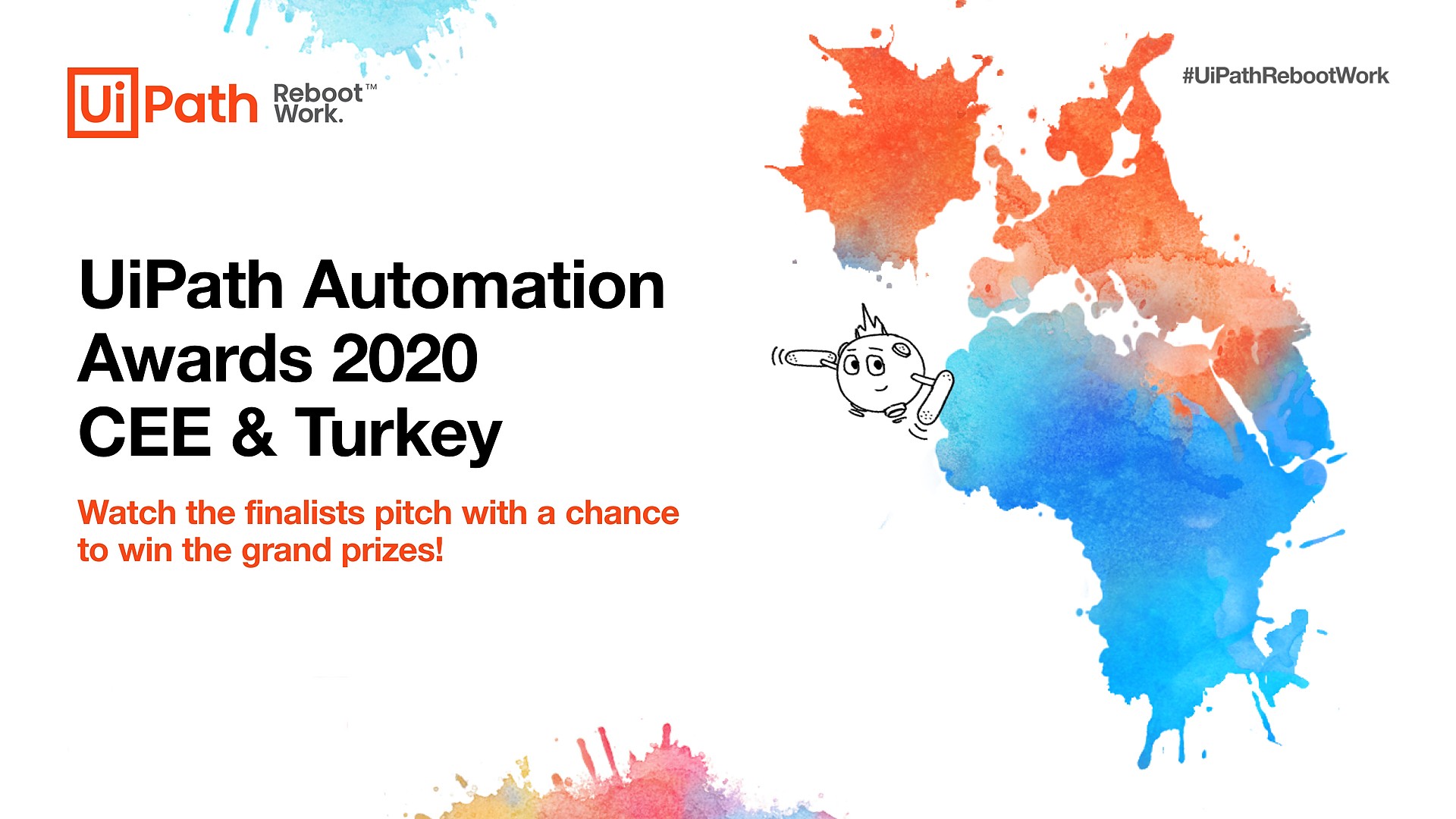 ---
The Romanian-born leading enterprise Robotic Process Automation (RPA) software company is looking to support the development of innovative business ideas in Central and Eastern Europe (CEE) and Turkey.
"A few years ago, UiPath was a start-up. So, we get you! We encountered many of the struggles and the perks that come along with the entrepreneurial journey", say UiPath's representatives.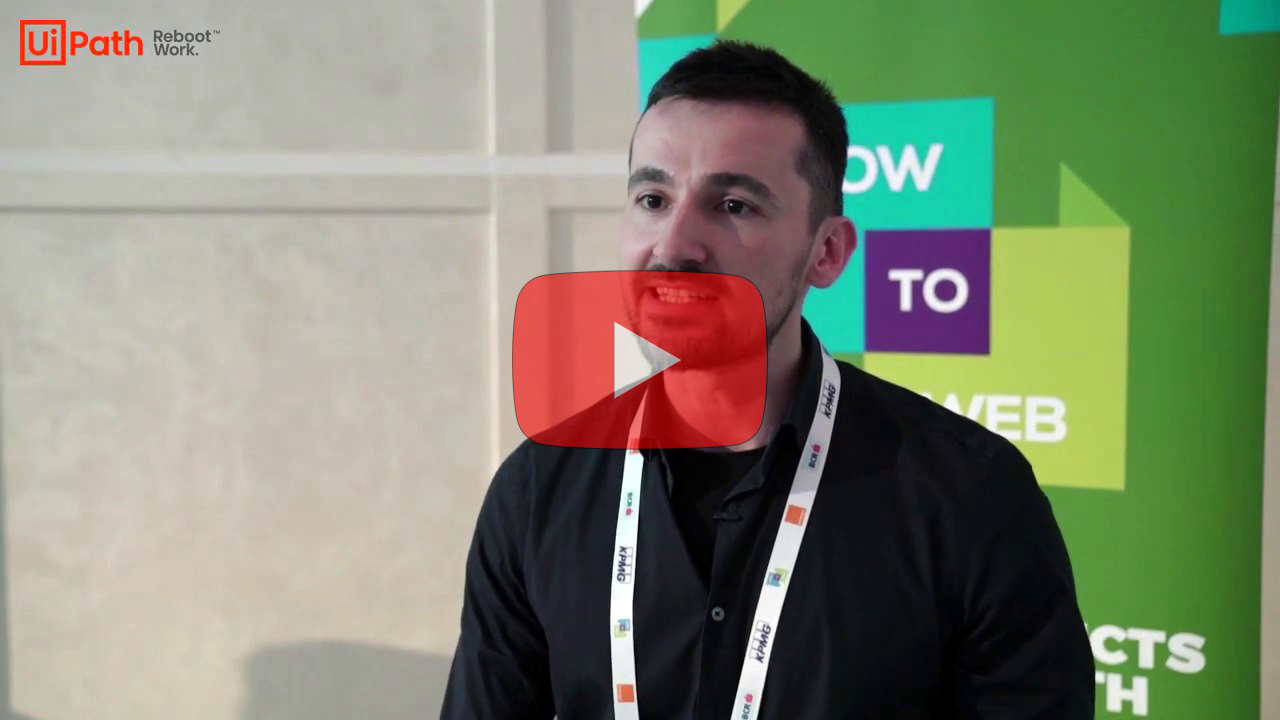 ▶ 2020 UiPath Automation Awards Showcase
There are 2 separate tracks, as UiPath will be awarding prizes for startups and for scaleups.
Attention Insight is nominated in the startup category and could win:
Cash: 50,000 EUR, offered by Microsoft;
Mentoring: Director-level mentors, 18 hours over 12 months;
Tech support: 12 months access to UiPath developers; free licensing of UiPath technology for 12 months;
Sales and marketing: access to marketing experts (30 hours over 12 months); featured presenter at UiPath Meetups; featured speaker at regional events/ hackathons/ developer conferences; featured subject on the UiPath Blog; invitations to showcase their solution at UiPath events.
The finalists will present their pitch on 17 December 2020, from 15:30 to 17:40 CET. Attention Insight is competing with Secfense from Poland and Neurolabs from Romania.
This year, the UiPath Automation Awards are part of the company's Reboot Work Festival. By signing up for the awards ceremony, you can also attend the entire 3-day festival for free.
---
"I got a recommendation to participate and I instantly said to myself that Attention Insight had to be there", recalls Jokubaitė, adding that, should they win, they're hoping to leverage UiPath's expertise in strengthening their position on the market – "UiPath is a leader in robotic process automation software, we share a common vision of a future where robots and AI will work hand in hand."
And here is Attention Insight's short video message before the big day, recorded by the startup's CEO: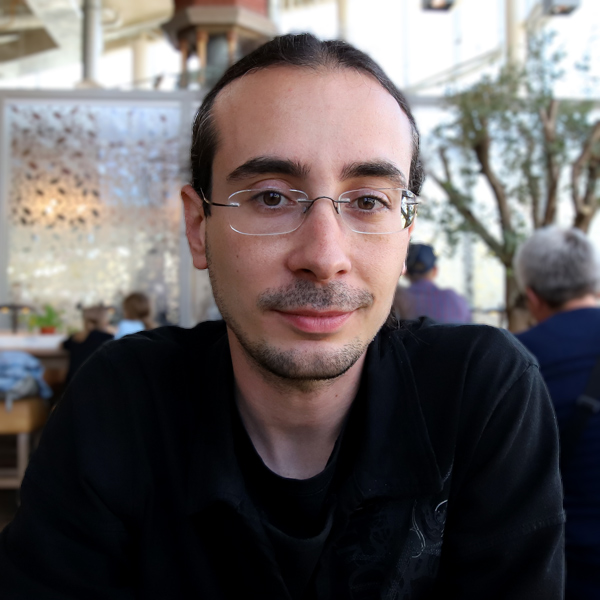 Sabin Popescu works as content editor, web designer/ developer and occasionally graphic designer for various companies and institutions across Eastern Europe and was an IT journalist for Romania's leading business daily, Ziarul Financiar.