CitizenLab is a platform enabling citizens and local authorities to co-create their city.
Over 100 cities in Belgium, France, Denmark, and other countries have already implemented the CitizenLab software.
The company has closed the Series A round, in 2019, with €2.1 million.
Do you want to test the software in your city? (Feel free to contact us at partnerships@itkey.media)
Walking along the Vistula river on a summer morning, I've been stopped by a middle-aged woman. She was holding a tablet and a notebook with a pen. 'I am a representative of the Warsaw City Hall. We are surveying residents of the city. Would you be so kind as to answer a few questions?' She looked at me with a smile. I agreed, and the woman handed me the tablet with over 20 questions about the Vistula Boulevards organization displayed on it. 'Is the area clean enough?' 'Are there enough bins?' 'Should we invest more in green or entertainment zones?' 'Does the river stink?'
City officials and city residents can communicate more effectively.
In the era of plant-based meat, smooth-talking AI assistants and blockchain technology, city authorities continue to communicate with residents as they did 20 years ago. CitizenLab, a Brussels-based startup founded in 2015, is trying to solve the issue by providing a civic engagement platform on which city authorities and its residents can effectively communicate and co-create their city.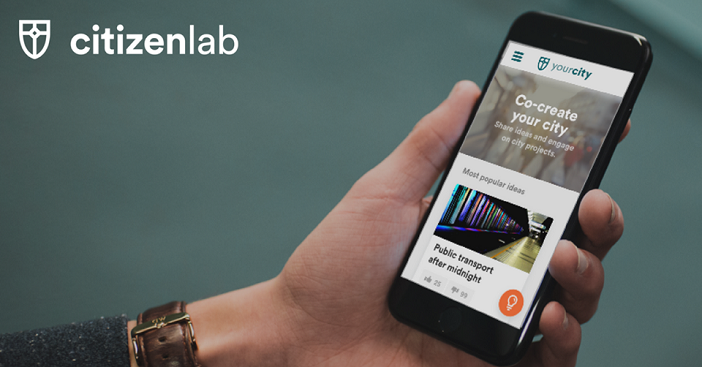 The startup is aiming to strengthen the local democracy by increasing the efficiency and legitimacy of governments through citizen participation. CitizenLab founders, Aline Muylaert, Wietse Van Ransbeeck, Koen Gremmelprez, have noticed that citizens want to talk to their government, and they want to get involved.
Imagine that any city resident can open the mobile app and
Share his ideas on how to improve the city or solve the current issues with the local authorities.

Suggest where to spend the investments.

Express his own opinion on existing projects.

Upvote the best initiatives, etc.
By implicating residents in the decision-making process, local authorities can shape better policies and increase trust.
'There are studies that show that when cities engage residents more, then citizens are more likely to support those policy decisions. So, in the end, it's a win-win situation,' said Coline Cuau, marketing manager at CitizenLab.
The City Hall representatives can use the platform to consult the opinions of the citizens via polling, surveys, etc. After the poll is made, the startup uses machine-learning algorithms to assist civil servants to easily process thousands of residents' contributions. The platform dashboards can cluster inputs by theme, demographic classification or location by utilizing Natural Language Processing (NLP) which tends to use text annotation tools to label data.
Authorities enjoy the CitizenLab platform.
Coline Cuau claims that the local governments they have among their clients enjoy that the platform is easy to set up and use; an automated analysis feature helps authorities quickly get to the most important information.
'We help them to get to these nuggets of information. That is what guides authorities to make better decisions in the long run,' Coline Cuau from CitizenLab told ITKeyMedia.
Over 100 cities and municipalities have already made use of the CitizenLab software. While the majority of customers come from Belgium, the platform is also active in France, Bermuda, the Netherlands, the United Kingdom, Denmark, Chile, and Canada among others.
Cities use the platform to consult their citizens on a wide variety of topics. Recently, it's been used by
Chilean municipalities

to carry-out a country-wide consultation on the future of the constitution.

The city of Kortrijk has used the software to carry out a referendum on car-free Sundays.

Other cities also use it to implement

participatory budgets

or to

collect ideas

for their annual strategy.
Early in 2019, when there was being held the first wave of protests by Youth for Climate in Brussels, CitizenLab set up a participation platform. Users were invited to submit their ideas on solving the issue of climate change. As a result, more than 1,700 ideas were forthcoming over three months. 'AI was used to pick out the best ones, and CitizenLab is using the findings to develop a report for elected officials with 16 policy recommendations,' we read at the Global Government Forum.
'Most importantly, the platform helps civil servants to finally understand what priorities are for their citizens. Sometimes cities want to fix mobility, so the authorities fix the roads. But if you listen to the citizens, you will find out that they actually don't want you to fix the roads but instead to provide more public buses. So what's valuable is that we help them uncover real issues,' explained the marketing manager at CitizenLab, Coline Cuau.
Pricing
The SaaS solution startup charges approximately from €5,000 for a town to €30,000 for a large city per year. However, currently, the main focus of the company is on the cities as their clients. The price range depends on a lot of things like the number of citizens, the number of options/features provided within the platform and how much the government wants the startup to accompany them on the way.
'When a local government starts using our product, they receive a separate political platform branded for the city. So we're a white label, you won't see our name anywhere on the page. We don't appear anywhere else. Even though it would be a separate platform from the one the city currently offers, this new page will have all the city related symbols and logos,' emphasized Coline Cuau, marketing manager at CitizenLab.
CitizenLab has raised over €2 million in the Series A funding round.
Late in May 2019, the Belgian startup accumulated €2,1 million led by Inventures SA, the first European crowd-venturing impact fund, and Cipal-Schaubroeck, an IT partner for public services. The ING Bank and the Brussels investment fund GIMB also made their contribution through a loan.
According to Olivier de Duve, managing partner at Inventures SA, the founders of CitizenLab have a clear vision of how to make public decision-making more participatory and inclusive. In his opinion, the potential impact of the platform is enormous.
The startup is currently focusing on:
The UK and the US market expansion which

requires new team members, increased marketing budgets, etc.

New product modules to inform citizens about local policy.

Natural Language Processing technology.

New functions in the product such as citizen initiatives and extending verified voting.
In December 2019, the startup won Digital Top 50 "Best Social Impact Startup In Europe" award at the TechCrunch Disrupt conference in Berlin. In addition to a prize of €25,000 CitizenLab has won consulting sessions with experts from Google, McKinsey, FreshFields and Rocket Internet.
'Our ultimate mission is to become the biggest e-democracy platform globally, empowering 2,5 million citizens to have their voice heard through CitizenLab in three years from now,' said Wietse van Ransbeeck, co-founder and CEO of CitizenLab.
The Polish City of Kraków has already shown interest in the CitizenLab platform. Social Communication Department Deputy Director at Krakow City Hall Maciej Grzyb told ITKeyMedia, 'Each new, lawful way of communication with residents is interesting to us.'
Meanwhile, let's see if any Polish city would actually implement the technology for more efficient and transparent communication with the residents.
If you represent a City Hall in Poland, Czech Republic, Romania or another CEE country and you are interested to test the software for your city, please, contact us at partnerships@itkey.media.