Smart office startup Whirla wants to automate office workspaces for hybrid work, after a Pre-Seed round of 1 million PLN
The company uses infrared sensors with NFC and AI-powered software to facilitate so-called "hot desks" and to monitor office space usage in real-time
Whirla finished its pilot implementation in Colliers' Warsaw offices
Warsaw-based Startup Whirla, which specialises in smart office/ hybrid work solutions, plans to upgrade its software to allow management of the whole office space, after securing 1 million PLN (approximately 220,000 EUR) in Pre-Seed, from Evig Alfa.
"We are using the fresh capital to develop new features in our smart office system. We want to be a comprehensive platform that helps employers manage not just flexible desks and conference rooms, but the whole office", Whirla co-founder Michał Żółkiewski told ITKeyMedia.
"We are also investing in business development and cooperation with our partners, such as Colliers, who help us reach new customers", he added. Colliers' Warsaw office was Whirla's pilot implementation. The startup is "actively selling" and installing their smart office solution, said Żółkiewski without offering additional information.
Whirla currently offers a back-end management dashboard, consisting of management tools, statistics, reports, and recommendations, as well as a mobile app for users, that will allow them to reserve a desk for example.
Old-School Technology with a Bit of AI
The software would not work without the corresponding hardware, of course. Whirla uses PIR sensors (Passive InfraRed, most often used in alarm systems' motion detectors – editor's note) equipped with LED indicators (Light-Emitting Diode), NFC tags (Near-Field Communication, now present on most mid-range smartphone) and QR codes (Quick Response code, a two-dimensional barcode).
"Users who reserve desks can easily check-in and confirm their presence by holding their phones near the NFC tags, or by scanning the QR codes. The LED indicators show whether the desk is reserved, occupied or free; the latter can be claimed ad-hoc via NFC or QR", explained Żółkiewski.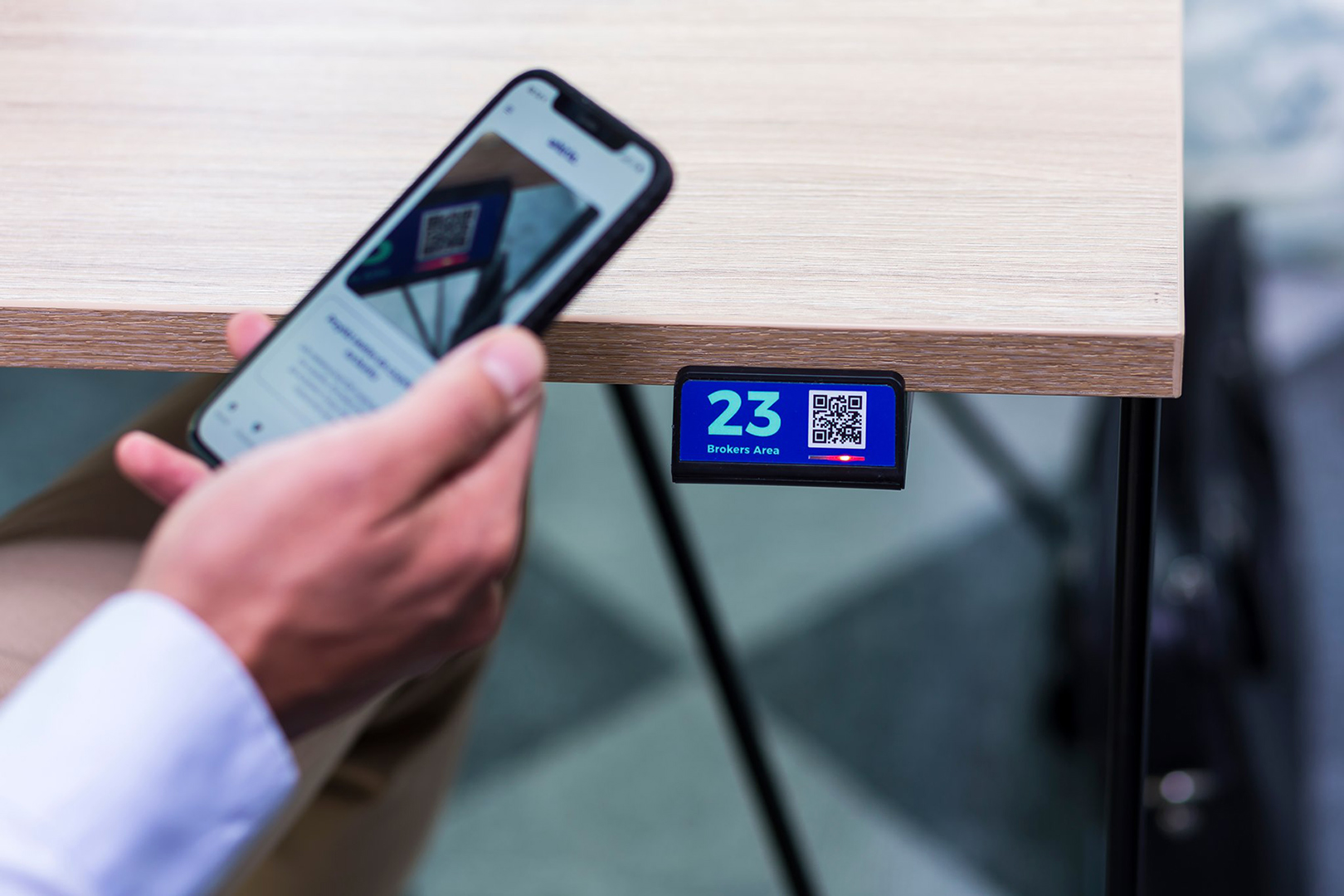 Whirla QR Code
The sensors can also monitor office space usage, detecting the presence of persons by measuring infrared light. The software can then automatically remove unclaimed reservations, for example.
"Accurate data like that can be segmented and analysed to help leaders plan their future offices. Our AI (Artificial Intelligence) detects patterns and can suggest changes or actions related to particular areas in the office, teams, or even suggest the right time (i.e. weekdays) for employees to come to the office", Żółkiewski outlined.
Whirla's sensors can be powered from the grid or with batteries that last up to a year, according to the company.
The whole idea is that Whirla works seamlessly, we don't have to visit our customers' facilities every couple of days.

— Michał Żółkiewski, co-founder of Whirla
The Workspace of the Future
The pandemic has brought a lot of changes in the way business is conducted. Is the "new normal" here to stay? Will smaller companies push for more remote work to cut their operating costs? Will large corporations want people to return to the office so they can regain their control?
These are just some of the questions ITKeyMedia prepared for the interview, but they are questions probably that a lot of people – from both sides – have been thinking about. At this stage, no one can tell for sure, it seems, but Whirla feels pretty confident the shift has already started.
"The office workspace will be definitely different from what we got used to over the last decades. Hybrid work is here to stay", declared Żółkiewski, citing studies that claim 75% of employees in Poland want to work both from their homes and offices. The numbers are in line with Microsoft's recent study, which found that 73% of workers want flexible remote work options to continue.
At the moment there is no unified approach or understanding on what that flexibility means.
"We still don't know what exactly that would mean in the future. Right now, companies are experimenting and testing different approaches. What we expect is that workers will be encouraged to work in flexible spaces, with hot desk systems (multiple workers using a single desk during different time periods – editor's note), as companies want to reduce real estate costs."
On the other hand, offices are transitioning towards more collaborative spaces, with the potential of space to be divided up more simply through space division techniques such as dividers that can be moved around and possibly function as dynamic space separators. Which may mean more common areas and meeting rooms. "How exactly will that look like and to what extent?", Żółkiewski asks and immediately complements: "We are about to measure that. This is one of the core features of Whirla – to help companies accurately measure the actual usage of office space and decide on its future."
Maciej Plichta, new technology solution manager at Colliers in Warsaw, shares Whirla's point of view and matches Żółkiewski almost word for word: "The hybrid work model is with us to stay and organisations need to adapt their workplace environment to this new reality (…) Employees have collectively shown that work can be done remotely and project milestones can be achieved; this makes remote work no longer an extra employment perk, but a standard that many of us may require in the years to come", Plichta declared for ITKeyMedia.
According to a survey conducted by his parent company in the first half of 2021, 67% of people would prefer to work from home more than two days per week. "However, it is too early to forgo the office space completely. Maintaining and building relationships with colleagues, impromptu conversations, the separation of work life and home life are cited as the main aspects people miss the most about working in the office. Along with all of these, many business organizations are also looking for ways to secure their employers to common applications that use virtual WAN architecture services (such as SD-WAN, for instance). The main goal for all of these is to make the whole process of remotely working as smooth and efficient as possible. Besides all of this, GenZ work from home trends are also flourishing where people are renovating their home office space, spending time with their families, and even trying their hand at DIY projects. People are also remodeling their interiors by adding new cool wallpapers, buying new furniture, etc. However, when it comes to office space, Plitchta also mentions the importance of face-to-face interaction for brainstorming, creative work, and onboarding newcomers. For companies, the majority of professionals working from home meant less office maintenance costs. However, as the hybrid mode sets in, new businesses should procure office amenities, make sure every aspect of building security (like fixing fire exit sign(s) and hiring security personals) and other facilities are in order.
He believes we will see a mix of different working models, with digital-only and office-only at the ends of the spectrum, while those choosing the hybrid approach will adjust the ratio of work from home depending and the cultural and organisational needs.
Remote work is no longer an extra employment perk, but a standard that many of us may require in the years to come.

— Maciej Plichta, new technology solution manager at Colliers
Not Looking to Hire
Whirla was set up in 2016 and has three co-founders, Michał Żółkiewski, Piotr Dylczyński, and Dariusz Kujawski. Żółkiewski has his own architecture and engineering firm, MAZ Engineering, which has an office an Riyadh, while Dylczyński worked in sales and logistics for Siemens and Action.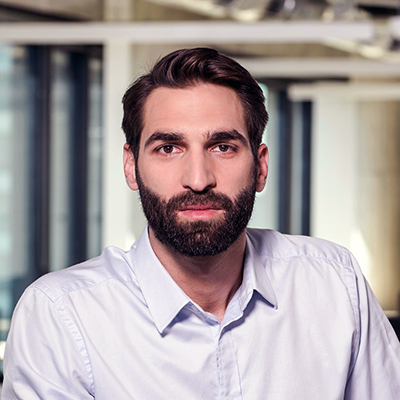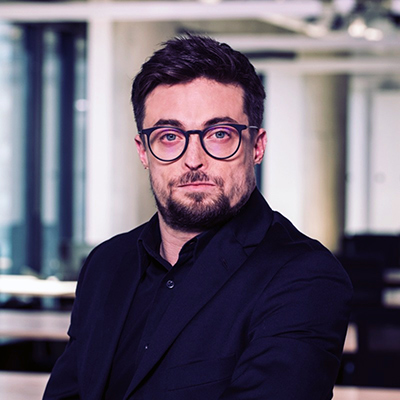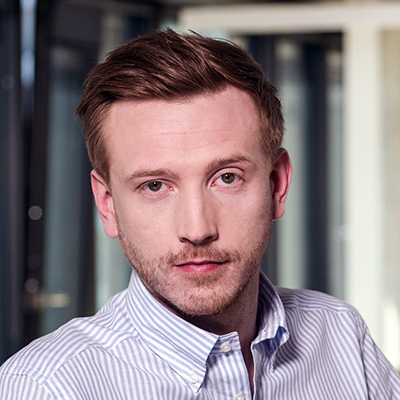 Whirla's Founders: (left-to-right) Michał Żółkiewski, Piotr Dylczyński, Dariusz Kujawski
"We have known each other for years, back since primary school, and we always wanted to do business together. Before creating a smart office solution, we already had previous experience with manufacturing smart wireless chargers for public and office spaces", Żółkiewski summarised the story behind Whirla.
The startup currently has six full-time employees and a few contractors and freelancers. "As of June 2021, we aren't actively hiring", said Żółkiewski.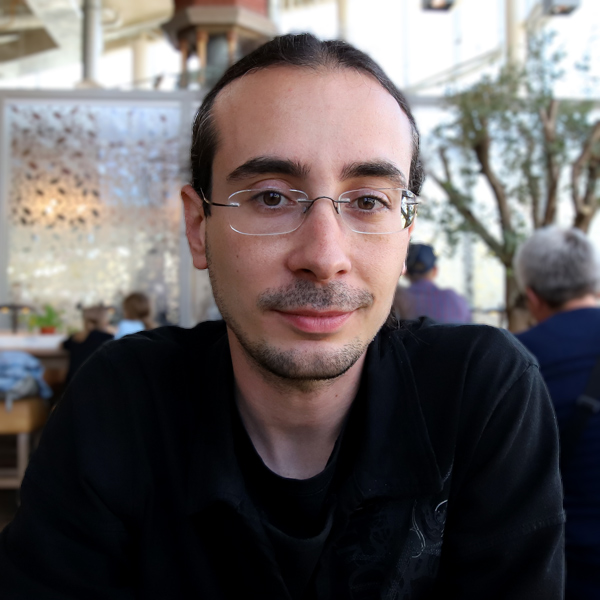 Sabin Popescu works as content editor, web designer/ developer and occasionally graphic designer for various companies and institutions across Eastern Europe and was an IT journalist for Romania's leading business daily, Ziarul Financiar.