Polish startup Rezuro has connected over 200 tenants to landlords in the first four months since their launch on the market
The company had a 10% mom growth and anticipates it will rent out 9,000 rooms in 2021 – 9% of the market
Unlike Airbnb, Rezuro focuses on renting rooms and offers features such as no-deposit, tenant verification, rent now & pay later
The company currently operates in Warsaw and Krak贸w
SMOK Ventures invested 210,000 PLN in the startup
Rezuro, the Polish answer to Airbnb (with a twist *), posts a 10% monthly growth rate since late last year and plans to rent out 9,000 rooms in 2021. "We started in November 2020 and we are growing 10% month to month. Over 200 tenants booked rooms and apartments through Rezuro within four months – most of them in 2021", Przemek Jurek, co-founder of Rezuro told ITKeyMedia. The startup recently secured a pre-seed investment of 210,000 PLN (45,000 EUR) from SMOK Ventures.
Borys Musielak, founding partner at SMOK Ventures, explained for ITKeyMedia why the fund invested in Rezuro and what makes them different from the competition: "They are dedicated mostly to the blue-collar labour force and young people looking for cheap accommodation in big cities. Their goal is to become a major player in on-demand housing with click-to-rent features. Airbnb is well-known for short-term vacation rentals. Rezuro is creating a new category with the mid-term rental (from 1 to 6 months)."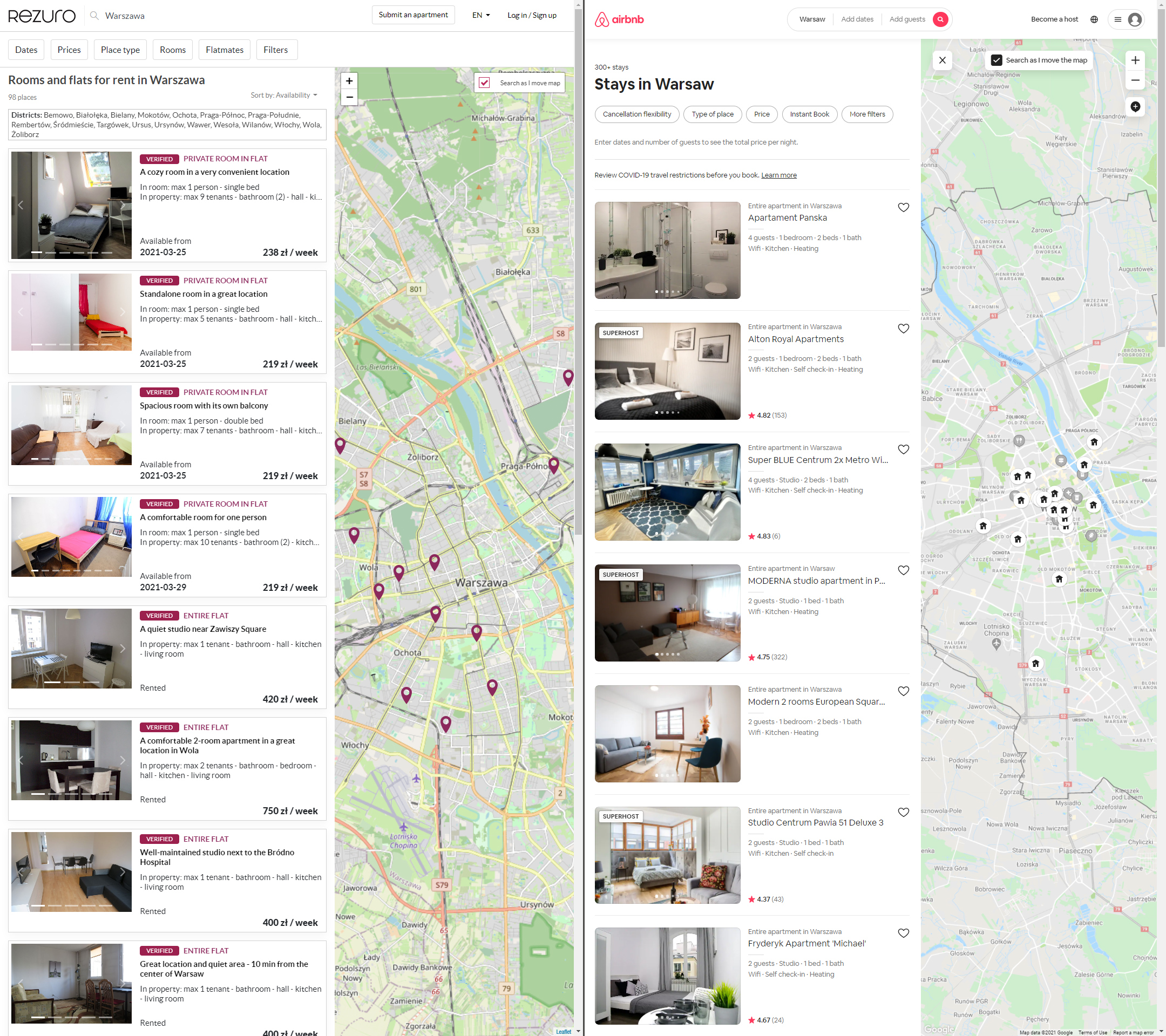 Rezuro and Airbnb websites
* So what exactly is the twist? First of all, Rezuro is focusing on renting out rooms rather than entire apartments. The startup is working on its online platform, which will offer the following features:
Tenant verification: according to Jurek, it consists of a set of personal and professional questions about the tenant, that would allow a landlord to make a decision;
Renting without deposit: the platform allows landlords to switch deposits to a one-time administration fee (calculated on an individual basis), intended to cover potential costs of cleaning the room or purchasing a civil liability insurance policy for the tenant;
"Rent now & pay later";
Digital signing of the lease contract;
24-hour rent collection: the payment process is automated through the platform.
Expansion Plans
"We achieved proof of concept in Warsaw. The next step is scaling the business to other cities in Poland", explains Jurek, and Musielak confirms: "Poland is an obvious market to verify the business concept. The next step is abroad expansion to countries from CEE and further."
Taking their business to markets overseas, like the US for example, can take significant effort in understanding the real estate market in the country, as well as the varied demographics of the large population. Partnering with existing rental associations, such as the AAOA, could help them accelerate the process of expansion. Equipped with tools that allow for easy tenant screening, credit checks, and more, such local organizations can come to the aid of Rezuro in the process of building a strong database of potential landlords and renters in the various states.
At the beginning of March 2021, the Rezuro website had close to 90 listings only in Warsaw. Now, that number has gone close to 100, out of which only 3 are still available, and additionally, there are another 30 rooms and flats listed in Krak贸w, however they are all rented out.
Our vision is to create a new category of on-demand housing. Room rentals are only the starting point. We intend to disrupt the whole rental market.

— Przemek Jurek, co-founder of Rezuro
9% of the Market in 2021
"If we take into consideration only private rooms, we estimate the rental market in Poland at over 100,000 units", says Jurek. This would mean the company's objective of renting out 9,000 rooms in 2021 is pretty ambitious.
Rezuro's pricing model is based on a one-time fee, the equivalent of a week's rent, that will be charged only after the tenant renews for the second week. This effectively means that Rezuro is not making any money if people rent a room for only seven days. However, Jurek explains, the risk is not that high, as 75% of all reservations so far have been extended for three months or longer.
Included in the package for landlords are also cross-promotion services on popular classified ads portals OLX and Gumtree. Listings on Rezuro also feature walkthrough videos and a plan of the apartment. While it is not mandatory and some apartment only have photos uploaded, it is certainly a practice that the startup encourages for a higher conversion rate.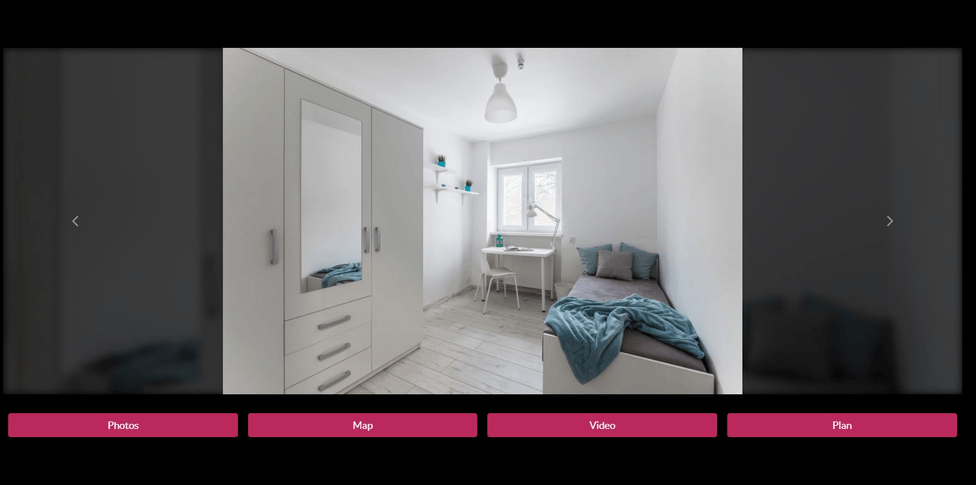 All the 'multimedia' options available for a listing on Rezuro
According to data published by the central bank, the average transaction price per square meter in the primary market has gone up despite the pandemic, by 5.4% in Krak贸w and by 8.2% in Warsaw (comparing Q4 2020 with Q4 2019). When comparing 2019 to 2018, the growth was in the double-digit realm.
Warsaw
Krak贸w
Gdask
Q4 2018
8,565
7,199
7,915
Q4 2019
9,476
8,237
8,585
Q4 2020
10,261
8,685
9,401
Top 3 cities in Poland in terms of real estate transaction prices (PLN/sqm) Source: NBP
A Long-term Collaboration
Rezuro was founded by Przemek Jurek and Marcin Niewitecki, who previously worked together in lavito.pl (co-founders) and pkt.pl (sales). Lavito, one of the largest online platforms for beauty/ spa appointments, was acquired by California-based Booksy in 2018. pkt.pl provides integrated marketing services for SMEs (small and medium enterprises).
"We both have rooms and apartments for rent, so we know this business in-depth", co-founder Niewitecki told ITKeyMedia. He added that the pandemic has had a two-fold impact on the real estate market in Poland. "Remote work and studies caused an outflow of tenants from the market; as a result, the rental segment in Poland shrunk by 40%. On the other hand, the financial crisis and concerns about job stability discourage tenants from signing long-term contracts with a one- or three-month deposit paid in advance."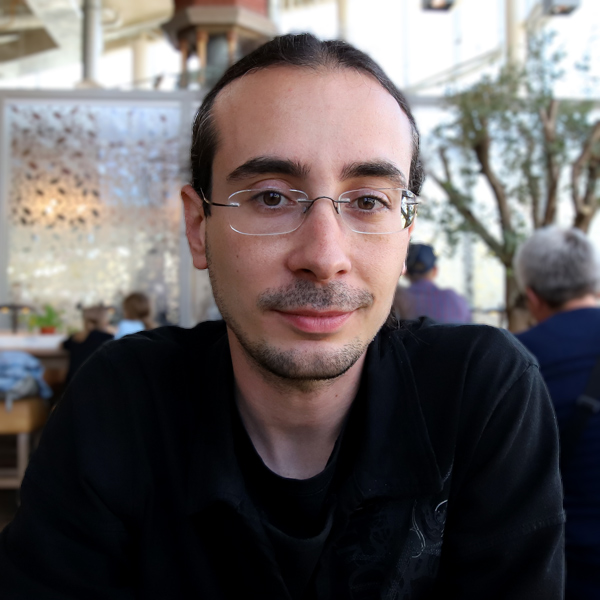 Sabin Popescu works as content editor, web designer/ developer and occasionally graphic designer for various companies and institutions across Eastern Europe and was an IT journalist for Romania's leading business daily, Ziarul Financiar.