Estimote is a company specialised in beacon technology: they provide the small Bluetooth devices that help you locate things, in association with your smartphone or computer and the dedicated software.
"At Estimote […] we focus on streamlining development and deployment processes by creating an 'OS for the physical world', a real breakthrough in how software is built."
Beacons are not yet something that the average customer is used to, but they provide a new range of interactions with his environment:
At Target's for example, a smartphone application works in association with beacons placed in strategic places in the stores, which allows to triangulate the shopper's location, and provide him with relevant recommendations and information.
But for Steve Cheney, co-founder of Estimote, "If this technology was just used for push notifications, and just for coupons, we would have never started this company. […] The future of retail is not just the sensor on the wall. It's your smartphone and screens you look at, and it's things that occur in your natural environment."
Instead of simply pushing offers to shoppers, Cheney wants to blur the lines between e-commerce and brick-and-mortar retail:
[media-credit name="CB Insight" link="http://www.cbinsight.com" align="aligncenter" width="1000″]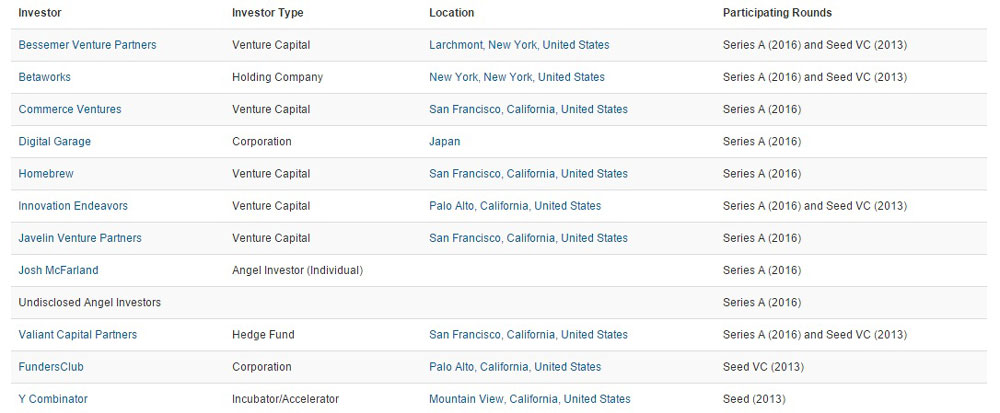 [/media-credit]
You could preview a large purchase item in the store, like a TV or washing machine, but just push a button on your phone to have it shipped home, or to have a store associate meet you in the aisle.
You could be able to snap a photo of the precise screw you need to buy from the hardware store, have the app match it to one in the local store's inventory, and add it to your shopping list, and then be directed to the store to the right aisle and bin where the screw is located, thanks to the in-store beacons.
As more companies adopt beacon tech, Estimote has been growing. They do not disclose revenues, but are seeing "many millions" in revenue per year, and strong return customer revenue, which is probably the most important for their new investors:

We are happy to announce our $10.7M Series A investment round today led byJavelin Venture Partners with participation from Digital Garage, Homebrew, Box Group, Commerce Ventures, Josh McFarland (Founder and CEO of TellApart) and a strong group of strategic angel investors.
Estimote plans to grow its team of 50 based in New York and Krakow, Poland, and to open an office in San Francisco. They are now working with several of the top retailers in the U.S., and they have over 50,000 smaller, developer customers who toy around with its product, which contributes to the decision what to build next, with the help of this additional funding.
Emma is a telecom engineer, fond of fantasy books and RPGs