StartupBlink, a global startup ecosystem map, offers data about startups, coworking spaces, accelerators, market leaders and organizations.
A global startup ecosystem report is revealed each year in April (stay tuned!).
If you were going to launch a startup in Poland and had to choose among three locations – Wroclaw, Gdansk, and Krakow – you might just as well go with Wroclaw. According to a startup ecosystem report, the city rose in the ranking by 26 points in 2019 compared to 2017, while Krakow dropped by 63 points. Even if eventually you would make a different decision, at a certain stage of the choosing process, you would probably use the startup ecosystem report provided by StartupBlink.
Founded in April 2014 in Switzerland, StartupBlink is a global startup ecosystem map and a research center. The map features about 60,000 startups, coworking spaces, accelerators, leaders and organizations. Each year in April the company provides a global startup ecosystem report based on a wide range of data (accelerators, investors, tech reports) and the data provided by their global partners like Crunchbase, SimilarWeb, SEMrush. Recently, the company has also started to share annual FinTech reports focusing on the fintech industry along. 
'I guess our main innovation is a ranking algorithm that we've developed with about 20 variables. We are checking the quantity, quality, and business environment of cities and countries. And the report has been actually widely distributed. We're talking about tens of thousands of people that downloaded it,' said Eli David, CEO of StartupBlink. 
Reportedly, the company's mission is to share the data with founders, investors, and governments, so they can make better-informed decisions and strengthen their local startup ecosystems. StartupBlink shares information on both the strongest startup hubs in the world and smaller cities and countries that want to support their entrepreneurs. The 2019 report features 100 countries and more than 1,000 cities.
StartupBlink doesn't have any clients from Poland, and can't see how they would be able to add value to Polish ecosystem development. 
'We don't have any clients from Poland, and also currently not see how we can add value there on ecosystem development, considering that the strategy taken by the public sector. The current strategy of flooding the ecosystem with public sector cash investments goes against everything we know of building and supporting an ecosystem. We do see a ton of potential in Poland, and also the high-quality public sector with good intentions, only that the strategy is something we can't see the value of, but will be happy if time proves us wrong,' StartupBlink CEO Eli David confided with ITKeyMedia. 
Answering the question about where Eli would hypothetically launch his startup in Poland, he stressed that it always depends on the product. 'If my startup would have low traction, no signs of success, and no clear business model, going to Poland to raise money is most probably something I would do as a way to save it. I also love the quality of life in Poland, the friendliness of people, and how good your developers are. If my startup, however, would have traction, real value proposition and chances of success, Poland would not be on my list for the reasons mentioned above in regard to the ecosystem development strategy,' Eli David told us.
How can the StartupBlink map be useful?
Finding startups to partner with.

Startups

tab shows companies ranked by their popularity, and it can also be filtered by the industry. For instance, the map features 323 startups in Poland. The first place in the ranking took a Warsaw-based fashion startup

Domodi

, followed by

Omni Calculator

and

Golden Line

. 

Finding a coworking space.

There are 32 coworking spaces showed on the map in Poland. The first three in the ranking are

Mindspace

,

Inkubator AIP

,

Regus Equator Co-working

. 

Finding an accelerator.

The map features 10 accelerators in Poland with three leaders –

Space3ac

,

StartUP Hub Poland

,

Huge Thing

.

Finding startup influencers, leaders

in each startup ecosystem.

Finding startup organizations

that help the ecosystem grow and thrive.
'Ecosystem developers are using our services for consulting on their local startup ecosystem. I am currently helping the public sector in the Canary Islands to strategize their future development. We are also providing easy to use mapping solutions for the startup ecosystem, and in addition to that, manage to promote ecosystems with our report and change the perception people have on ecosystems that are usually not in the news,' Eli David proudly listed.
Paid services and programs
If the annual startup ecosystem reports the user can download for free, there are a few services you would have to pay for.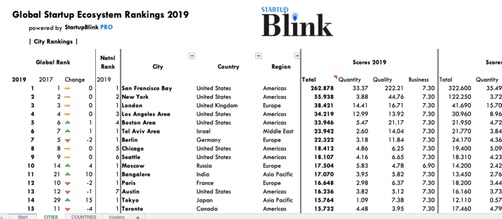 StartupBlink PRO

gives access to advanced analysis tools on the country and city levels. The annual price is $1,350.

Ecosystem Partnership

is designed for local authorities, investors and other professionals that want to help map and promote their local startup ecosystem. The partners can choose one of the varieties of

ecosystem development modules

. 

City Partnership

is dedicated to individuals and projects that aim to become leaders in their startup ecosystem. The partner's activities will be featured as a local ecosystem leader with visibility by 75,000+ entrepreneurs and decision-makers on the StartupBlink map. This partnership is exclusive to one partner per city  (

if you are interested in becoming a City Partner, reach out to [email protected] for more details

).
Apart from that, StartupBlink offers its users to join local Meetup groups, attend networking events and their Webinars. 
Pros and Cons
We asked Marek Cieszko, the CFO at the rapidly-growing Polish startup, Packhelp, if he has ever used the StartupBlink platform. 'I've never heard about it before – I'm not sure if it is that popular in Poland.' Nevertheless, after giving the platform a ride, Marek concluded that there are some pros and cons of StartupBlink. 
According to Marek Cieszko the cons are:
Difficult navigation and UX, 'I would probably drop the map as it takes up space and does not add much value.'

It shows the ranking of ecosystems and startups but doesn't detail the utilized methodology.

Information about companies and ecosystems is very basic – after the search, you would normally have to google additional data or search this company on Crunchbase.

It would be good to add a trial period, based only on the website it is hard to determine what are the pro functionalities.

A one-off commitment of >$1000 seems expensive.
The pros are:
It's handy if you are expanding into new relatively unknown markets.

Valuable for startup ecosystem analysts and public officials who want to benchmark and compare various locations.

It allows you to easily find similar companies/competitors or potential partners in foreign markets.

You can partner with cities and local communities to promote your offer for startups.
Stay tuned for the upcoming StartupBlink global report in April 2020!