Through its new BRIdge Alfa programme, the NCBR will devote PLN 450 million to strengthen the cooperation between investors and originators and fill in the supply gap in R&D.
May 2016 will see the launch of the call for proposals under BRIdge Alfa. The new competition is addressed to enterprises which will create investment vehicles and help commercialise the most innovative ideas with the financial support of the National Centre for Research and Development (NCBR).
BRIdge Alfa is an initiative aimed at private investors which meet the criteria of micro or small enterprises and have experience in incubating innovative ideas. In the competition announced on April 5th, 2016, companies can apply for non-returnable support for the creation of investment vehicles, the so-called Alfas. The ideas for technology companies with high commercialization potential will be selected through the said Alfas.
"We want the Polish economy to be more innovative, because we want to deepen the co-operation between the government and the world of science, and experienced business representatives. Entities with the appropriate know-how should be involved in the commercialisation of pioneering technologies. With the investment vehicles selected in the competition, we will strive to bridge the equity gap that prevents scientists to reach with their innovative projects to businesses," emphasises Deputy Prime Minister/Minister of Science and Higher Education Jarosław Gowin.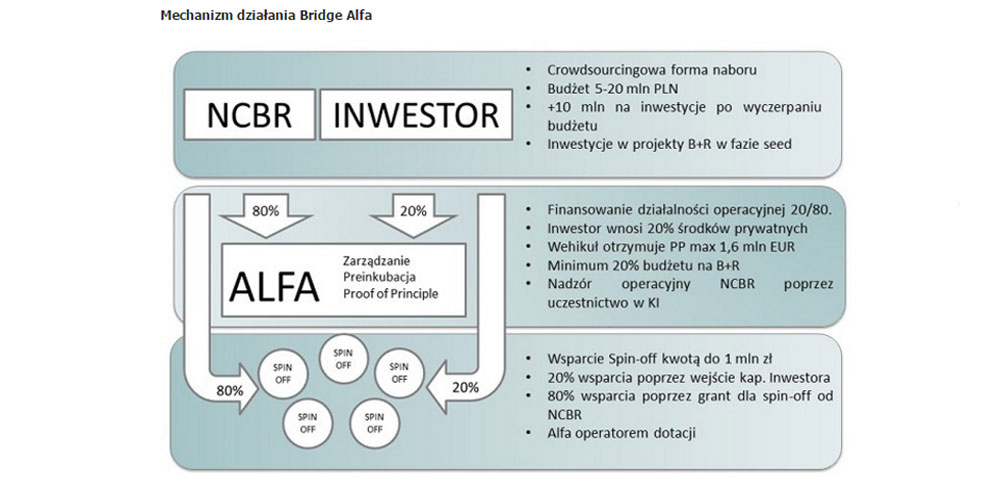 The Alfas are designed to enable market entry for innovative projects, carry them through the proof-of-principle and proof-of-concept phases, and provide them with services necessary to transform into spin-offs. Investment vehicles should provide researchers with comprehensive support for their ideas as well as business and legal assistance so that inventors can safely carry out research while remaining co-owners of patents and companies established. The network of vehicles created thanks to BRIdge Alfa will create an ecosystem to support spin-off incubation. The budget envisaged in this competition may be from PLN 10 to PLN 30 million per fund, with the required contribution of the private investor accounting for 20% of this amount.
"We invite private entities which will manage new technology commercialisation processes from the initial development stages to cooperate with us. We look for such companies that are experienced in finding innovative ideas and possess knowledge of the commercialisation process. The NCBR will provide 80% of resources necessary for this joint venture – says Deputy NCBR Director Prof. Jerzy Kątcki,"  Companies selected in the competition will take care of management and pre-incubation of technology projects that bring promising, innovative solutions," Professor Kątcki explains.
BRIdge Alfa supports R&D projects, building a bridge to commercialization and a platform agreement between originators and investors. It is addressed to the ideas in the seed phase where the risk of failure is at its greatest, but can be verified at a relatively small cost. The use of capital support to commercialise R&D makes the public entity bear a greater share of the risk involved, thus changing the private investors' perception of investment profitability. Projects funded this way represent attractive products, including to venture capital funds.
Proposals submitted by companies in the competition for funds-Alfas will be judged by an international panel of experts whose vast professional experience will help select the best projects. The NCBR plans to allocate PLN 28,125 million for projects located in the Mazowieckie region, and PLN 421,875 million for those elsewhere. Financial support under BRIdge Alfa is complementary to other forms of funding under Measure 1.3, Sub-Measure 1.3.1 of the Operational Programme Smart Growth. It is meant to make it easier for entrepreneurs to obtain funding for the subsequent development stages of their ideas. Applications may be submitted from 4 to 19 May 2016.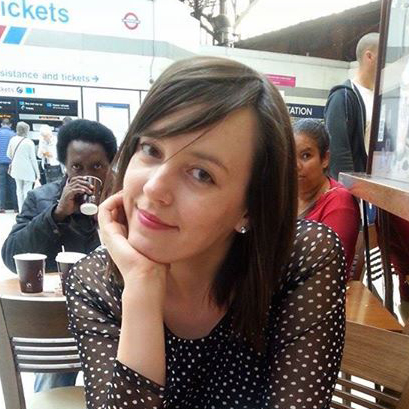 Emilia is an experienced editor, gifted wordsmith, a professional translator, but first of all, an avid reader.