Polish startup Worksmile secured a Seed Round from Grupa Pracuj, value ranging from 500,000 PLN to 2 million PLN
The company develops an employee well-being platform that has "tens of thousands" of users
One of Worksmiles' founders used to work for Grupa Pracuj
A former Grupa Pracuj employee who set up his own organisational culture startup received an undisclosed investment from his previous bosses and plans to further develop a product focused on building organisational culture and employee well-being.
Earlier in July 2021, Grupa Pracuj, the name behind recruitment portals pracuj.pl, eRecruiter.pl, and robota.ua, acquired a minority stake in Worksmile, formerly FitQbe. The startup was founded in 2016 by ex-Pracuj employee Tomasz Chacinski, who is the CEO, together with Krystian Krzywda (CIO), and Mateusz Błaszczyk (CTO).
"My story with Grupa Pracuj began by establishing a cooperation that lasted over six years. During this time, I performed a number of managerial functions in the sales area in the Group. In 2016 (…) I decided to set up my own brand – FitQbe. The rebranding of the company took place in 2020 and, since then, we have been operating under the name of Worksmile, and the group of founders was expanded to include Szymon Pruszyński, Head of Growth", Tomasz Chacinski declared for ITKeyMedia.
Neither him, nor Pracuj Ventures, the actual investment vehicle of Grupa Pracuj, wanted to disclose the value, however, Paweł Leks, managing partner of Pracuj Ventures, told ITKeyMedia that "it was a typical Seed Round size". The fund states on their website that investment tickets usually range from 0.5 to 2 million PLN (~ 110,000 – 436,000 EUR).
---
According to a report published by PFR Ventures and Inovo Venture Partners, the average transaction value in Poland, in Q1 2021, was 0.6 million EUR. Read more about the evolution of the Polish VC market during the past 10 years: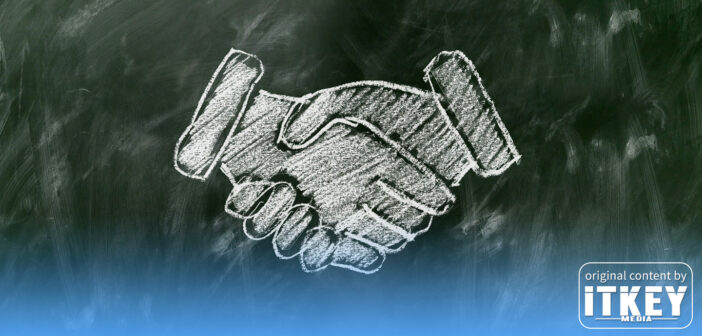 Polish VC Market Reaches 53 million EUR in Q1 2021
---
Leks says that the single most important element that convinced Pracuj Ventures to invest was the founding team. "We believe they did have all that is necessary to be successful: motivation, courage, creativity, but, at the same time, determination (…) We also liked the market size and the business model that combines a SaaS (Software as a Service, subscription-based – editor's note) platform and a benefits marketplace", he explained, adding: "We have known Tomasz for several years prior, since he was an employee of Grupa Pracuj. He proved to be open minded, but at the same time a highly determined and focused person."
Chacinski worked for Grupa Pracuj between 2009 and 2016 in sales (telesales, e-commerce sales) and as senior/ key account manager. Fellow co-founders Krzywda and Błaszczyk both worked as developers for Tourmedica, which operates the kliniki.pl portal.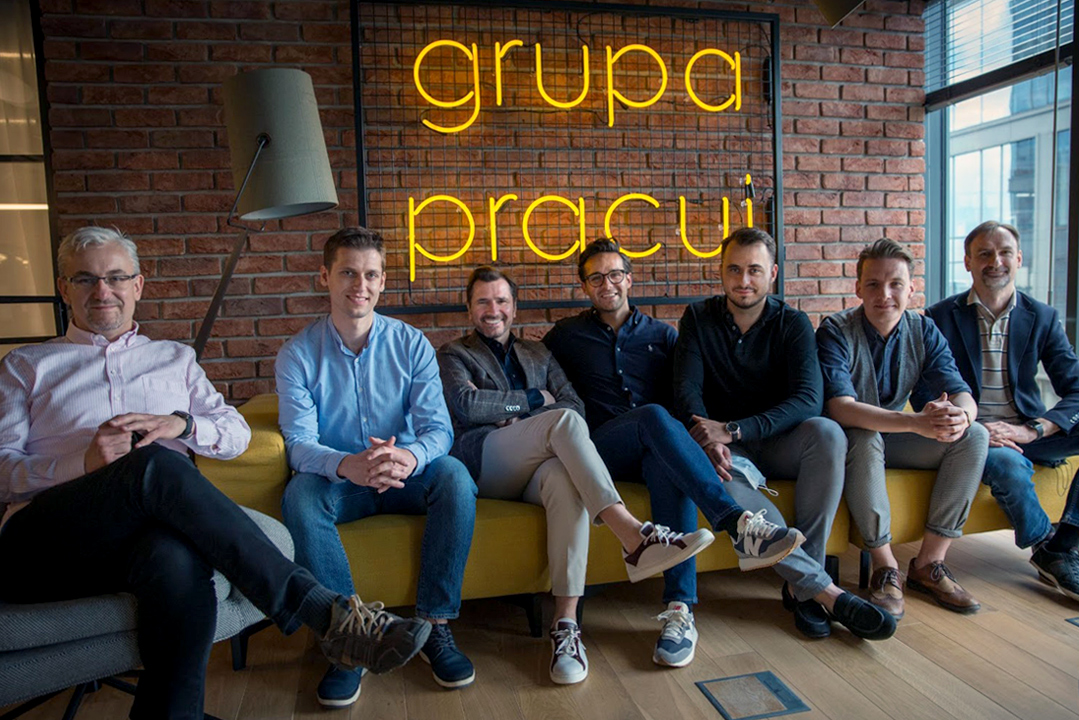 The Worksmile and Grupa Pracuj teams
Clients Ranging from Healthcare to Banking to Publishing
According to both Chacinski and Leks, Worksmile and Grupa Pracuj will gain additional competences in the so-called HRtech segment that will allow them to create a competitive advantage. "We gained the support of a stable and strong financial partner, as well as strategic consulting at organisational level (…) Worksmile will allow the company (Grupa Pracuj – editor's note) to create additional synergies in the field of digital support for employee benefits", said Chacinski, while Leks exercised a bit of caution: "We see a lot of potential synergies that can be extracted, but all of them have to be tested and proven. We believe Worksmile has tremendous potential by itself, and strengthening the team and properly shaping company strategy is our current focus."
Grupa Pracuj's solutions are used by 60,000 clients in 40 countries.
Worksmile has worked with companies operating in the banking and insurance sector (BNP Paribas, Provident, Santander, Uniqa, Volkswagen FS), from the Big 4 (Deloitte, PwC), the fashion industry (Decathlon, L'Oreal, Pandora), the food industry (Hilton Foods, Hochland), transport (Bombardier), healthcare (AstraZeneca, GE Healthcare), publishing (Fox Networks Group, Ringier Axel Springer, WP), IT (Ingram Micro, MPAY), as well as other service providers: Accenture, BDO, Beko, Booksy, DB Schenker, InPost, Kaufland, Securitas.
Well-being, Community and Benefits
Worksmile's product, which they claim increases employee commitment by 71% and reduces stress levels by 51%, consists of three modules:
1. Employee Well-being Platform
One of its main features is using gamification to drive employee engagement. "The offer is so wide that basically every employer and employee will find something for themselves. We can, for example, create a typical sports challenge, during which we can choose from, among others: strength training, swimming, running, cycling, martial arts, yoga and many other activities. The challenge may also be a bit more everyday and here we have volunteering, reading or meditation", explained Chacinski.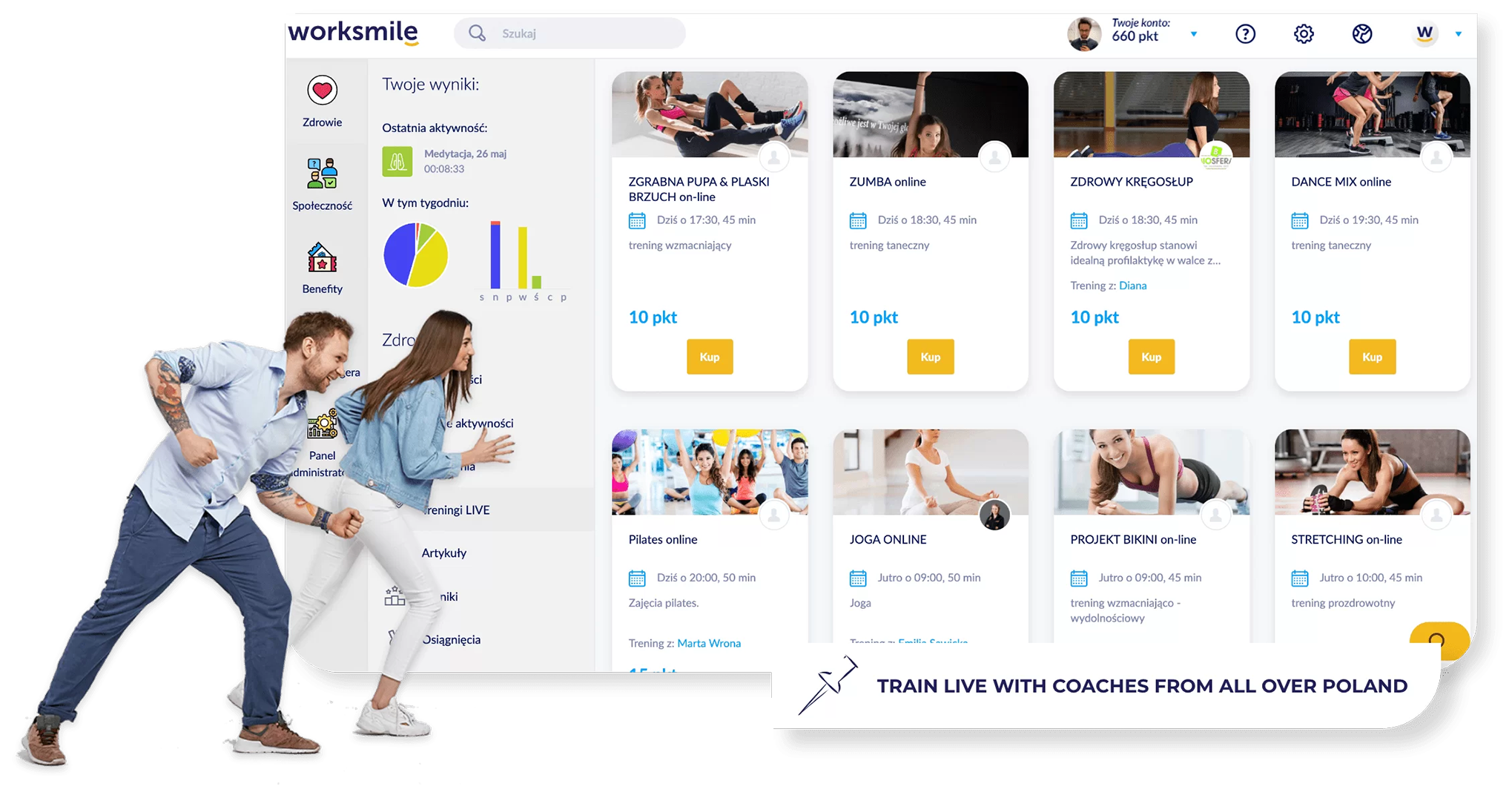 Screenshot of a selection of training courses available in the platform
Thus, employees can choose various rewards for burning calories, gathering badges or "making healthy choices". The platform supports integrations with mainstream fitness apps to achieve tracking. Worksmile did not address ITKeyMedia's question regarding potential GDPR (data protection) concerns when it comes to monitoring staff at the workplace.
2. Community Communication Platform: news feeds, special-interest groups, event management, polls, automated translation – essentially a Facebook/ Yammer alternative that can also integrate with other established business applications such as SAP, Slack, Microsoft Teams/ Office 365 or G-Suite (now Google Workspace).
The concept of likes is substituted with "kudos", that allows employees to express reciprocity and also earn additional points they could spend in the marketplace.
3. Benefits Marketplace, also referred to as the "Worksmile Cafeteria", with "hundreds" of products for employees to choose from, including sports memberships, private medical care, restaurant or clothing discounts, subsidised holidays, etc.
Currently there are "over a dozen" product categories available and Worksmile has a dedicated team that establishes permanent cooperation with various partners, which includes names such as Allegro, H&M, IKEA, LOT, Ryanair, Wizz Air, Wolt.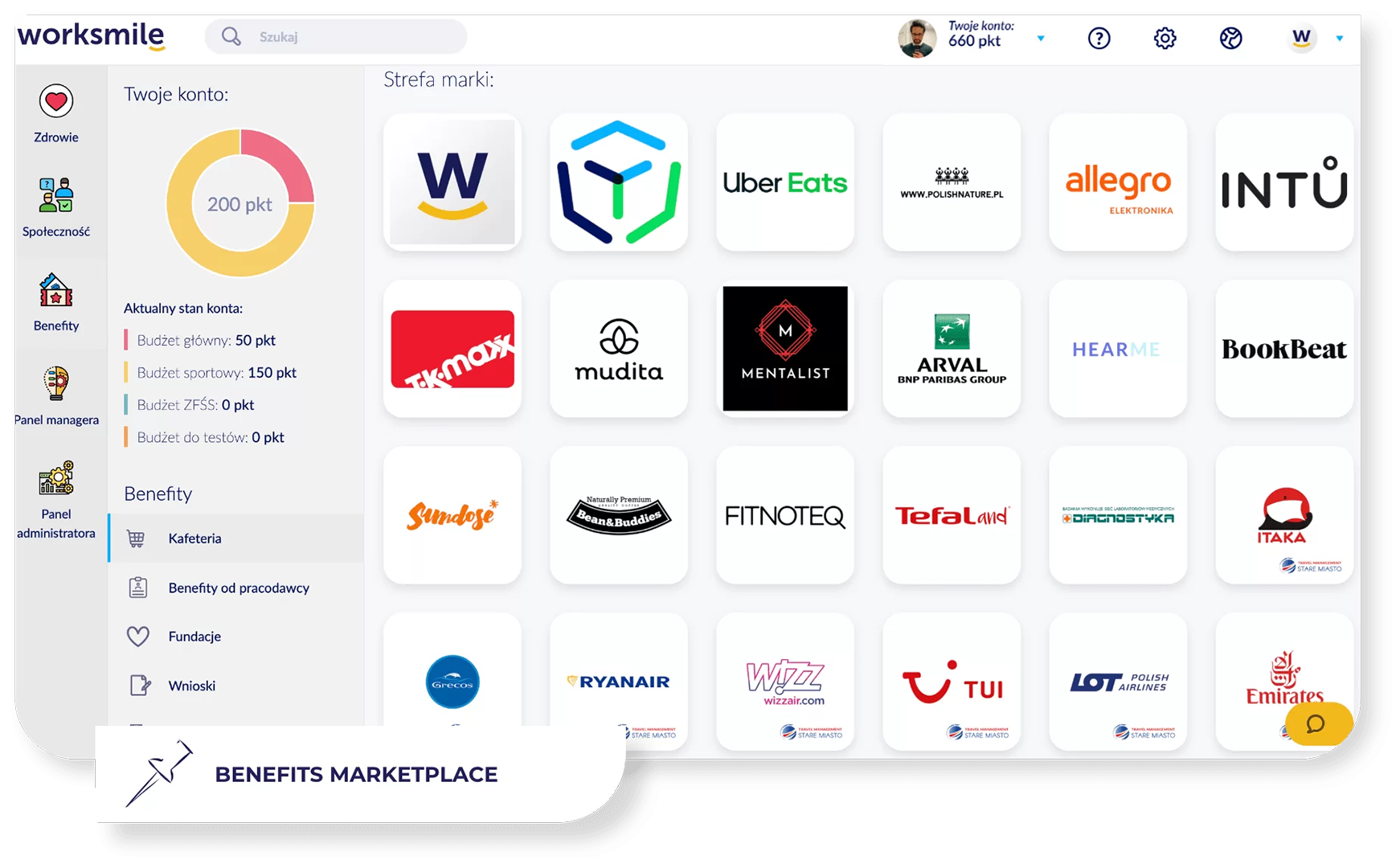 Screenshot of a selection of the benefits available within the Worksmile Marketplace
According to Chacinski, clients can choose exactly which functions they need and pay accordingly, though he did not provide any information about starting prices.
The startup's CEO considers the ongoing pandemic has transformed human resources management. "We noticed an increase in the popularity of the benefits and solutions that make life easier and do not require direct contact with another person", says Chacinski, listing meditation classes, catering, and insurance/ healthcare services as examples.
Our product is in a continuous evolution phase. We expand our modules and adapt them to the changing needs of employees, including providing solutions at the highest level to support employees working remotely.

— Tomasz Chacinski, CEO and co-founder of Worksmile
A No-nonsense Approach
Worksmile has approximately 30 employees and is "constantly" hiring. Though the startup was reluctant to disclose details about its future plans, Pracuj Ventures provided a bit more insight.
"There are several paths Worksmile can follow and, together with management, we will be evaluating them along the way. Although the local market is still significant and the focus will be to grow market share here in Poland, we see several options to expand to new geographies", said Leks, explaining that customer satisfaction, automations and integrations will be key.
Pracuj Ventures has a very straight to the point FAQ section on their website, covering very specific questions that an entrepreneur might ask, including "I'm raising my Series A or Series B — should I contact you?" or "Do you invest in companies located outside Poland?". Despite this, they still receive several pitch desks each month that do not fit their investment criteria, says Leks. "That is also what sets a part great founders from mediocre ones – that they do their research before getting in touch with a VC", he explains, adding that, just like for the majority of VCs, the main source of information for startups is not the Pracuj Ventures website, but their network of contacts. "The most efficient way to get in touch is to have someone recommend you – and that is not as hard as you might think."
We are still getting several pitch decks a month that do not fit most of our investment criteria. That is also what sets a part great founders from mediocre ones – that they do their research before getting in touch with a VC.

— Paweł Leks, managing partner of Pracuj Ventures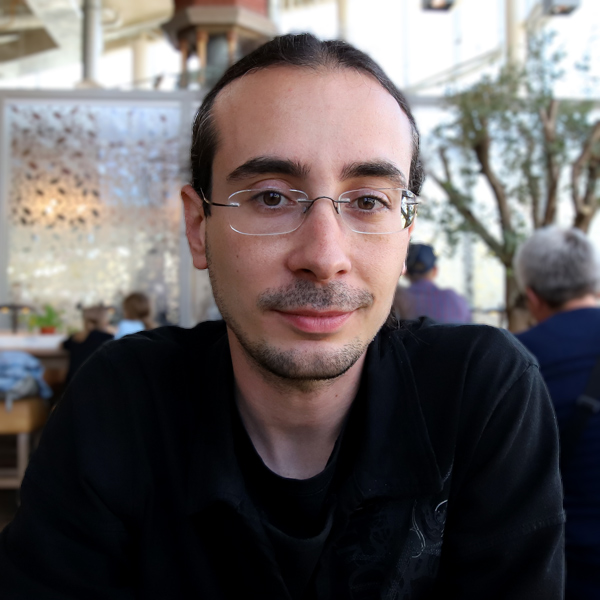 Sabin Popescu works as content editor, web designer/ developer and occasionally graphic designer for various companies and institutions across Eastern Europe and was an IT journalist for Romania's leading business daily, Ziarul Financiar.